Cuomo said treatment for Amazon no different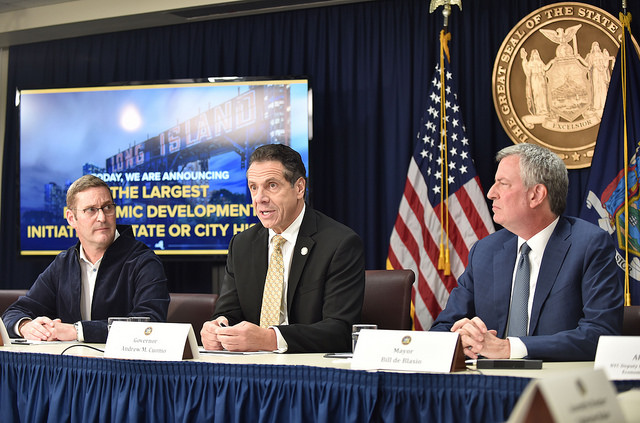 The news that Amazon will bring some of its operations to Long Island City in Queens, with a promise of creating 25,000 jobs, brought pushback from some politicians and neighborhood advocates. They are concerned about how Long Island City will change and question the amount of financial incentives offered to Amazon.
In the face of opposition to the deal, Gov. Andrew Cuomo issued statements and participated in a round of media interviews to talk about Amazon's decision.
During an interview on WNYC, host Brian Lehrer asked Cuomo about what kind of public oversight will be in place before Amazon's plans are finalized. Cuomo's answer addressed the project's approval process, as well as financial incentives offered to Amazon.
"There is nothing that we have done on Amazon that we have not done with hundreds of other projects," Cuomo said. "There are hundreds of businesses in New York that receive these types of tax credits and capital grants, because, competitively we have to work hard to get people to come here because of our tax structure."
So Amazon's deal with New York state is not unique?
State incentives
The state offered Amazon up to $1.7 billion in benefits and New York City offered up to $1.8 billion, according to an analysis from Citizens Budget Commission. In general, the value of the benefits grow with the number of jobs created by Amazon.
The state is offering up to $1.2 billion in tax credits from the Excelsior Jobs Program and a capital grant of up to $505 million, according to the state Division of Budget. The Excelsior credits are tied to Amazon's commitment to create 25,000 jobs and invest $2.3 billion. The capital grant is tied to that initial commitment and also further milestones: up to 40,000 jobs and $3.6 billion in total investment.
The types of incentives offered to Amazon have been offered to many companies.
The Excelsior Jobs Program is "the state's primary economic development vehicle," and as of a June 30 quarterly update, the program had admitted 571 businesses engaged in 600 projects, said Budget Division spokesman Morris Peters.
The capital grant, while discretionary, has been offered to "thousands" of other companies, Peters said. The state spent $750 million in taxpayer money to build and equip the RiverBend factory in Buffalo and provided $70 million for Regeneron in the Capital District.
The state and city have been criticized by some who say that a wealthy company like Amazon does not need $3 billion in subsidies.
Peters said a reasonable analysis would recognize that Amazon's investments and job creation commitments are higher than other projects the state, therefore the incentives are higher.
But James Parrott, who was the chief economist for New York City's economic development initiatives in the early 1990s, said a reasonable analysis would put the incentives in the context of New York's attractiveness to the technology sector, including a skilled workforce, as well as the city's brisk economy.
"How can you justify this level of subsidy in that context?" asked Parrott, who is now director of economic and fiscal policy at the Center for New York City Affairs at The New School.
Circumventing the City Council
So who's providing oversight on the Amazon deal?
Cuomo said during the WNYC interview that the Public Authorities Control Board does not have to approve the capital grant, but that the state Empire State Development Corp. will draft a general project plan. That plan will be submitted to the control board for approval.
General project plans have been used for projects such as Atlantic Yards, Brooklyn Bridge Park and Times Square redevelopment, according to Citizens Budget Commission. They require environmental impact statements and public input is solicited, but there is no local control of the approval process. While the project's neighbors and local elected officials might be upset about this, this top-down approach can be more appealing for companies. Mayor Bill de Blasio said in a radio interview that if the city used its typical process, "there's a very good likelihood these jobs would not have come here."
One reason advocates for Long Island City are opposed to the Amazon plan is that it avoids the city's Uniform Land Use Review Procedure, and circumvents the City Council. "It is not business as usual," said Benjamin Dulchin, executive director of the Association of Neighborhood and Housing Development in New York City, an affordable housing advocacy organization. However, Peters, the spokesman for the state Division of Budget, part of Cuomo's executive branch, said projects with capital construction grants use the general project plan process, and there have been thousands of them all over the state.
City incentives
Since it is unclear whether Cuomo's "we" referred to state negotiators or state and city negotiators - attempts to reach a spokesman for the governor were unsuccessful - we will discuss the city incentives, but set them aside when evaluating the truthfulness of Cuomo's statement.
De Blasio has said that "overwhelmingly" the incentives the city offered Amazon would be available to any eligible company, and that other incentives the city has offered in the past were not offered to Amazon. These include mortgage recording tax examptions, sales tax exemptions, more significant property tax exemptions, and city income tax breaks, according to James Patchett, president and CEO of New York City Economic Development Corporation.
Two of the major city incentives offered to Amazon, known as as-of-right incentives, are available to the company under existing state statutes. The city expects Amazon to benefit from a property tax abatement of $386 million from a program that promotes growth in certain areas, known as Industrial and Commercial Abatement Program, or ICAP. Amazon was also offered between $900 million and $1.44 billion in incentives, depending on whether Amazon creates 25,000 or 40,000 jobs, from a program for companies that relocate from outside the city to certain areas, known as Relocation and Expansion Abatement Program, or REAP.
The deal also calls for a payment-in-lieu-of-taxes, or PILOT, agreement between the city and Amazon, in which Amazon pays the same amount to the city as they would in property taxes, according to Deputy Mayor Alicia Glen.
One of the most unpopular incentives from the city, and the most unusual, is the promise to help Amazon establish a helipad at the site, or nearby.
Same deal, larger scale
Reinvent Albany, which advocates for transparency in government, opposes these types of tax incentives. But the group's executive director said Cuomo's statement is correct.
"It's totally accurate on his part, unfortunately," said Reinvent Albany Executive Director John Kaehny. "This is only big because of the scale of it."
David Friedfel, director of state studies at the Citizens Budget Commission, said the nature of the incentives offered to Amazon are similar to those offered to other companies.
Another expert, from the Rockefeller Institute for Government, called the Amazon deal large, but not out of line with other deals the state has done.
Laura Schultz, director of fiscal analysis and senior economist at the Rockefeller Institute, a think tank affiliated with the State University of New York, said that the state offered more incentives on a per-job basis in 2009 to Global Foundries in Malta and in 2014 to Solar City, later purchased by Tesla, in Buffalo. Global Foundries was offered a capital construction grant of $665 million, and Tesla, at the time called Solar City, was offered a capital construction grant of up to $750 million, she said. With tax incentives and capital grants combined, Global Foundries was offered $931,741 per job, and Tesla was offered incentives equal to $150,000 per job, Schultz said. If Amazon creates 40,000 jobs and receives the maximum amount of incentives New York state is offering, the per-job cost for the state will be $42,625. That figure changes under different hiring scenarios and when city incentives are included.
Because the Excelsior tax credits are tied to salaries, and the Amazon salaries are promised to be $150,000 on average, Schultz said the incentives are higher.
"So while Amazon will be receiving the largest total tax credit ever offered by the program, this is due to the large number and the high salaries of the expected jobs," she said. "The amount per job is higher than average, but not the highest offered by the state."
Our ruling
Gov. Andrew Cuomo said that the incentives offered to Amazon are the same as those offered to "hundreds" of other companies.
We looked at the state subsidies, and found that other companies have been offered the types of subsidies offered to Amazon. However, the scale of the subsidies is larger, including a discretionary capital grant, than many prior projects the state has done. The general project plan process, which has been criticized because it does not require approval from City Council, has also been used on hundreds of statewide projects that have been awarded capital construction grants.
We rate Cuomo's statement True.