Gillibrand points to early support for Medicare for all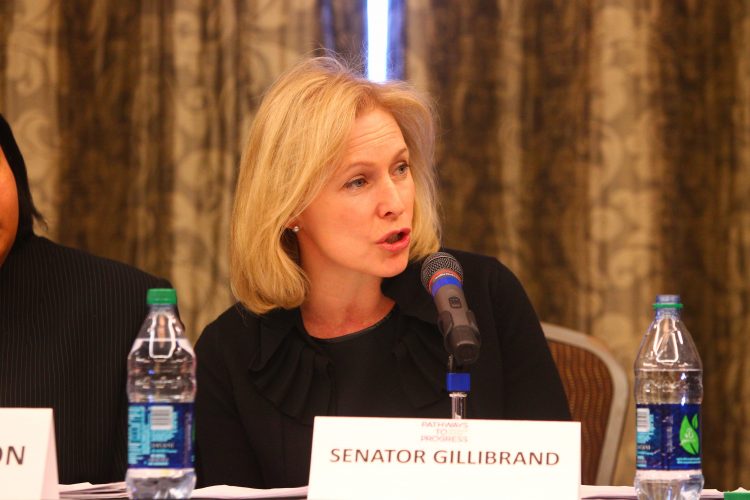 In a Democratic field that gets more crowded by the day, Sen. Kirsten Gillibrand is pointing to her record as proof that she has supported policies that are appealing to primary voters.
"I actually in 2005 ran on Medicare for all, the liberal issue of making sure people can buy into health care that they can afford," Gillibrand told a crowd gathered in a New Hampshire coffee shop.
We decided to check this claim, which references Gillibrand's first run for Congress in 2006. She defeated Republican Rep. John Sweeney in New York's 20th Congressional District, which had a substantial enrollment advantage for Republicans.
We used the Internet Archive Wayback Machine to access her 2006 campaign website, which contained her policy positions. Her "health care solutions plan" calls for a "focus on preventative care -- rather than the emergency room -- as the primary health care option by offering individuals, family or business the option to buy into Medicare at a rate they can afford."
On YouTube, we found a speech from an October 2006 campaign rally, during which Gillibrand spoke about health care. She started by criticizing insurance companies' big advertising budgets and high chief executive pay.
"What needs to happen is there needs to be more competition in the system," Gillibrand said. "And what I would like to see is a low-cost alternative. I'd like to see Medicare be available to anyone who wants to buy into that system."
Gillibrand's campaign spokeswoman, Meredith Kelly, sent us a list of sources supporting Gillibrand's claim that she supported a public option when she ran for Congress in 2006. One was a portion of a news article published on Nov. 3, 2006, in the Times-Union of Albany, which reported that "Gillibrand favors allowing Americans to buy into the Medicare system; Sweeney denounced her proposal as a move toward universal health care."
We also reached out to the University at Albany, where health economist Diane Dewar said she recalled Gillibrand's early support for Medicare for all.
"She is obviously is very supportive of the public option," Dewar said.
Medicare for all
Medicare for all can mean different things.
Sen. Bernie Sanders would implement a single-payer system over four years, PolitiFact reported in April. Gillibrand, who supports that plan, said that she wrote the section of the bill that allows the public to buy into Medicare during the four-year transition. Premiums would depend on how much each person earns but would be capped at 2 to 5 percent of income.
"What I like about where the Democrats are today is, we have four or five versions of `Medicare-for-all'," Gillibrand told the Associated Press in February. "I think we all want to get to single payer. And I think the best way to do it is what I wrote in Sen. Sanders' bill."
Sanders' proposal would be more generous than the current Medicare program, PolitiFact reported.
Our ruling
Gillibrand said that when she was running in 2005, she supported Medicare for all. Her campaign began in 2005, and in 2006 she talked about a Medicare for all plan that would offer a public option.
Though different versions of Medicare for all have existed over time, Gillibrand was clear about what her version meant when she ran in 2006.
We rate her statement True.