Fake news about Washington Post and Roy Moore accuser stems from disputed Twitter account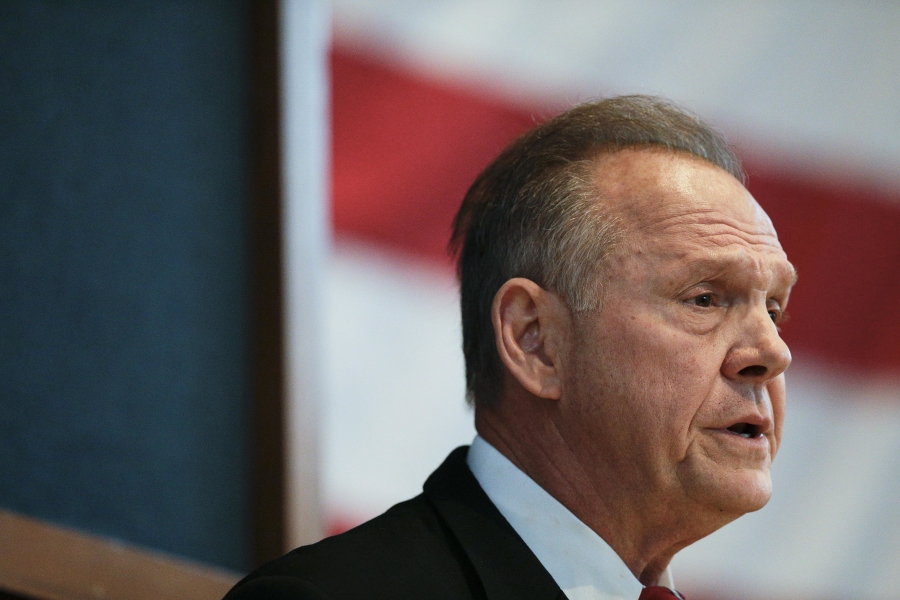 A fake news story said a Washington Post reporter offered a woman money if she would accuse Alabama U.S. Senate candidate Roy Moore of a crime.
"Breaking: Woman says she was offered big money by Washington Post to accuse Roy Moore of misconduct," stated a Nov. 13 headline in Evening World, which is similar to an earlier story by The Gateway Pundit, a website that posts some fake news.
The Washington Post reported in November that Moore, while in his 30s, initiated sexual encounters with several teenagers, according to the women interviewed by the newspaper. The allegations have become the hot topic in his Dec. 12 race against Democrat Doug Jones.
Facebook users flagged the Evening World story as being potentially fabricated, as part of the social network's efforts to combat fake news. The article is based on a since-deleted twitter account and is fake.
The website based the claim that a Post reporter offered money to a woman by citing the Twitter account of @umpire43 who identified himself as Doug Lewis #MAGA.
"A family friend who lives in Alabama just told my wife that a WAPO reporter named Beth offered her 1000$ to accuse Roy Moore????," Lewis tweeted Nov. 10.
One of the Post reporters who wrote about Moore was Beth Reinhard.
Lewis also tweeted that the family friend had photographs of the reporter and had recorded the telephone conversation. He directed her to bring that information to her local district attorney's office.
Lewis wrote that "Jean" provided evidence to the Etowah County District Attorney in Alabama.
Multiple news outlets including The Daily Beast, the Post and Snopes reported in November that @umpire43 had since deleted his account. The account user had a history of perpetuating hoaxes.
The Daily Beast reported that the author of the account had repeatedly invented stories about his own background claiming to be a Navy veteran, a pollster, a baseball umpire, an expert on rigged voting machines, an American consulate worker in Calgary and "a beleaguered soul who needed time off after the 9/11 attacks when he saw Muslims 'dancing on rooftops.' "
The Daily Beast contacted all of his alleged employers and affiliates and found that he hadn't held any of the positions.
The Twitter account launched in 2011 peaked at around 18,000 followers by the time that the Gateway Pundit reported on his claim against the Post. Tweets from @umpire43 had drawn attention from InfoWars and other right-wing sources.
The Gateway Pundit added a an update at the bottom of its story about @umpire43's tweets: "We have not been able to confirm these allegations by Doug Lewis."
Reinhard, the Post reporter targeted in the fake news story, directed PolitiFact to a spokeswoman for the Post, Shani George.
"The accusation against the Post is categorically false," George told PolitiFact in an email. "We have an explicit policy that prohibits paying sources."
We found no contact information or disclaimer on the Evening World's website, eveningw.com. The pro-Donald Trump website lifts accounts from other conservative websites. (The Evening World was an actual newspaper that published in New York City from 1887-1931).
There is no evidence that a Post reporter offered a woman money to make an accusation against Moore. We rate this headline Pants on Fire.