Glenn Hegar says Texas owns its public lands; Uncle Sam must ask permission to open a park there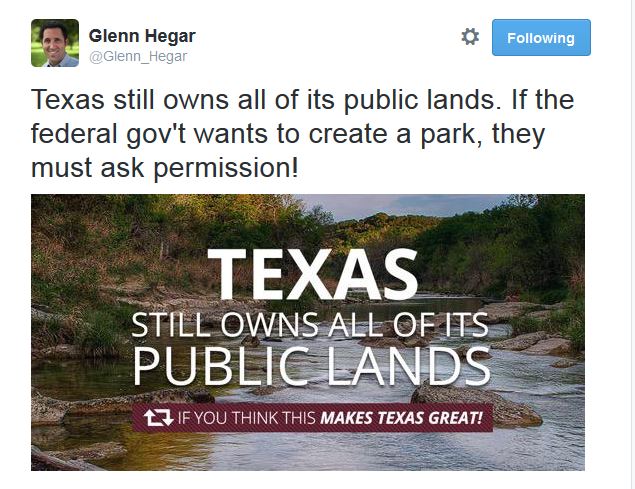 Before Independence Day, a Texas leader said the federal government needs permission to plant a park in the state. Glenn Hegar, the state comptroller, said in a June 24, 2015, tweet: "Texas still owns all of its public lands. If the federal gov't wants to create a park, they must ask permission!"
Two national parks are in West Texas and the Padre Island National Seashore is on South Padre Island. Also in Texas at the time Hegar tweeted, the U.S. National Park Service listed a national preserve, a national monument, two national historical trails, two national recreation areas, three national historical parks, a national monument, a national memorial, a national preserve and a designated wild and scenic river in the state (all there before another monument, the Waco Mammoth Site, was announced after Hegar exclaimed).
We noticed too that a park service web page displays the remarkably brief American Antiquities Act of 1906, signed into law by Theodore Roosevelt. That law authorizes a president to declare national monuments on lands owned or controlled by the federal government. The act states that "when such objects are situated upon a tract covered by a bona fide unperfected claim or held in private ownership, the tract, or so much thereof as may be necessary for the proper care and management of the object, may be relinquished to the Government, and the Secretary of the Interior is hereby authorized to accept the relinquishment of such tracts in behalf of the Government of the United States."
So land can be given up for a park or such, per the act. But there's nothing about seeking permission from a state.
Hegar's statement also intrigued us because of how little land the federal government owns in Texas. In August 2014, an advocate with the Colorado-based Center for Western Priorities pointed us toward a Nov. 14, 2008, Heritage Foundation map of the U.S., drawing on federal data, showing Uncle Sam owns 2 percent of the land in Texas but far more land in western states that as a condition of joining the union had agreed to give up any stake in otherwise unclaimed lands in their respective boundaries.
Hegar's backup
To our inquiry about Hegar's tweet, Liz White of his campaign operation said Hegar reached his conclusion starting from a Random Facts website that included this entry: "Texas still owns all of its public lands. If the federal government wants to create a park or cut a stand of timber, it must first ask the state's permission."
On the site, a footnote attributed the "permission" statement to a 2003 book, "Texas: Facts and Symbols," which we found in the children's section of a branch of the Austin Public Library. The 24-page book presents various facts (as in: Texas got its name from the Caddo word tejas [TAY-hawss]). But it lacks mention of Texas owning its public lands or the federal government needing the state's permission to create a park.
In her email to us, White suggested Hegar's statement also was supported by a report by the Texas General Land Office, an agency that's been around since before Texas's statehood; it lately oversees more than 13 million acres of land generating money for Texas public schools.
The cited report, last updated in January 2015, states that before statehood, Texas in 1844:
"submitted a treaty of annexation to the United States Congress. Under its terms, Texas would have given 175,000,000 acres of public land to the United States government and the United States would have assumed Texas's debts of $10,000,000. The United States Congress rejected the treaty on grounds that the Texas public domain was not worth $10,000,000. When Texas was annexed to the United States in 1845 by a joint resolution of Congress, Texas retained both its debts and its public land. Texas was the only state, other than the original 13 colonies, to enter the Union with control over its public land… Today, over 22.5 million acres of land remain in the Texas public domain."
So Texas kept its public lands at statehood.
White also pointed out a federal park service web page on the Big Bend park, which she described as demonstrating the federal government asked permission from the state to acquire land for a park. The cited passage:
"In the 1930's many people who loved the Big Bend country saw that it was a land of unique contrast and beauty that was worth preserving for future generations. The State of Texas passed legislation to acquire land in the area which was to become the Texas Canyons State Park. In 1935, the Federal Government passed legislation that would enable the acquisition of the land for a national park. The State of Texas deeded the land that they had acquired to the Federal government, and on June 12, 1944, Big Bend National Park became a reality."
That didn't seem like an explicit mention of permission being sought.
In the spirit of that excerpt, we looked briefly into how the pair of other major national parks came to be in Texas. A Texas State Historical Association web page says the Guadalupe Mountains park came about after a family in the 1930s offered to donate 300 acres of scenic McKittrick Canyon to the state of Texas. "By the 1960s, land donations and sales to the National Park Service paved the way for the establishment of a national park" in 1972, the web page says. And U.S. Sen. Ralph Yarborough initiated legislation to create the Padre Island National Seashore in 1957, a park service timeline indicates. Another agency web page says President Kennedy signed the park measure into law in 1962. Land was acquired from 1962 through 1969 and the park opened in 1970, the timeline says.
Land commissioners divide
Bumfuzzled about the "permission" part of Hegar's tweet, we asked aides to the current land commissioner, George P. Bush, and a couple of his predecessors for guidance.
Agency spokeswoman Brittany Eck said by email that if the federal government wanted to convert state-owned lands to a federal park, any sale would have to be approved by state lawmakers.
By phone, two former land commissioners, Republican Jerry Patterson and Democrat Garry Mauro, separately gave contradictory answers.
Patterson said that given that the federal government doesn't already own a lot of Texas land convertible to parks, "they'd have to get it. They'd have to buy the land," he said, "which implies" getting permission.
Mauro said the federal government doesn't need permission from Texas to create a park. "That's just a fact," Mauro said. "The federal government can condemn what it wants to condemn."
Historian for park service
We also reached out to Robert Sutton, chief historian of the National Park Service, who said by phone it was news to him that the federal government had to ask permission to open a park in Texas. By email, Sutton subsequently said he checked the March 1845 congressional resolution setting terms for Texas joining the union, which says Texas is to keep its public lands but doesn't say anything about the federal government needing to ask permission to use Texas-owned land, Sutton noted, for any purpose. "So, and I'm certainly not a constitutional lawyer, but I would say that the claim that the feds need to ask for permission is incorrect," Sutton wrote.
We shared Sutton's take with Lauren Willis, spokeswoman for Hegar's state office. By email, Willis said it struck her as "one historian's opinion."
Our ruling
Hegar tweeted: "Texas still owns all of its public lands. If the federal gov't wants to create a park, they must ask permission!"
The first part of Hegar's statement is obvious: Texas owns its 22.5 million acres of public land, with the federal government owning less than 2 percent of Texas acreage, much of it in the Big Bend National Park.
It also stands to reason the federal government wouldn't open a park in the state without interacting with state officials, perhaps seeking a land deal. However, Hegar didn't provide, nor did we turn up, evidence that the feds must ask permission to open a park in Texas.
Hegar's statement comes out half-obvious, half-unsupported--and Half True.
---
HALF TRUE – The statement is partially accurate but leaves out important details or takes things out of context. Click here for more on the six PolitiFact ratings and how we select facts to check.