Half True: Dan Patrick on Martin Luther King saying lives start to 'end the day we become silent'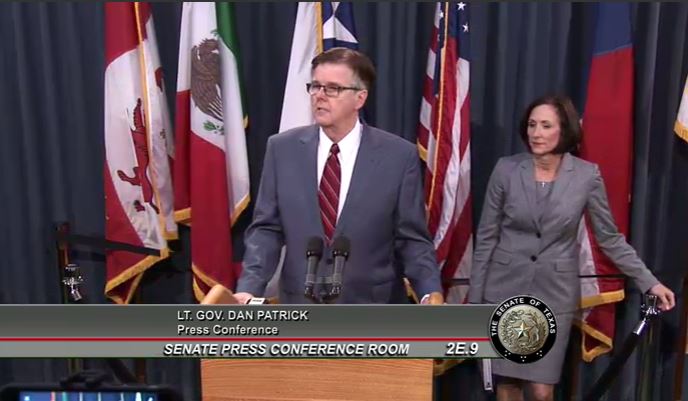 Lt. Gov. Dan Patrick opened his full-throated endorsement of Texas legislation targeting transgender access to bathrooms by quoting the Rev. Martin Luther King Jr.
Patrick, joined by the proposal's author, state Sen. Lois Kolkhorst, told reporters at the Texas Capitol on Jan. 5, 2017: "Martin Luther King said our lives begin to end the day we become silent on things that matter.
"This legislation, the Texas Privacy Act, that Sen. Kolkhorst is filing today, is unquestionably one of the things that matters," Patrick said. "It's the right thing to do. I know it, Texans know it and Sen. Kolkhorst knows it."
Debate over the measure--banning transgender people from using the Texas bathroom of their choice--will play out in the 2017 legislative session. We focused on the origin of Patrick's King quotation.
Patrick offers no backup
We didn't hear back from Patrick about when and where the slain civil rights leader made the singled-out statement, which went noted in the Associated Press's account of Patrick's remarks and quoted by the Dallas Morning News.
For our part, a web search for the quotation and "King" suggested by a professor yielded 2,980 results including books of poetry and documentation that President Clinton similarly quoted King in an April 2000 speech and Sen. Joe Lieberman did so in the Senate in June 2003.
So, Patrick was in bipartisan company in crediting the words to King.
On the other hand, we were unable to confirm that King made that exact declaration. Also, it's worth noting, King probably didn't expound on bathrooms except toward widening access to public facilities.
A photo caption
We started our look into this topic by trying to gauge if King said the words aired by Patrick.
Right off, a web search yielded an undated New York Daily News photo of King giving a speech. The photo caption said: "King was engaged in a battle with Sheriff Jim Clark over voting rights and voter registration in Selma. On March 8, 1965, King spoke from the pulpit on courage: 'Our lives begin to end the day we become silent about things that matter.'"
Stanford researchers can't confirm
Separately, though, King experts either said he likely didn't make the quoted remark or if he did, it's hard to confirm so with ease. "That would be a research project," said Clayborne Carson, the Martin Luther King, Jr., Centennial professor of history at Stanford University and director of a research institute in King's name. By phone, Carson told us that's because the institute's resources aren't yet easily searched for a particular quotation. Put another way, he said by email, it's "easier to prove what King said on a particular occasion than to prove that he never said the quote in question on any occasion."
An institute research assistant, Ellen Ingebritsen, later responded that her search of the project's internal database and documents culled from the institute's King papers didn't turn up King making the statement. Then again, she said, the institute has yet to catalogue the majority of King's work from 1965. Otherwise, she said, King letters and telegrams from that year don't contain the words attributed to King by Patrick.
A similar confirmed King statement
Story over? Not quite.
Other experts helped us find that King made a similar yet less direct statement in the Brown Chapel in Selma, Ala., on Monday, March 8, 1965--the same date noted in the News's photo caption and also the day after protesters met police violence after attempting to cross a bridge on the way to Montgomery, the state capital.
King, who would shortly lead a crossing of the bridge before turning around, said in part: "A man dies when he refuses to stand up for that which is right. A man dies when he refuses to stand up for justice. A man dies when he refuses to take a stand for that which is true."
Here's King's remark in context as we found it on an East Tennessee State University web page:
"Deep down in our non-violent creed is the conviction there are some things so dear, some things so precious, some things so eternally true, that they're worth dying for. And if a man happens to be 36-years-old, as I happen to be, some great truth stands before the door of his life--some great opportunity to stand up for that which is right.
"A man might be afraid his home will get bombed, or he's afraid that he will lose his job, or he's afraid that he will get shot, or beat down by state troopers, and he may go on and live until he's 80. He's just as dead at 36 as he would be at 80. The cessation of breathing in his life is merely the belated announcement of an earlier death of the spirit. He died...
"A man dies when he refuses to stand up for that which is right. A man dies when he refuses to stand up for justice. A man dies when he refuses to take a stand for that which is true.
"So we're going to stand up amid horses. We're going to stand up right here in Alabama, amid the billy-clubs. We're going to stand up right here in Alabama amid police dogs, if they have them. We're going to stand up amid tear gas!
"We're going to stand up amid anything they can muster up, letting the world know that we are determined to be free!"
To our inquiry, Doug Burgess, chairman of the university's history department, said by phone that he posted the excerpt some 15 years ago. Burgess also helped us track down a YouTube video in which we saw King making the remarks, which the video attributes to a Nostalgia Company recording, "The Greatest Speeches of All Time, Volume II."
Separately, Carson told us his research took note of a similar King statement made Nov. 5, 1967, at his home church in Atlanta. King, exhorting parishioners to fight for what's right, said a person's failure to do so would amount to dying before death. "You died when you refused to stand up for right, you died when you refused to stand up for truth, you died when you refused to stand up for justice," Carson quoted King saying.
We also heard back from a King biographer, David Garrow, who said by email that his sense is that King didn't make the statement aired by Patrick. That "language does *NOT* in any way sound familiar to me as an exact quote," Garrow wrote. "I believe it is INVALID." Garrow summed up: "Your verdict on this ought to be something like 'Unproven, undocumented, & highly doubtful.'"
Texas professors: Quotation out of context
Asked to assess Patrick's quotation, University of Texas historians Don Carleton and Paul Stekler each opined that Patrick presented King's sentiment out of historical context.
Stekler, who helped produce, direct and write a documentary on the civil rights movement in 1967-68, said by email that King "was in Selma to try and force federal action to ensure voting rights, a campaign that was successful with the passage of the Voting Rights Act of 1965 in the aftermath of the police riot on the Edmund Pettus Bridge. He was advocating the expansion of rights for African-Americans in the South where they had been and were largely disenfranchised."
Patrick, Stekler wrote, employed King's purported words in support of restricting the rights of transgender people. "One use of the quote uses it in support of the expansion of rights, the other in restricting rights," Stekler said.
Our ruling
Per Patrick, King said our lives begin to end the day we become silent on things that matter.
Patrick didn't show nor did we confirm that King made this direct statement. Then again, Patrick didn't specify he was quote-unquote directly quoting King while King in 1965 made a longer proclamation that might later have been paraphrased in the 14 words that Patrick and others including President Clinton ultimately attributed to the civil rights icon.
On balance, we rate this claim Half True.
---
HALF TRUE – The statement is partially accurate but leaves out important details or takes things out of context. Click here for more on the six PolitiFact ratings and how we select facts to check.
https://www.sharethefacts.co/share/16e3bd9a-178e-4bdc-abeb-23c969f4e0cc