Mike Collier says pending Robin Hood funds won't fund public education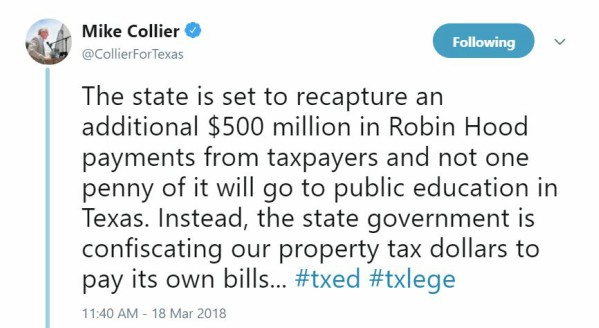 For the sake of equity, state law since the 1990s has required Texas school districts with lucrative property-tax bases to share revenue with the state to help balance funding for less fortunate districts.
In 2018, according to the state, the so-called Robin Hood or "recapture" system resulted in 185 districts sending $2 billion to the state. In raw dollars, the biggest givers were the Austin, Houston and Plano districts; the Austin district's contribution exceeded $544 million.
And that money gets spent on education, right?
Not so in the state's next budget year, Mike Collier of Houston, the 2018 Democratic nominee for lieutenant governor, declared.
In a March 18, 2018 tweet that made us wonder, Collier said: "The state is set to recapture an additional $500 million in Robin Hood payments from taxpayers and not one penny of it will go to public education in Texas. Instead, the state government is confiscating our property tax dollars to pay its own bills."
That $500 million figure, Collier later told us by email, ties to how much more the state budget written by the 2017 Legislature takes from wealthy districts in the budget year beginning Sept. 1, 2019 compared to the amount so budgeted for the previous year. In fact, the budget shows the upcoming recapture total of $2,521,000,000 running $471.1 million ahead of the $2,049,900,000 budgeted for the previous 12 months.
Money coming to the state from that increase "does not go to any school," Collier said in a statement emailed by Scott Spiegel of his campaign.
Collier further noted that the state budget shows education aid drawn from state tax collections decreasing by $1.6 billion, from $19.1 billion in fiscal 2018 to nearly $17.5 billion through August 2019. "So despite higher recapture payments, overall funding is down," Collier said. "The only way anyone could argue that $500 million increase in recapture payments was staying in schools would be to show an overall increase in school funding by $500 million," he said.
Checking figures, state law
Collier overlooked some spending; the education part of the budget lists more than a dozen revenue sources including proceeds from the state's lottery and federal aid. All told, the budget shows, lawmakers voted to spend $28.2 billion on public education in fiscal 2018 with that commitment dropping to $27.2 billion the next year.
Meantime, experts including R.J. DeSilva, staff spokesman for the Legislative Budget Board, which advises lawmakers on fiscal matters, indicated it's not legally possible for recapture funds not to support education. State law specifies that recapture "receipts shall be deposited in the state treasury and may be used only for foundation school program purposes," meaning the state's primary way of funding schools.
To our inquiries, school advocates said Collier made a solid point about local property values reducing pressure to spend state revenue on education.
By email, Joe Wisnoski, a former Texas Education Agency official who lobbies for districts, called Collier's tweet "false to the extent that it implies recapture funds are directly spent on functions of state government other than public education."
Yet Wisnoski and Tom Canby of the Texas Association of School Business Officials each noted that any escalation in recapture amounts, influenced by increases in local property values, enables lawmakers to pony up less state revenue toward delivering each district the aid it's entitled to receive based on state formulas rooted in changes in enrollment and its mix of students.
Wisnoski wrote: "State aid earned by school districts is based on formulas set in statute, and the amount of recapture in and of itself does not impact those formulas directly. Recapture is a method of finance for the appropriation for the Foundation School Program, so increased recapture means the state needs to draw less money from other sources to total up to the amount of Foundation School Program state aid, like state general revenue."
By phone, Josh Sanderson of the Equity Center, which says it advocates for "chronically underfunded" districts, similarly agreed that by law all recaptured dollars go to fund education. But when local property values are expected to increase, the state can budget fewer state tax dollars to fulfill its commitments, Sanderson said. He pointed out that the 2018-19 state budget presumes that local property values, and related tax collections, will increase 7.04 percent through August 2018 and by 6.77 percent the next tax year.
"Any property value increases essentially serve to offset the state's share" of formula-set funding, Sanderson said. He called Collier's statement sort of correct and sort of incorrect, elaborating: "He's incorrect in saying that Robin Hood payments don't go to benefit public education. However, he's correct in saying it's effectively reducing what the state puts in."
We also asked the Texas Education Agency to appraise Collier's claim; we didn't hear back.
Our ruling
Collier said Texas state government is set to take $500 million more from taxpayers in certain school districts "and not one penny of it will go to public education in Texas."
This claim waves at a general truth that lawmakers can spend less state revenue on education provided local property values escalate. But by law, the $471 million more in recapture funds set to flow from districts to the state this next budget year must be deposited in the state treasury to be used only to fund education.
This statutory reality makes Collier's claim False.
---
FALSE – The statement is not accurate. Click here for more on the six PolitiFact ratings and how we select facts to check.