Fact-checking CPAC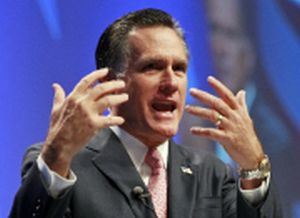 The Conservative Political Action Conference is an annual pep rally for conservatives that attracts many Republican presidential hopefuls. Here, we'll be collecting our fact-checks from the conference.
On Friday, former Massachusetts Gov. Mitt Romney made a pair of comparisons involving the U.S. economy and the Canadian economy. We gave them divergent ratings on the Truth-O-Meter.
One was that today "there are more men and women out of work in America than there are people working in Canada." We ruled that claim False.
The other was that "in the month of January, Canada created more new jobs than we did." We found that despite being one-ninth the size of the U.S., Canada did indeed create 33,000 more jobs than the U.S. did that month. We rated the statement True.
We also checked a claim from Donald Trump, who said he is "thinking about" running for president. Trump revived an old charge that dogged Barack Obama during the 2008 presidential campaign -- that he had a shady background that didn't add up. "Our current president came out of nowhere. Came out of nowhere," Trump said. "In fact, I'll go a step further: the people that went to school with him, they never saw him, they don't know who he is. It's crazy." It's crazy alright. Media accounts and biographies are filled with on-the-record, named classmates who remember Obama. We rated his statement Pants on Fire.
We fact-checked a claim from Wayne LaPierre, the CEO of the National Rifle Association, who said, "Across the board, violent crime in jurisdictions that recognize the Right to Carry is lower than in areas that prevent it." We looked at the most recent statistics on violent crime and found that was not the case. Additionally, academic researchers disagree about whether deeper statistical analysis reveals any patterns, and the National Academies of Science concluded that with current evidence it's not possible to find a causal link between right-to-carry laws and crime rates. We rated his statement False.
Finally, we checked a claim by Indiana Gov. Mitch Daniels that said within a few years, the government will be spending more on interest paper than national security. We found the numbers don't back that up. We rated it False.