Chris Van Hollen says GOP has "demanded deep cuts" in education, disease research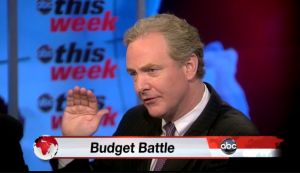 On the April 10, 2011, edition of ABC's This Week with Christiane Amanpour, Rep. Chris Van Hollen, D-Md., faced off against Rep. Mike Pence, R-Ind., over the federal budget.

At one point, Van Hollen -- the top Democrat on the House Budget Committee -- criticized Republican spending proposals, saying that the party has targeted popular programs such as education and cancer research.

At the time This Week aired, the details of the budget deal struck two days earlier were still emerging, so Van Hollen said he would "reserve judgment" on the language of the final spending bill. But he took a swipe at earlier, Republican-backed spending proposals.

He said that "the unfortunate part about this entire situation is that Mike and his colleagues threatened to shut down the entire federal government, which would have huge economic dislocation and disruption in the country, in order to pass a bill that, at the end of the day, doesn't create one job. … The Republicans have demanded deep cuts in education. They've demanded cuts in cancer research and other research to find cures and treatments to diseases. And instead of focusing just on a narrow slice of cuts that they were demanding, we were able to expand the area of cuts and prevent some (in the budget deal). So that's good news."

We wondered whether Van Hollen was right when he said that "the Republicans have demanded deep cuts in education. They've demanded cuts in cancer research and other research to find cures and treatments to diseases."

Van Hollen's remarks were based on H.R. 1, a fiscal year 2011 spending bill that passed the House but was rejected by the Senate in a 44-56 vote on March 9, 2011. We're using it because it was a virtually pure Republican proposal: Only three Republicans voted against it on the floor, and no Democrats voted for it.

So, would these programs be cut under H.R. 1? The answer is yes. Here are some of the key areas:

• Title I education spending. This is a program that sends federal funds to the states for K-12 education. H.R. 1 would have cut Title I spending by $693.5 million compared to the amount enacted for fiscal year 2010.

• Part B IDEA grants. This program provides federal funding for special education based on a formula. H.R. 1 would have cut Part B spending by $557.7 million compared to the fiscal year 2010 level.

• Pell grants. This program funds low-income individuals pursuing undergraduate or sometimes graduate degrees. H.R. 1 would have capped the size of Pell grants for the 2011-12 award year at $4,015. Once that amount is adjusted for an additional sum provided under mandatory funding, the maximum level for Pell grants would be $845 lower than today's level.

• Head Start. This program provides low-income children of preschool age with child-development programs that teach skills that prepare them for school. H.R. 1 would have cut Head Start, which is run by the Department of Health and Human Servcies, by a little under $1.1 billion.

• National Institutes of Heath. NIH is the leading federal institution for conducting research on disease treatments. H.R. 1 would have cut its general budget back to 2008 levels, amounting to a reduction of $639.5 million from fiscal year 2010. In congressional testimony on March 11, 2011, HHS Secretary Kathleen Sebelius said that the proposed cuts would mean that "about half of the hundred largest clinical studies including those on cancer and Alzheimer's would probably be canceled."

When we spoke to Boehner's office, they didn't counter the notion that these areas would have been cut if H.R. 1 had been enacted.

"In H.R. 1, we did cut IDEA, Head Start, Title I, Pell grants and NIH," said Michael Steel, a spokesman for Boehner. "The cuts were across all accounts. Nothing was off limits."

Of course, Republicans have emphasized broader aspects of their bill. In a Feb. 12, 2011, news release about the introduction of H.R. 1, Boehner spoke generally about cutting spending and reducing the size of government, and didn't mention education and disease research. The statement issued the same day by Majority Leader Eric Cantor, R-Va., didn't get specific, either.

And in a Feb. 15, 2011, floor speech about the bill, House Appropriations Chairman Hal Rogers, R-Ky., didn't mention those programs either. The specific programs he cited were elimination of previous earmark funding from fiscal 2010 and the rescinding of unobligated funding from the stimulus bill.

None of this is remotely surprising -- in the abstract, education and disease research tend to be popular programs. One would expect Republican leaders to play up the more popular aspects of the bill, such as taming the deficit and reducing the size of government, rather than the less popular ones.

By the same token, it's not surprising that Van Hollen highlighted the budget's impact on education and disease research. It's the latest incarnation of the old political war-cry that your opponent is targeting widows, orphans and other helpless Americans. But that's not the whole story. H.R. 1 aimed to cut discretionary spending by $100 billion -- including loads of cuts that had nothing to do with education or disease research.

We do think Van Hollen's underlying point -- that cuts were made to education and disease research -- is valid. Reasonable people can disagree on whether such cuts are justified, but Van Hollen is well within his rights to point out that these programs would be cut under H.R. 1, just as Republicans are well within their rights to argue that the deficit is so large that every federal program needs to give up some funding. Ultimately, the voters will decide whose priorities hold sway.

In our view, Van Hollen has narrowed the Republicans' bill, which includes wide-ranging cuts, to just two popular programs. On the other hand, he's right that those programs would take budget hits under the bill. On balance, we rate his comment Mostly True.