Obama says children from low-income families hear 30 million fewer words than peers by age 3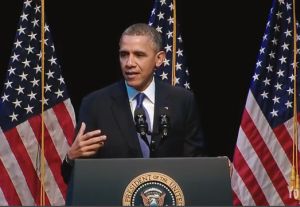 Words, words, words. President Barack Obama is certainly fond of them. His recent speech on economic issues, in which he backed a minimum wage increase, included more than 6,500.
But what about a point Obama made in the speech about how the income gap affects young children?
"By the time she turns 3 years old, a child born into a low-income home hears 30 million fewer words than a child from a well-off family, which means by the time she starts school, she's already behind," he said.
Just for comparison's sake, 30 million words would be equivalent to 4,615 Obama speeches.
But did he get his fact right? We'd never heard of this finding before, so we took a closer look.
When we asked the White House for a source, a spokesman pointed us to research from the mid 1990s and early 2000s by child psychologists Betty Hart and Todd Risley.
They published their findings in a book, Meaningful Differences in the Everyday Experience of Young American Children. Over several years, the pair observed families of different socioeconomic statuses, based on education and income levels, and found that better-off families engaged their children more frequently with language.
They found a 30 million "word gap" by age 3 between students of divergent socioeconomic classes. That's one piece of evidence, they argued, to explain the "achievement gap," a term educators and researchers have used to explain why lower-income students start kindergarten on worse footing.
The word gap, along with other issues, leaves preschool educators to fix existing educational shortfalls, said Dana Suskind, a doctor and researcher at the University of Chicago. She's also the director of Thirty Million Words Initiative, one of many advocacy and research groups whose work revolves around the Hart and Risley research.
"This early language and vocabulary gap are really the beginnings of the achievement gap that we see continuing on through the end of high school and through life," Suskind said.
Obama and others often bring up the concept of 30 million words because early childhood exposure to language comes at a crucial time in brain development, said Samuel Odom, a child development researcher at University of North Carolina Chapel Hill.
When asked if any scientist has called the 30 million word gap into question, Suskind told us it's "pretty well-accepted" as the norm in the field. In addition, she and two other experts agreed that Obama had summed up the research accurately.
Suskind offered just one caveat: While Obama described the norm, there's variation from family to family. Some low-income families speak to and interact with their kids more, and some more affluent families don't.
"No socioeconomic group has cornered the market on loving their kids and wanting their kids to succeed," she said. "You can't generalize economic groups."
Our ruling
Obama said that less-affluent children are behind by the time they start school because they have heard about 30 million fewer words than peers from higher-income families. Experts say studies clearly support Obama's point. We rate Obama's statement True.
Editor's note: This item was edited after initial publication to clarify that researchers studied the word gap of children up to age 3, not age 5.