In Idaho debate that went viral, challenger misfires on Obamacare marketplace claim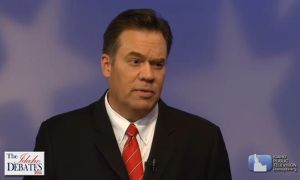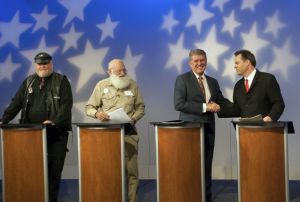 A recent gubernatorial debate in Boise was so -- um -- unusual that it reverberated far beyond Idaho.
The debate featured Idaho Gov. Butch Otter, who's seeking his third term, and three Republicans seeking to defeat him in a primary. One, Russ Fulcher, is a state senator who's running against Otter from the right. The other two were more colorful -- Harley Brown, a biker sporting leather gear and fingerless gloves, and Walt Bayes, a homeschooling activist with a prodigious beard and "77 descendants."
The debate produced enough colorful moments that it quickly went viral -- for instance, when Brown said, "I'm about as politically correct as your proverbial turd in a punch bowl," or when Bayes closed with a warning about nuclear contamination.
As intriguing as those claims are, we're going to focus instead on a wonkier assertion made by Fulcher.
Referring to Otter's decision to create a state-based marketplace under President Barack Obama's health care law, Fulcher said Otter didn't oppose Obamacare strongly enough, adding, "Idaho was the only Republican-led state in the nation that chose to partner with President Obama."
We decided to see if he was correct. (Fulcher's campaign did not reply to an inquiry for this fact-check.)
First, some background. Under the Affordable Care Act, states had three choices for creating an online marketplace that residents could use to browse health insurance plans and purchase the one that would best fit their needs and budget. States were allowed to create their own online marketplace; they could partner with the federal government to create a hybrid state-federal site; or they could do nothing, in which case residents would instead use the federal healthcare.gov site by default. Idaho took the first option of starting its own marketplace.
The Affordable Care Act has been a target of Republican criticism generally, nowhere more than in strongly conservative states like Idaho. But while Otter was -- and is -- critical of the law overall, he said he decided to push for a state-run online marketplace in order to make sure Idaho would be able to have some control of how the law is implemented.
In pushing for the creation of a state-run marketplace, Otter faced resistance within the GOP-dominated state House and Senate. But he ultimately cobbled together a coalition of Democrats and some Republicans to pass legislation that authorized a state-based marketplace. Otter signed the law on March 28, 2013.
So despite opposition by many GOP legislators, Idaho was certainly a "Republican-led state" that "chose to partner" with the Obama administration on creating a health insurance marketplace. But was Idaho the only state with a Republican governor who was willing to start a marketplace?
The short answer is no. There were four others:
• Michigan. Republican Gov. Rick Snyder supported the creation of a full state-based marketplace, but he was stymied by a Republican-controlled legislature that delayed the effort long enough that the federal deadlines lapsed, making that option impossible. Instead, Snyder pursued a state-federal marketplace, while also leaving the door open to an entirely state-based site if the legislature eventually changed its mind.
• Iowa. Republican Gov. Terry Branstad, who governs a state with a Republican House and a Democratic Senate, also opted for the state-federal hybrid. He even floated the prospect of creating a joint marketplace with Kansas, Nebraska and South Dakota, according to the Quad-City Times.
• Nevada. In June 2011, Republican Gov. Brian Sandoval signed a bill passed by the Democratic legislature to create an entirely state-run marketplace. Politico reported that Sandoval is "arguably doing more to put the Democrats' signature law into place than any other Republican," while risking "his national ambitions because he's not actively blocking the president's law."
• New Mexico. Gov. Susana Martinez -- who, like Nevada's Sandoval, is a Hispanic seen by some as a rising star within the GOP -- signed legislation passed by the Democratic legislature to create an entirely state-based marketplace.
This list does not include the states with GOP governors that decided to expand Medicaid -- another provision of the health care law that has drawn fire from many Republicans. Beyond Michigan and Iowa, Republican governors that signed off on expanding eligibility for Medicaid include Arizona's Jan Brewer, North Dakota's Jack Dalrymple and Ohio's John Kasich. All had Republican-controlled legislatures, populated by GOP lawmakers who, to one degree or another, opposed the governor's support for expanding Medicaid. Idaho, for its part, did not expand Medicaid.
Our ruling
Fulcher said that "Idaho was the only Republican-led state in the nation that chose to partner with President Obama" by creating a state-based marketplace under the Affordable Care Act. While most states with a Republican governor did refuse to create their own state-run marketplace, Idaho was not the only one. Four other states with Republican governors also created a marketplace that was either fully state-run or was a partnership between the federal government and the state. We rate Fulcher's claim False.
UPDATE, May 19, 2014, 4:00 p.m.: After our story appeared, the Fulcher campaign responded that they had used a different standard than we did to define the term "Republican-led state." We interpreted it to mean a state with a Republican governor. The campaign, however, says it was only counting states that had all of the following: a Republican governor, a completely Republican-controlled legislature, and support for Republican presidential nominee Mitt Romney in 2012. Using that standard would indeed, make the statement correct. However, we don't think a listener would find that to be the most obvious interpretation of "Republican-led state." In addition, the campaign's calculations only counted fully state-run marketplaces and excluded the 11 states that use a federal-state partnership for their marketplace, even though Fulcher specifically claimed during the debate that he was talking about states that chose "to partner with President Obama." Our rating stands at False.