Braley, Ernst debate anti-abortion legislation impact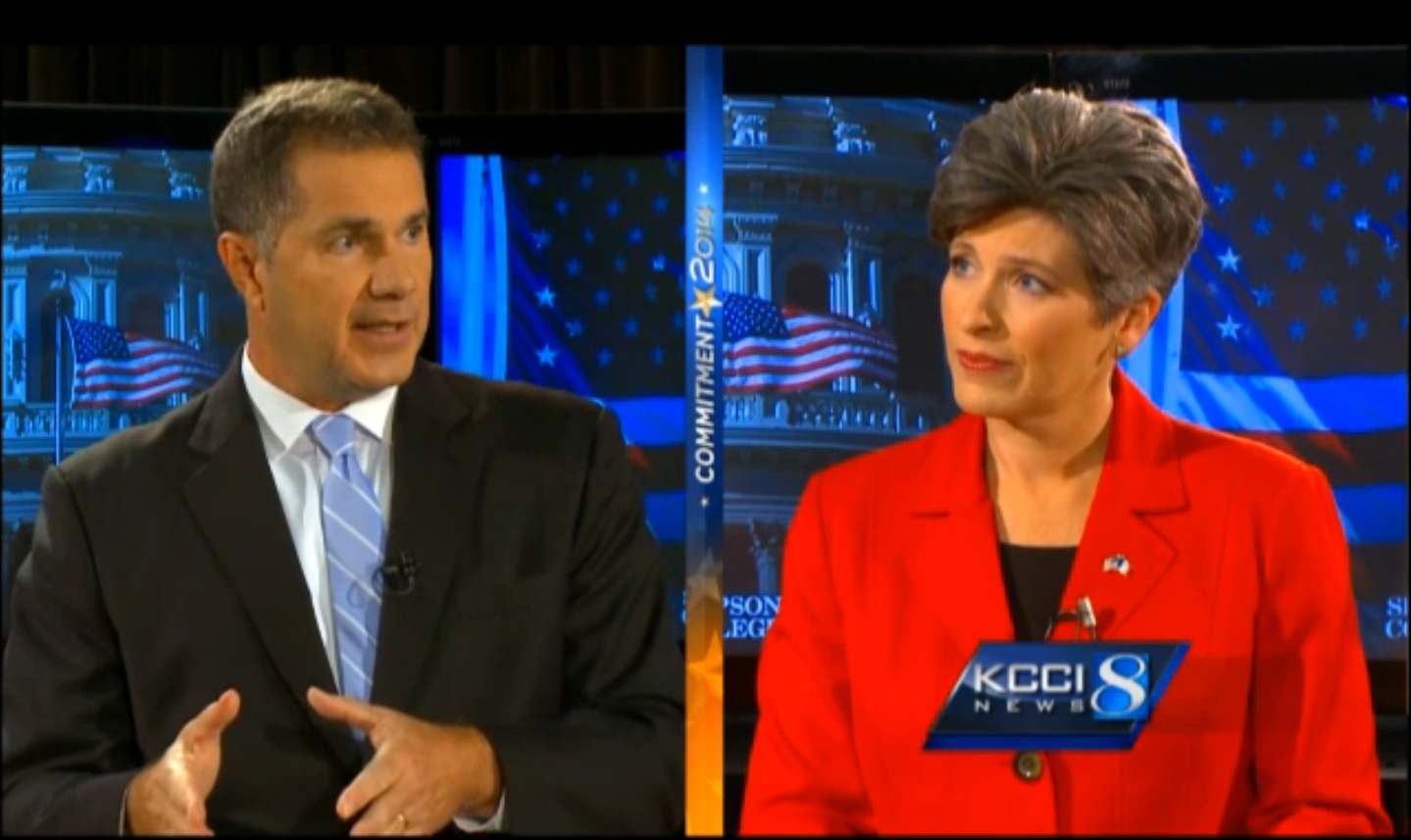 Rep. Bruce Braley, D-Iowa, says his opponent in the Senate race, Republican state Sen. Joni Ernst, introduced legislation that would have severely limited abortion rights in Iowa. Not so, Ernst countered in a recent debate.
Braley and Ernst -- who are vying to succeed retiring Democrat Tom Harkin in one of the nation's tightest and most-watched Senate contests -- butted heads over core issues, including women's rights, in the Sept. 28, 2014, debate in Des Moines.
At one point, the candidates were asked if they would pursue abortion-related legislation at the federal level. Braley responded first. (Video here.)
"What I won't do," Braley said, "is support the type of legislation that Sen. Ernst introduced in Iowa that would have banned all forms of abortion, that would have prevented certain forms of contraception from being available to Iowa women, that would have prevented in vitro fertilization and would have prosecuted doctors for performing what are now legal procedures."
Ernst responded, "The amendment that's being referenced by the congressman would not do any of the things that he stated it would do. That amendment is simply a statement that I support life."
This debate has come up before: Earlier this month, Braley released an ad that attacked Ernst on the same grounds.
We decided to take a closer look to see whose portrayal was more accurate.
In April 2013, Ernst joined 20 other Iowa state senators in sponsoring "personhood" legislation. Had it passed, the measure would have amended the state Constitution to legally define someone as a "person" at conception.
The U.S. Supreme Court currently defines a "person" when the fetus is at a stage of "post-viability," said Tim Hagle, a politics and constitutional law professor at the University of Iowa.
Ernst has said she believes life begins at conception. At a Republican Senate primary debate in May, she said if a personhood bill passes, she thinks abortion providers "should be punished."
Abortion-rights supporters have criticized such "personhood" laws -- which have been proposed in several other states, without having passed -- as creating a legal avenue for lawmakers to restrict women's access to certain reproductive services.
Braley, for instance, said the proposed Iowa legislation would have done a number of things: banned all abortions, prevented access to certain forms of contraception, stopped in vitro fertilization and left doctors open to prosecution.
However, that's speculation -- because at only 200 words, the measure doesn't include any of those provisions.
The measure would have changed the state's Constitution to say: "The inalienable right to life of every person at any stage of development shall be recognized and protected." Unlike some measures in other states, it did not specifically define the term "person."
Although it doesn't include those specific measures Braley mentioned, the bill's main sponsor has said the intent behind many personhood bills is to pave a road to protect anti-abortion legislation in the future because they would give legal rights to unborn fetuses.
"In and of itself, (the resolution) doesn't change a whole lot," Republican state Sen. Dennis Guth told the University of Iowa student newspaper. "But it ensures that if pro-life legislation is passed, it won't be struck down by the Iowa Supreme Court. It's a supporting document."
And if that's the case, then personhood legislation could provide legal justification for prosecuting anyone who harms a human embryo beginning at conception. This would effectively make abortions illegal, and it could endanger at least some forms of birth control.
Some common birth control methods, like intrauterine devices and "Plan-B," can prevent a fertilized egg from implanting in the uterus. (Such forms of birth control were also the ones at issue in the Hobby Lobby Supreme Court case earlier this year.)
Ernst has expressed wider acceptance of birth control measures than she has about access to abortion.
"When it does come to a woman's access to contraception, I will always stand with our women on affordable access to contraception," she said in Sunday's debate. "That's something that Congressman Braley has been trying to mislead our women voters on. I do believe in a woman's right to contraception."
In-vitro fertilization practices -- when a child is conceived in a lab outside of the body -- could also be affected. In-vitro fertilization specialists often create multiple embryos for one client. After the woman conceives, the remaining embryos may be discarded. If a personhood measure takes effect, it would be illegal to dispose of these extra embryos, and the state could be obligated to find women to gestate them, said Sylvia Law, a professor of law and medicine at New York University.
So it's not hard to imagine impacts of a personhood measure on all of the areas Braley cited -- abortion, contraception, in-vitro fertilization and a risk of prosecution for physicians. But it's also short of a guarantee that any of these restrictions could come to pass.
Experts we interviewed said the law that Ernst sponsored is too ambiguous to predict its legal ramifications.
"The amendment, if adopted, may lead to all the effects noted by Bruce Braley, but it remains uncertain since no personhood amendment has yet been passed (in other states)," added Maya Manian, a professor at the University of San Francisco School of Law and an expert in reproductive health care.
In addition, these more restrictive policies couldn't take effect without overcoming additional hurdles, including overturning federal law, which currently protects women's right to an abortion, said I. Glenn Cohen, codirector of the Center for Health Law Policy, Biotechnology and Bioethics at Harvard University.
"Even if it purported to have the effect Braley is worried about, the U.S. federal Constitution is the supreme law of the land and trumps Iowa's state Constitution," Cohen said.
Our ruling
Ernst said personhood legislation she sponsored would not have restricted access to reproductive services and was "simply a statement that I support life."
Both Braley and Ernst have exaggerated here. Ernst has a point that the legislation does not literally call for the restrictions on reproductive rights Braley cited, but it's more than just a "statement" of principle -- it would change the Iowa Constitution in a way that could, at some point, enable many or all of the consequences Braley foresees to be enacted.
We rate Ernst's claim Half True.