After derailment, Chuck Schumer says shortage of funds has delayed technological fix for Amtrak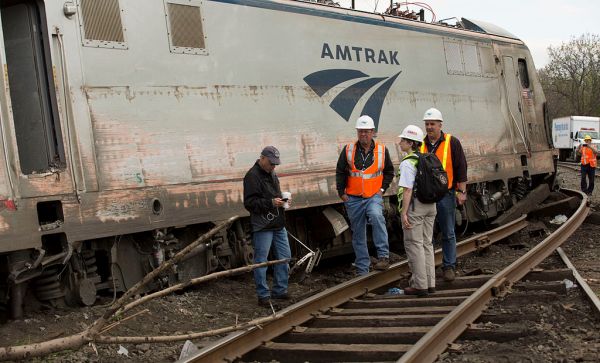 After an Amtrak passenger train derailed in Philadelphia on May 12, 2015, a safety official said a technological fix could have prevented the deadly accident.
Talking to reporters the day after the crash, which killed eight and injured many more, Robert Sumwalt, a member of the National Transportation Safety Board, said positive train control, or PTC, would have prevented the loss of life on Northeast Regional train 188, which entered a curve at more than 100 miles per hour, or twice the posted speed.
"We feel that had such a system been installed in this section of track, this accident would not have occurred," Sumwalt said.
Sumwalt's claim quickly became a bone of contention between Democrats and Republicans on Capitol Hill. At a House Appropriations Committee meeting the day after the crash, the Republican majority cast votes to cut grants to Amtrak for capital spending by about 15 percent. Democrats and Republicans squabbled over both the substance and the timing of the move.
At a news conference, House Speaker John Boehner, R-Ohio, rejected criticism by Democrats that linked congressional funding cuts to the crash. "Listen, you know they started this yesterday -- 'It's all about funding, It's all about funding.' Well, obviously, it's not about funding," Boehner said. "The train was going twice the speed limit. Adequate funds were there. No money's been cut from rail safety, and the House passed a bill earlier this spring to reauthorize Amtrak and authorize a lot of these programs."
To that, Sen. Chuck Schumer, D-N.Y., responded, "Speaker Boehner's comments are patently false. Experts have made clear that positive train control could have prevented the tragedy in Philadelphia. It is simply a fact that insufficient funding for Amtrak has delayed the installation of PTC, and to deny a connection between the accident and underfunding Amtrak is to deny reality."
A reader asked us to check whether Schumer was correct. What we found is that money is indeed one obstacle, but not the only one.
Positive train control and its pricetag
A positive train control system uses signals and sensors along the track to communicate train location, speed restrictions, and moving authority, according to the Congressional Research Service. If the train is going too fast, equipment onboard automatically acts to slow or stop it.
In 2008, a Metrolink train crash in Chatsworth, Calif., killed 25 people and injured more than 100; investigators blamed the engineer for texting while driving. In response, Congress voted to require most of the national rail system -- about 60,000 miles -- to be updated with positive train control by December 2015. Amtrak was making progress on that goal and had installed positive train control on portions of the Northeast Corridor, but it had not yet done so on the stretch of track in Philadelphia where the accident occurred. Amtrak CEO Joseph Boardman told the New York Times that the system was close to being operational throughout the Northeast Corridor by the end of this year.
Schumer has a point that cost has been an obstacle in meeting Congress' requirements, both for private freight-rail companies and for Amtrak, which is dependent on federal funding.
The Federal Railroad Administration has estimated that implementation of positive train control will cost roughly $14 billion. To put that in context, capital investment by U.S. railroads in 2010 amounted to $11 billion, about two-thirds for structures and one-third for equipment. So the estimated cost of meeting the mandate is "roughly equal to the railroads' total capital spending in a single year," according to the Congressional Research Service.
When Congress enacted the requirement for positive train control, it did not designate funds to carry it out. Private freight rail carriers have dipped into their corporate pockets to install the new system -- and they acknowledge that they are behind schedule -- but Amtrak had little choice but to go to Congress to secure funding.
"Projects of this magnitude take many years for any public agency to work into their capital budgets," said Karl Witbeck, a principal in the transportation practice of the consulting firm Stantec. There's "no doubt the lack of capital funding has paid a large role in the delay of finishing the implementation of PTC for Amtrak."
The rest of the picture
However, Schumer's statement glossed over other factors that have hampered the implementation of positive train control. Here are a few of those suggested to us by experts.
• Amtrak's failure to seek, prioritize and use the money it did have. A report by the Amtrak inspector general released on Dec. 20, 2012, cited several obstacles in implementing Congress' positive train control mandate. One was Amtrak's failure to come up with "complete and reliable cost estimates and budgeting" for the system. The report called the budgeting process "fragmented," noting that two different Amtrak departments are responsible for estimating the costs of positive train control, depending on whether the installation is on property owned by Amtrak or another entity.
The report also says Amtrak never asked for enough funds to finish the project in either its five-year financial plan or its fiscal year 2013 budget request to Congress. A Transportation Department official was quoted in the report stating that the department purposely omitted installation costs from these documents because they "would weaken Amtrak's negotiating position with the host railroads because it would alert the railroads to the amount of money that was potentially available to pay these costs." (Amtrak did not provide answers to questions submitted to PolitiFact by publication time.)
• The system is technologically challenging. Even if funding posed no obstacle, overlaying a positive train control system over decades-old rail lines is a complex task. Positive train control "is not off-the-shelf technology and has had to be developed from scratch," said Ed Greenberg, a spokesman for the Association of American Railroads, whose members include most major rail carriers, including Amtrak.
In order to work properly, positive train control needs a certain amount of radio frequency available for the various pieces of the system to communicate with one another. The inspector general's report cited this as the "most serious challenge" to implementing positive train control.
The Federal Communications Commission -- which oversees the frequency spectrum -- told the New York Times that regulatory delays in approving antenna installation are now "largely gone." Still, the accumulation of past delays, whether attributable to the FCC or to Amtrak, have pushed back the implementation of positive train control, experts say.
Part of the problem for Amtrak has been a need to purchase the rights to radio frequencies on the open market, from existing companies that use that spectrum.
"When spectrum is in short supply, as is the case in many urban areas, the railroads have to go to the secondary market and purchase it at a premium," said Joseph C. Szabo, a former administrator of the Federal Railroad Administration.
Matt House, a spokesman for Schumer, emphasized that the senator was not implying that the delay was solely the result of insufficient funds, but rather that it was a contributing, and perhaps even primary, driver of that delay. In addition, he said, the challenges of purchasing spectrum rights are intricately linked to Amtrak's budgetary shortcomings. "Had there been sufficient funding, the installation and broadband acquisition processes would have begun earlier and could have moved faster, and thus ended earlier," House said.
Our ruling
Schumer said that "it is simply a fact that insufficient funding for Amtrak has delayed the installation" of a positive train control safety system. "To deny a connection between the (derailment in Philadelphia) and underfunding Amtrak is to deny reality."
Schumer has a point that insufficient funding has been an obstacle to implementing positive train control in locations like the one where the accident occurred. But other factors played a role as well, including administrative problems within Amtrak and technical challenges such as difficulty obtaining radio frequencies.
The statement is partially accurate but oversimplifies by leaving out important details, so we rate it Half True.