Ted Cruz wrongly says Harry Reid likes Donald Trump best in GOP field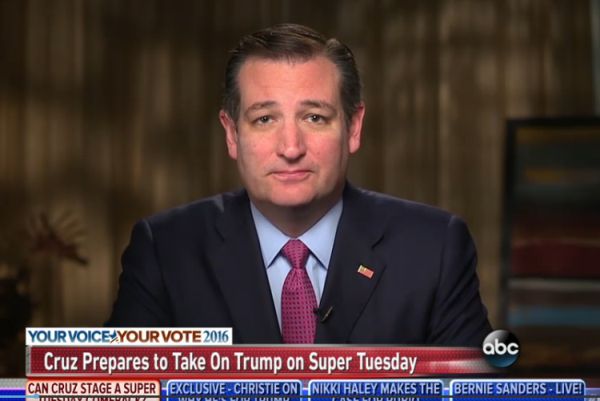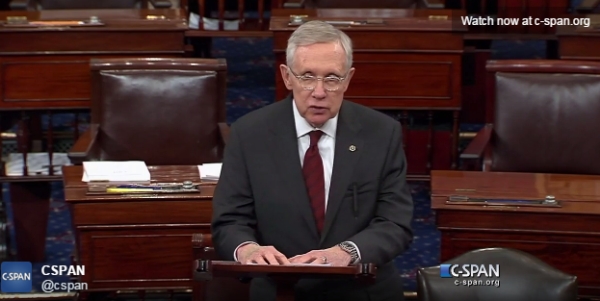 In an urgent quest to keep his presidential hopes alive, Sen. Ted Cruz, R-Texas, attacked GOP frontrunner Donald Trump from several directions in the run-up to Super Tuesday primary balloting.
ABC News This Week host George Stephanopoulos prodded Cruz about his charge that Trump has forsaken conservative principles by expressing a willingness to work with congressional Democrats.
"You've been making that point about Donald Trump supporting Democrats for several weeks right now," Stephanopoulos asked Cruz on Feb. 28. "It doesn't seem to be sticking. Why not?"
Cruz responded that he's seen positive movement in the polls during that time, and he charged that Trump would be too quick to compromise on such issues as the Israeli-Palestinian conflict, Supreme Court nominations and religious liberty.
Then he added, "There's a reason (Senate Democratic Leader) Harry Reid, when asked about the Republican field, said the Republican he likes the best is Donald Trump, and he said, because I can work with him. He'll cut deals. We've had too many deals in Washington."
We wondered: Did Reid, one of the fiercest Democratic partisans in Congress, really give his blessing to Trump?
The short answer is that he did, but only jokingly.
Help PolitiFact raise $15,000 to hire a fact-checker to cover the immigration debate.
On Jan. 27 — one day after Trump said he got along well with Reid and House Democratic leader Nancy Pelosi on MSNBC's Morning Joe — Reid told reporters at an impromptu media availability, "Look, we've gotten along fine," referring to Trump. "With that bunch of people running, I'm kind of pulling for him," Reid said.
Reid also said, "Oh, I remember the good old days when he did a fundraiser or two for me."
Apparently realizing that his words could be misconstrued, Reid took to the Senate floor in short order, seeking to clarify that he had only been joking about "pulling for" Trump in the presidential race.
"There are some things I shouldn't joke about," Reid said on the floor. "I tried to be funny an hour ago at my weekly stakeout and I guess it wasn't very funny, at least I don't think so. The danger Donald Trump's candidacy poses to our country is not a joke. Since he launched his bid for the Republican nomination, Donald Trump has proven over and over again that he is a hateful demagogue who would do immeasurable damage to our country if elected. I have come to the Senate floor many times to decry his hateful comments. Donald Trump threatens to diminish the integrity of our democracy around the whole world. If he wins the nomination of the Republican Party to run for president of the United States, the Republican Party will never recover from the damage he will inflict on conservatism."
This public clarification of Reid's position isn't something that Cruz reflected when he made his comments on This Week. (We viewed the video of Cruz's remarks here and conclude that he seems to be making a serious point about what Reid said, not saying it in a tongue-in-cheek manner.) Cruz also glossed over the fact that Reid said he is "pulling for him," which is not exactly the same as Reid saying Trump is the Republican he "likes best."
And Cruz amplified these inaccuracies by saying that the reason for Reid's seeming warmth to Trump was that Reid felt he could cut deals with him. None of the news accounts we found said that Reid cited a willingness to strike deals as the reason for his purported support of Trump. Deal-making was brought up by Trump, not by Reid.
When we checked with Reid's office, spokesman Adam Jentleson reiterated that the comments Cruz cited on This Week were just a joke. Reid, Jentleson said, "has repeatedly denounced Trump for stoking the fires of racism and resentment and spoken out repeatedly on the floor, including before he said the quote" that Cruz referenced.
Indeed, there is ample evidence from both before and after Reid's comments that the Democratic leader is strongly opposed to Trump's candidacy.
For instance, during a Dec. 8, 2015, floor speech, Reid said, "Donald Trump is standing on the platform of hate," and on Jan. 20, 2016, Reid tweeted that by advancing a bill on refugees, the GOP "is catering to (the) hateful agenda of Donald Trump." Reid added in that tweet that Trump's proposed ban on Muslim travel to the United States is "reprehensible."
Then, in late February, Reid tweeted that "Republicans should think about this: If they follow (Senate Republican Leader Mitch) McConnell's lead, they'll be as responsible as Trump/Cruz for debasement of their Party."
When we contacted Cruz's campaign, spokeswoman Catherine Frazier said, "I'll leave it to Sen. Reid to speak the sincerity of his comment, but the takeaway still stands — the Washington establishment recognizes Trump will cut deals with them to further their agenda. That is the very thing Americans are fed up with."
Our ruling
Cruz said, "Harry Reid, when asked about the Republican field, said the Republican he likes the best is Donald Trump, and he said, because I can work with him. He'll cut deals."
Reid did tell reporters that "with that bunch of people running, I'm kind of pulling for" Trump, but he quickly went to the Senate floor to clarify that he had been joking. Indeed, Reid has spoken out forcefully and repeatedly against Trump's candidacy, both before and after the comments Cruz referenced. And importantly, Reid said nothing about Trump's willingness to cut deals. We rate Cruz's statement False.