McAuliffe says 40 percent of U.S. gun sales escape background checks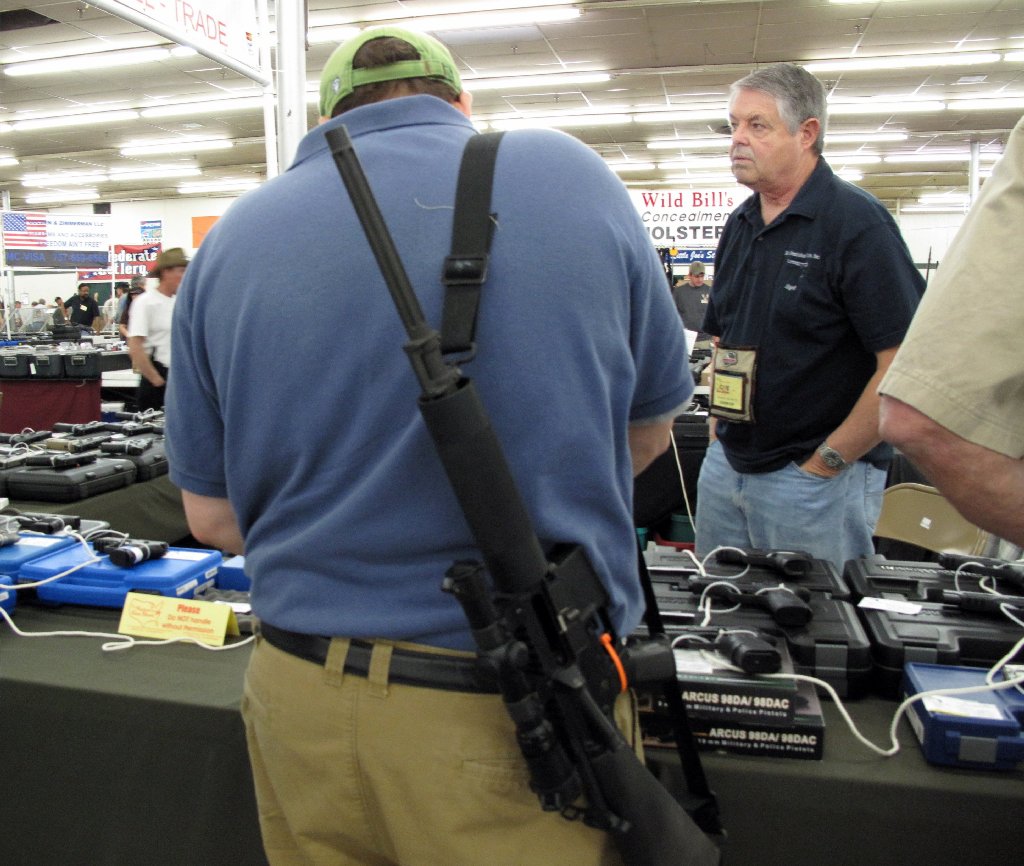 Gov. Terry McAuliffe recently issued an executive order that banned firearms from most state buildings and offered his rationale for a gun control measure he plans to present to the General Assembly this winter.
McAuliffe, a Democrat, is calling for a law that would require all prospective gun buyers in Virginia to undergo a background check to determine whether the purchaser has a disqualifying criminal record or mental health history. Although the governor long has supported this action, his intensity grew after the Aug. 26 fatal shootings of Roanoke television reporter Alison Parker and cameraman Adam Ward near Smith Mountain Lake.
Virginia law now requires all licensed gun dealers - those in the business of selling arms - to conduct computerized checks on buyers. But sales between individuals are exempt and that, McAuliffe says, opens a loophole for guns to fall into the wrong hands. A federal law requiring background checks has the same exemption.
"It has been estimated that nearly 40 percent of all guns sold in America are sold by private, unlicensed sellers either online or through guns shows," McAuliffe stated in his Oct. 15 executive order.
Christina Nuckols, deputy press secretary for McAuliffe, said the source of the 40 percent figure is a 1997 study by the National Institute of Justice that looked at gun owners' responses to a 1994 national survey asking how they got their weapons. The study found that 30 percent to 40 percent of all gun transactions were made through an "off-the-books" transfer in which a background check wasn't required.
The finding has been cited widely by gun control advocates - including Democratic presidential candidate Hillary Clinton and U.S. Sen. Tim Kaine, D- Va. - in calling for a federal law mandating universal background checks. But as we and other fact checkers have noted previously, the research is old and limited. Consider:
•The 1994 survey was conducted eight months after the federal Brady Act went into effect, mandating background checks on individuals seeking to buy firearms from federally licensed dealers. Survey participants were asked about their gun acquisitions going back to 1991.
•Only 251 gun owners answered the survey question about the origin of their weapons. Some of the gun owners weren't sure how they'd gotten their guns and answered "probably" or "probably not" to whether they got the gun from a licensed firearm dealer.
McAuliffe's statement misses a key distinction in the study: The research looked at all gun transactions - including when a gun was obtained as a gift or as an inheritance - and not just being "sold," as the governor said.
The Fact Checker at The Washington Post in 2013 asked one of the co-authors of the study, Jens Ludwig of the University of Chicago, to crunch the 1994 data just looking at sales. Ludwig replied that 14 percent to 22 percent of guns were purchased without a background check.
The 1994 data, we also should note, did not have a category for online sales, as McAuliffe's statement suggests.
Earlier this year, we asked the other co-author of the report, Philip Cook of Duke University, what percentage of guns currently are sold without a background check. In response, he sent us an op-ed that he and Ludwig wrote in the National Review after the December 2012 shootings at Sandy Hook Elementary School in Newtown, Conn. - a time when the 40 percent figure was circulating again.
"We've been following the give-and-take with some interest because our research is the original source of the 40-percent statistic," they wrote. "Our views may come as a surprise: First, we don't know the current percentage - nor does anyone else."
The lack of current data is due largely because federal funding for gun studies dried up two decades ago. President Barack Obama issued a memorandum in 2013 directing the Centers for Disease Control and Prevention to re-examine gun violence.
We also should note that Virginia doesn't keep data about private guns, said Corinne Geller, communications manager for the state police. As a result, we recently gave a False rating to a statement by state Sen. Tommy Norment, R-James City, that only 2 percent of Virginia gun sales are exempt from background checks. The fact is, nobody knows.
Our ruling
McAuliffe said, "It has been estimated that nearly 40 percent of all guns sold in America are sold by private, unlicensed sellers either online or through gun shows."
His source is a small-sample survey from 1994 that included firearms that were sold and those that were given as gifts or inheritances. When the results were adjusted to guns sold - the term McAuliffe uses - only 14 percent to 22 percent of the firearms were sold without background checks.
The researchers say they "don't know" if their findings are relevant today. No current national study has been published.
McAuliffe did not acknowledge these points, all of which have been reported widely. So we rate his statement Mostly False.