Scott Walker says Foxconn 'bringing' 13,000 jobs to Wisconsin -- what exactly does that mean?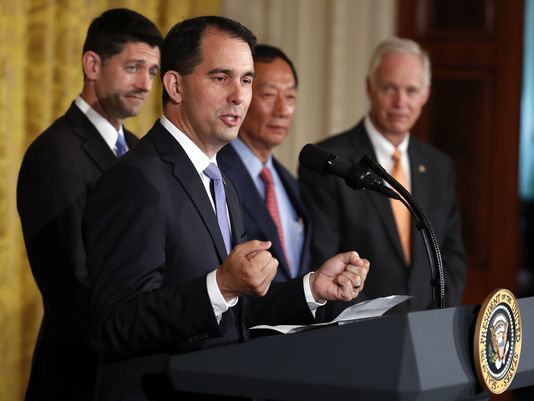 Wisconsin Gov. Scott Walker could perhaps be excused for over-exuberance when it comes to Foxconn Technology Group, the Taiwan-based company that describes itself as the world's largest electronics manufacturing services provider.
Indeed, the typically composed Republican governor seemed almost giddy when he joined President Donald Trump, Foxconn founder Terry Gou and other officials at the White House on July 26, 2017.
The occasion: Foxconn was announcing that, after considering a number of states, it had decided to build a liquid crystal display (LCD) panel manufacturing plant in southeast Wisconsin. Not just any plant, but a $10 billion facility that is envisioned as becoming part of a high-tech "ecosystem."
So, in all the excitement, did Walker go too far in stating how many jobs are coming?
In a tweet the same day, he declared:
Foxconn is bringing 13,000 high-tech jobs to Wisconsin -- the biggest jobs announcement in our state's history!
Leaving aside the term high-tech, we wondered about the figure.
We found that the 13,000 is something more than a goal, though -- at this stage -- considerably less than actual jobs.
What Foxconn says
At the White House, Gou made no reference to the number of jobs the facility would create.
And in a news release, Foxconn was notably more measured than Walker was, using the word "potential" in saying the plant would "create 3,000 jobs with the potential to grow to 13,000 new jobs."
Trump used the same word, saying 3,000 jobs would be created "at a minimum, with the potential for up to 13,000 jobs in the very near future."
Indeed, in an interview on the day of the announcement, Walker himself qualified the 13,000 figure as less than certain in discussing $3 billion in incentives Wisconsin is offering Foxconn. "If there's something less than the 13,000 jobs, they don't get as much of an incentive," he told WTMJ-TV in Milwaukee.
(Walker repeated that point in three broadcast interviews the next day, making it clear the company would not get the full $1.5 billion jobs portion of the incentives unless 13,000 jobs are created.)
It's fair to say that the 13,000 is something more than a goal, given that Foxconn is entering into a written agreement with the state.
"Is there an absolute guarantee that there will be 13,000 jobs? I don't know how Foxconn could guarantee that," said Tom Still, president of the Wisconsin Technology Council, a nonprofit that advises the governor and the Legislature. "But is there a strategic plan to grow to that level? Absolutely."
At the same time, much must occur before any help wanted postings are made.
It's worth noting that in 2013, Pennsylvania Gov. Tom Corbett announced that Foxconn planned to invest $30 million in a "high-end technology manufacturing facility" with 500 jobs. The company has a small research operation in Harrisburg, Pa., but the factory was never built.
And by way of comparison, on the same day of Foxconn's Wisconsin announcement, Amazon made a more firm jobs announcement. It said it would hold a job fair on Aug. 2, 2017, at 10 of its shipping sites around the country as part of an effort to fill more than 50,000 U.S. jobs.
Our rating
Walker said: "Foxconn is bringing 13,000 high-tech jobs to Wisconsin."
Leaving aside the term high-tech, the Taiwan-based electronics manufacturer is a long way from even breaking ground on a plant that was only announced the same day Walker made his statement. And the company itself has been more measured, saying the planned plant initially will create 3,000 jobs, "with the potential to grow to 13,000 new jobs."
But the 13,000 is more than talk. Foxconn is pledging a $10 billion investment and the state is offering $3 billion in incentives, with $1.5 billion aimed at the creation of 13,000 jobs.
Walker's statement is partially accurate, but needs clarification -- our definition of Half True.