In the wake of Las Vegas, lawmaker says a Wisconsin bill would let everyone carry concealed weapons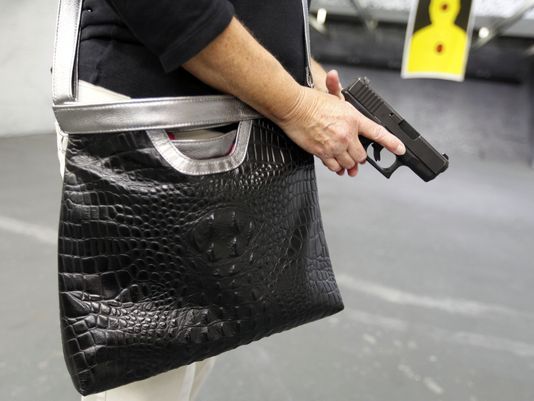 At a news conference in response to the Las Vegas mass shooting, Wisconsin state Rep. Chris Taylor made a claim about a bill that's advancing in the Wisconsin Legislature.
The Madison Democrat said on Oct. 4, 2017, three days after the shooting:
Unfortunately, the other thing that we see after these horrible massacres is a loosening of gun laws, allowing dangerous individuals to get firearms more easily. That seems to be the trend in this country. Right here, in our own state, we have a bill that would allow hidden, deadly weapons -- every single person to carry one -- no training, no background check, even around schools -- even around schools.
Let's see if that's what the bill would do.
The bill's history and status
Taylor was referring to Senate Bill 169, which was introduced by two GOP lawmakers in April 2017. In September 2017, 11 days before a gunman killed 58 people and wounded 489 in Las Vegas, the bill was approved by a Senate committee. The three Republicans voted yes and the two Democrats no.
The full Senate could take up the bill later in 2017 or in 2018.
Both the state Senate and the Assembly are controlled by Republicans. But GOP Gov. Scott Walker has cast some doubt on the legislation, saying in June 2017 it was "appropriate" for the state to require people to get permits to carry hidden weapons.
The bill vs. current law
To be clear, under current state law, certain people, such as felons, are prohibited from possessing a gun.
Generally speaking, it is legal in Wisconsin to openly carry a firearm without any training or license to carry. But a state license is needed to carry a concealed firearm.
Now let's get to how concealed carry would change under the bill, according a memo by the nonpartisan Legislative Council and Larry Konopacki, the state attorney who wrote it:
Licensing: Currently, it is generally illegal in Wisconsin to carry a concealed weapon unless you have a concealed carry weapon (CCW) license issued by the state. A background check and training are required to get a license. The bill would do away with the licensing requirement -- which means no training or background check would be required to carry a concealed weapon.
So, the "no training, no background check" part of Taylor's claim is correct.
Schools: Currently, guns are generally prohibited on school grounds. The bill would do away with that blanket prohibition. Instead, individual schools could ban guns on their grounds. But people with a CCW license would still be able to bring their guns on the grounds, as long as the guns stayed in their vehicle or within five feet of their vehicle. (The provision was included so that parents who carry weapons aren't breaking the law when they pick up and drop off their children at school, supporters say.)
Those with licenses would also be free to bring guns onto any school grounds when there were no school activities.
But Taylor's claim was "around schools," so let's be clear on that. Currently, only CCW license holders are generally allowed to possess firearms within 1,000 feet of school grounds. Under the bill, anyone who legally possesses a firearm could generally carry within 1,000 feet of school grounds.
It's worth noting that while carrying within 1,000 feet of school would be made legal under state law, generally speaking, people would still be in violation of federal law if carrying a concealed weapon within 1,000 feet from a school if they don't have a concealed carry license.
Prohibitions: Currently, it is generally illegal for certain persons -- such as people convicted of any felony, or of a misdemeanor involving domestic violence -- to possess a gun at all. The bill would not change that general prohibition. However, it would allow even those people who are generally prohibited to be able to legally carry, open or concealed, antique, replica and muzzleloading firearms.
So, to Taylor's claim, even felons could concealed carry those certain types of firearms and they could do so within 1,000 feet of a school.
Our rating
Taylor said in Wisconsin, "we have a bill that would allow hidden, deadly weapons -- every single person to carry one -- no training, no background check, even around schools."
The "every single person" part of the claim needs clarification, in that not every person, particularly felons, can legally possess any type of weapon.
But Taylor is correct that if the bill becomes law, people could generally carry concealed weapons without getting a license -- which would mean no background check or training would be required, either. And even felons could conceal carry certain weapons, such as antique or replica guns.
As for around schools, anyone who can legally possess a firearm could generally carry it concealed within 1,000 feet of a school, under the bill.
For a statement that is accurate but needs additional information, our rating is Mostly True.
Note: This item was updated on Oct. 6, 2017 to make reference to the federal law on carrying a weapon near a school. This does not change the rating.
div class='artembed'>