U.S. Sen. Tammy Baldwin's 'very cheesy ad' cuts the mustard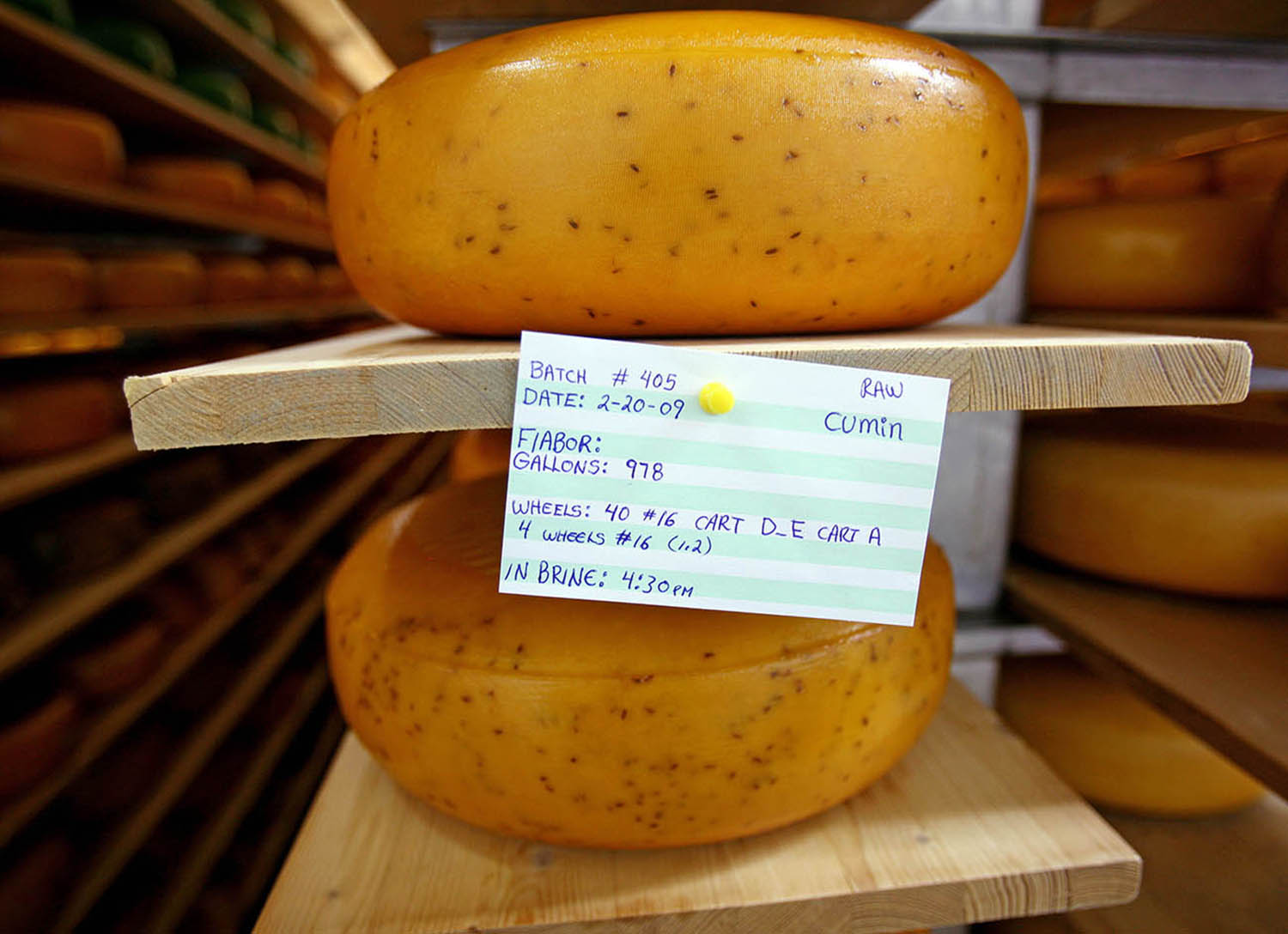 Democratic U.S. Sen. Tammy Baldwin is in a bruising political battle that includes third-party groups pouring millions of dollars into the race.
Baldwin will face the winner of the Republican matchup between Delafield businessman Kevin Nicholson and state Sen. Leah Vukmir, R-Wauwatosa.
Baldwin started running TV ads in February, highlighting her work on "Buy America" legislation and prescription drug costs.
In a follow-up ad, launched April 16, 2018, Baldwin turned to a quintessential Wisconsin issue … Yes, wooden cheese boards.
The ad starts with the warning: "This is gonna be a cheesy ad … a very cheesy ad." Then it turns to Baldwin who says:
"When federal bureaucrats wanted to prohibit the use of wooden cheese boards, which help make tens of millions of pounds of cheese a year, something had to be done."
The ad then shifts to Thorp, Wis., cheesemaker Marieke Penterman, known for the Penterman farm's "Marieke Gouda" cheese, who says: "Tammy Baldwin stepped in, helped eliminate regulations and stood up for businesses like ours."
Is the claim in the Baldwin cheese ad gouda?
Or is it, as critics claim, a little overripe?
Baldwin's evidence
At the center of the ad is a 2014 cheese board brouhaha.
It started after the U.S. Food and Drug Administration inspected several New York state cheesemakers and cited them for using wooden surfaces to age cheeses, stating the practice was unsanitary. That inspection and report caused alarm in the artisan cheesemaking community.
On her campaign website, under the headline "Standing Up for a WI Way of Life," Baldwin describes it this way:
In 2014, the FDA wanted to prohibit the use of wooden boards used for aging cheese, quintessential to some of our state's best products. In fact, the Wisconsin Cheesemakers Association estimated in 2014 that 33 million pounds of cheese were aging on wooden boards in Wisconsin.
Tammy took immediate action. She pressured the FDA and pointed out the "serious ramifications for Wisconsin's world-renown cheesemakers who have safely aged their cheeses on wooden boards for generations."
The FDA soon backed down on restricting use of wooden boards for aging.
Critics say Baldwin's bureaucracy-busting claim is overblown.
The National Republican Senatorial Committee issued a news release that said, in part: "In the new spot, Senator Baldwin goes on about her record 'eliminating regulations' and taking on 'federal bureaucrats' in the cheese industry. Get a grip. There's never been an industry Senator Baldwin didn't want to tax, regulate or burden with new legislation."
Conservative WISN talk show host Jay Weber dismissed Baldwin's action as "she wrote a letter," adding: "More accurately, her staff did, and she signed it. Baldwin did literally the minimum she could. She didn't 'step in' anywhere."
To be sure, Baldwin's claim is actually a minimalist one. Not that she was responsible for the change, only that she "stepped in" and "helped eliminate the regulations."

What happened and what did Baldwin do?
When we asked the Baldwin team for more specifics, a spokesman pointed us to a Baldwin website page featuring statements on various dairy industry issues.
But it basically repeats the information included with the ad:
And when the FDA tried to tell Wisconsin's world-renowned cheesemakers to stop using traditional wood boards for aging, Tammy stepped in and told the regulators to back-off. Working hand-in-hand with Wisconsin's dairy industry, Tammy successfully pressured the Washington regulators to reverse their decision.
The Baldwin site also references several news articles about the issue, including a Wisconsin State Journal piece from June 12, 2014.
The article notes that in a letter the day before to FDA Commissioner Margaret Hamburg, Baldwin sought clarification on the agency's cheese board policy:
I am writing in regards to disturbing reports that the Food and Drug Administration (FDA) is pursuing policies to end the use of wooden boards in cheese aging. This has raised great concern among Wisconsin's cheesemakers, who are currently aging 33 million pounds of cheese on these boards and whose businesses rely on this process. If these reports are true, the FDA should immediately cease any efforts to end the use of wooden boards in cheese aging. In addition, I am requesting that the FDA clarify its policy on cheese aging and enter into a transparent discussion about the role that wooden boards play in cheese processing and food safety.
At the time, the FDA released a statement clarifying its policy:
Recently, you may have heard some concerns suggesting the FDA has taken steps to end the long-standing practice in the cheesemaking industry of using wooden boards to age cheese. To be clear, we have not and are not prohibiting or banning the long-standing practice of using wood shelving in artisanal cheese. Nor does the FDA Food Safety Modernization Act (FSMA) require any such action. Reports to the contrary are not accurate…
At issue is a January 2014 communication from the agency's Center for Food Safety and Applied Nutrition to the New York State Department of Agriculture and Markets' Division of Milk Control and Dairy Services, which was sent in response to questions from New York State.
The FDA recognizes that this communication has prompted concerns in the artisanal cheesemaking community....
In the interest of public health, the FDA's current regulations state that utensils and other surfaces that contact food must be "adequately cleanable" and "properly maintained." Historically, the FDA has expressed concern about whether wood meets this requirement and these concerns have been noted in its inspectional findings. However, the FDA will engage with the artisanal cheesemaking community, state officials and others to learn more about current practices and discuss the safety of aging certain types of cheeses on wooden shelving, as well as to invite stakeholders to share any data or evidence they have gathered related to safety and the use of wood surfaces. We welcome this open dialogue.
In a June 10, 2014 article, the Associated Press noted that "The FDA's statement was issued in response to a letter written by Wisconsin Department of Agriculture, Trade and Consumer Protection secretary Ben Brancel urging FDA officials to take a second look at its policy."
The article did include Baldwin's on a list of Wisconsin officials who contacted the FDA on the issue, along with Gov. Scott Walker, U.S. Rep. Mark Pocan (D-Madison) and state Sen. Dale Schultz (R-Richland Center).
In addition to making phone calls and writing the letter to the FDA, Baldwin, along with U.S. Sen. Patrick Leahy of Vermont and others, introduced an amendment that aimed "to require the commissioner of Food and Drugs to issue guidance before using funds to limit or prohibit the use of wood boards for cheese aging or ripening," a Baldwin staffer said. The larger legislation, and amendment, did not get a vote on the Senate floor.
Finally, we turned to the FDA itself on whether its stance on wooden cheese boards has changed. The agency issued this statement:
The FDA does not prohibit the practice of using wood shelving in cheesemaking. Over the past 4 years, the agency has engaged in extensive dialogue with the artisanal cheesemaking community on food safety practices after stakeholders, including Congress, asked for clarification on agency requirements. Among other things, the American Cheese Society (ACS) worked with the FDA to provide clarity to their members and food safety guidance on this topic, which can be found in the ACS Best Practices Guide for Cheesemakers. The FDA, ACS, state and local governments, among others, all share the same goal: to ensure that the cheese Americans enjoy is safe.
Our rating
In a TV ad, Baldwin said that "when federal bureaucrats wanted to prohibit the use of wooden cheese boards, which help make tens of millions of pounds of cheese a year" she "stepped in, helped eliminate the regulations."
Baldwin's actions in the cheese board dustup included phone calls, a letter to the FDA and the introduction of an amendment, all of which helped prompt a clarification of its cheese board policy. The FDA says the regulation dealing with sanitary practices was never eliminated, though the agency's clarification of its policy did allow the cheesemaking to continue.
For a statement that is accurate but requires clarification or additional information, our rating is Mostly True.