State Rep. Dale Kooyenga close on ranking but falters on 'everyone' has health care claim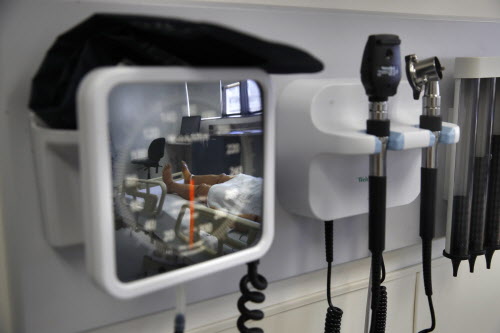 Editor's note, Dec. 4, 2018: This item has been updated to note that Wisconsin is the only state, among those who did not do the Obamacare expansion, without a so-called coverage gap.
Both sides in the political divide have used health care as a major talking point, with heated arguments ranging from coverage of pre-existing conditions to Medicare for All proposals.
Now, state Rep. Dale Kooyenga, R-Brookfield, has raised an issue that piqued the interest of PolitiFact Wisconsin.
"We have the number one health care system in the country," said Kooyenga, referring to the state of Wisconsin. "Everyone in poverty now has health care."
Kooyenga's comment came Nov. 7, 2018, on the "Mark Belling Show" on WISN-AM.
The day before, Kooyenga had won the seat that Republican state Sen. Leah Vukmir gave up to run unsuccessfully against Democratic U.S. Sen. Tammy Baldwin.
Let's see what Kooyenga is talking about.
The evidence
When asked to provide backup for the claim, Kooyenga staffer Rachel Vander Wiele pointed to a Sept. 2, 2015, PolitiFact Wisconsin item that rated a similar claim from Gov. Scott Walker.
The claim: That even though Walker "turned down a Medicaid expansion under Obamacare," because of actions he took, for the first time in Wisconsin's history "everyone living in poverty is covered under Medicaid."
We rated the statement Mostly True.
The item noted that 145,000 people gained coverage as a result of the extra action. What's more, Wisconsin is the only state among those that did not do the Obamacare expansion without a coverage gap, according to the Kaiser Family Foundation, which tracks health-care-related matters.
Vander Wiele also cited a Nov. 1, 2017, news item issued by the University of Wisconsin-Madison Department of Medicine: "Wisconsin has best health care quality in the nation, federal agency says."
The item noted that according to the U.S. Department of Health and Human Services' Agency for Healthcare Research and Quality, Wisconsin had the best health care quality in the nation, based on a ranking of 130 measures.
Digging into the rankings
It is true that Wisconsin was ranked No. 1 in 2017. But the information is outdated.
In the latest such report, released in September 2018, Maine ranked first, with Wisconsin coming in fourth. Reasons cited for Wisconsin's dip included a high rate of emergency department visits and hospitalizations for opioid-related conditions.
Stephanie Marquis, vice president of communications for the Wisconsin Hospital Association, noted that the state has generally fared well in the AHRQ rankings -- first in the nation in 2006, 2008 and 2017 and second in 2007, 2009, 2011, and 2015. Marquis also pointed out that the 2018 ranking was still tops among Midwestern states.
Jon Dyck, supervising analyst at the Legislative Fiscal Bureau, said ranking the health care systems of states is a complicated issue.
"The results depend a great deal on what is being measured and how various measures are aggregated to derive a final score," Dyck said.
"Everyone in poverty now has health care"
According to the Kaiser Family Foundation more than two million poor, uninsured adults nationally fall into the "coverage gap" that results from state decisions not to expand Medicaid. That means their income is above current Medicaid eligibility, but below the lower limit for Marketplace premium tax credits. These individuals would be eligible for Medicaid had their state chosen to expand coverage.
Because Wisconsin sets the income limit for Medicaid at the federal poverty level, does that mean that everyone under the poverty line has coverage?
There is a small wrinkle here.
Remember: While Walker focused on people "covered" by Medicaid, as in eligible for it, Kooyenga stated "Everyone in poverty now has health care."
Dyck, of the state's Legislative Fiscal Bureau, noted that while a person may meet financial requirements to enroll in Medicaid, there are other requirements that are not tied to finances.
As an example, he cited a person who immigrates to the United States "and resides in Wisconsin is generally not eligible for Medicaid until five years after entering the country, even if he or she becomes a naturalized citizen and meets the income eligibility standard."
Meanwhile, there are other sources that show there are people without insurance in the state.
According to the U.S. Census Bureau's 2017 American Community Survey, an estimated 309,404 people out of a population of more than 5.7 million, or 5.4 percent, are uninsured. The Census Bureau also estimates about 60,000 residents under the federal poverty level are uninsured.
Our rating
Kooyenga said Wisconsin has "the number one health care system in the country. Everyone in poverty now has health care."
The state did receive a top rating in 2017, but in a more recent rating by the same agency the state had slipped to number four. Meanwhile, changes under Walker mean that everyone in poverty (and somewhat above) is eligible for coverage under Medicaid.
But clearly there are still residents who do not have insurance.
For a statement that is partially accurate, our rating is Half True.