Stand up for facts and support PolitiFact.
Now is your chance to go on the record as supporting trusted, factual information by joining PolitiFact's Truth Squad. Contributions or gifts to PolitiFact, which is part of the 501(c)(3) nonprofit Poynter Institute, are tax deductible.
I would like to contribute
Harris, Swalwell, Williamson: A quick look at the Californians on tonight's debate stage
The first night of the Democratic presidential debate is over. Ten candidates from around the country, from Massachusetts Sen. Elizabeth Warren to Texas politicians Beto O'Rourke and Julian Castro to Minnesota Sen. Amy Klobuchar, shared the spotlight in Miami and PolitiFact National fact-checked their claims here.
Now is the time for the second round, in which three Californians — Sen. Kamala Harris, Rep. Eric Swalwell, and self-help author Marianne Williamson — will make their case to be the party's nominee.
It's anything but a second-tier group. The Californians will join seven others, including 2020 Democratic frontrunner and former Vice President Joe Biden, along with candidates Vermont Sen. Bernie Sanders and South Bend Mayor Pete Buttigieg. Also on stage will be: New York Sen. Kirsten Gillibrand; Colorado Sen. Michael Bennet; Former Colorado Gov. John Hickenlooper; New York entrepreneur Andrew Yang.
Tonight's debate will be broadcast on NBC News, Telemundo and MSNBC at 6 p.m. Pacific. It will be moderated by journalists Lester Holt, Savannah Guthrie, Chuck Todd, José Díaz-Balart and commentator Rachel Maddow.
During the event, PolitiFact California will be live fact-checking the trio of Californians on social media. Follow our work on Twitter and Facebook. If you hear a questionable claim, email us with a suggested fact check at [email protected]
In the meantime, take a look at the biographies of Harris, Swalwell and Williamson, their top issues, as well as recent articles and fact checks we've done on them.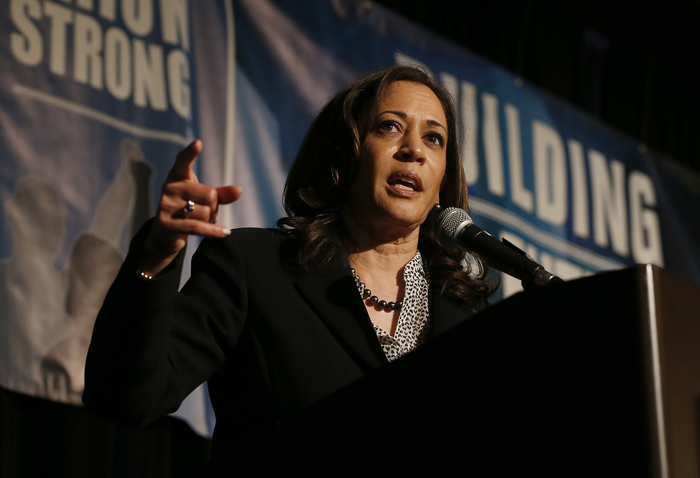 U.S. Sen. Kamala Harris, a candidate for the 2020 Democratic presidential nomination, addresses labor leaders in Sacramento, Calif., in April 2019. (AP Photo/Rich Pedroncelli)
Kamala Harris
Current occupation: U.S. Senator from California
Federal offices: Elected to the U.S. Senate in 2016. Harris serves on the Homeland Security and Governmental Affairs Committee, the Select Committee on Intelligence, the Committee on the Judiciary, and the Committee on the Budget.
Key votes: Voted against the Trump tax bill, 2017; against efforts to overhaul the Affordable Care Act in 2017; and against Supreme Court nominations of Neil Gorsuch in 2017 and Brett Kavanaugh in 2018.
State and local offices: Prosecutor in Alameda County and San Francisco, 1990-2003; elected San Francisco district attorney, 2004-2011; elected California attorney general, 2011-2016.
Private sector work: None
Military: None
Books authored: "The Truths We Hold: An American Journey" (2019); "Smart on Crime: A Career Prosecutor's Plan to Make Us Safer" (2009)
Education: Howard University, B.A.; University of California Hastings College of Law. J.D.
Birth date: Oct. 24, 1964
Personal life: Douglas Emhoff (husband); two adult stepchildren
Religion: Baptist
Top issues: Education, especially teacher pay; criminal justice; pay equity; health care; climate change; immigration
Key endorsements: California Gov. Gavin Newsom; Reps. Nanette Diaz Barragán, Katie Hill, Barbara Lee, Ted Lieu.
Major donors: Top donors for Harris during her congressional career have been WarnerMedia Group, Alphabet Inc. (Google), the law firm Venable LLP, and 21st Century Fox.
Miscellaneous: Harris' late mother was born in India, and her father was from Jamaica. She spent a portion of her childhood in Canada, when her mother was a medical researcher in Montreal.
Other coverage: New York Times, "Kamala Harris, a 'Top Cop' in the Era of Black Lives Matter," May 25, 2016; NBC News, "Meet Kamala Harris, the Second Black Woman Elected to the U.S. Senate," Nov. 8, 2016; New York Times, "Kamala Harris Declares Candidacy, Evoking King and Joining Diverse Field," Jan. 21, 2019; Washington Post, "Kamala Harris enters 2020 presidential race," Jan. 21, 2019; PolitiFact California, "Kamala Harris: Criminal justice reformer, or defender of the status quo? The record is mixed," Jan. 29, 2019
Recent fact checks:
Harris claimed in June that President Trump's tariffs are "taking $1.4 billion out of working people's pockets every month." PolitiFact California rated that Mostly True.
In May, Harris said, "In America today, women on average are paid 80 cents on the dollar of what men are paid for the same work." Research has shown a pay gap for women and men doing the same work, but it's narrower than 80 cents on the dollar. PolitiFact rated her claim Mostly False.
PolitiFact California also examined Harris' claim that her LIFT plan is 'the most significant middle-class tax cut in generations.'
Campaign website: https://kamalaharris.org/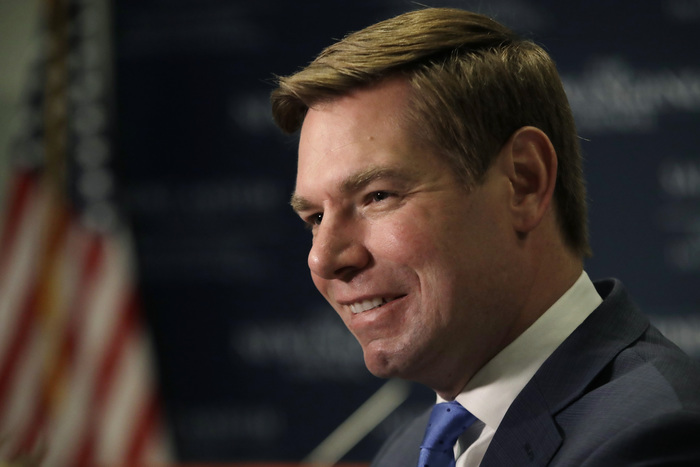 Rep. Eric Swalwell, D-Calif., speaks at a Politics & Eggs event, Monday, Feb. 25, 2019, in Manchester, N.H. Swalwell announced in April he's running for the Democratic presidential nomination. (AP Photo/Elise Amendola)
Eric Swalwell
Current occupation: Member of the U.S. House of Representatives from California's 15th district
Federal offices: U.S. House of Representatives, 2013-present; Committee assignments: Permanent Select Committee on Intelligence and Committee on the Judiciary. Caucus memberships: American Sikh Congressional Caucus; Congressional Asian Pacific American Caucus; Congressional LGBT Equality Caucus
State and local offices: 2001 and 2002, intern for Ellen Tauscher in the United States House of Representatives, 2012-present, representative for California's 15th Congressional District; 2006-2012 Alameda County deputy district attorney; 2006-2008 Dublin, California Heritage & Cultural Arts Commission; 2008-10, Dublin, Calif., Planning Commission; 2010-2013, Dublin, Calif. city council.
Military: None.
Books authored: None.
Education: 1999-2001 attended Campbell University in North Carolina on a soccer scholarship. He transferred and received a B.A. in government and politics, University of Maryland, College Park, 2003. J.D., University of Maryland School of Law, 2006.
Birth date: November 16, 1980
Personal life: Divorced from first wife. Married his second wife, Brittany Ann Watts, in October 2016. They have two young children, a daughter and son.
Religion: Christian
Top issues: Gun control, affordable healthcare, education access, reducing student debt; campaign video
Key endorsements: Arizona Congressman Ruben Gallego
Miscellaneous: During his service in the House, has become known for extensive use of social media. In April 2016, The Hill dubbed him "the Snapchat king of Congress."
Other coverage: Announcement of presidential bid on Late Show, April 2019; profiles in The Mercury News and in Business Insider, 'Ban and buy back every single assault weapon in America' - Eric Swawell on ABC's The View,
Recent fact checks:
Swalwell claimed in May that Georgia's "so-called 'heartbeat' law outlaws abortion before most women even know that they're pregnant. This is one of the most restrictive anti-abortion laws in our country." PolitiFact rated this Mostly True.
The month before, Swalwell said "In 2017, the first piece of legislation that Republicans passed "made it easier for the mentally ill to purchase guns." PolitiFact rated that Half True. He was correct that the law he cited eliminated barriers for certain disabled individuals to buy guns, but it wasn't the first passed in 2017.
Campaign website: https://ericswalwell.com/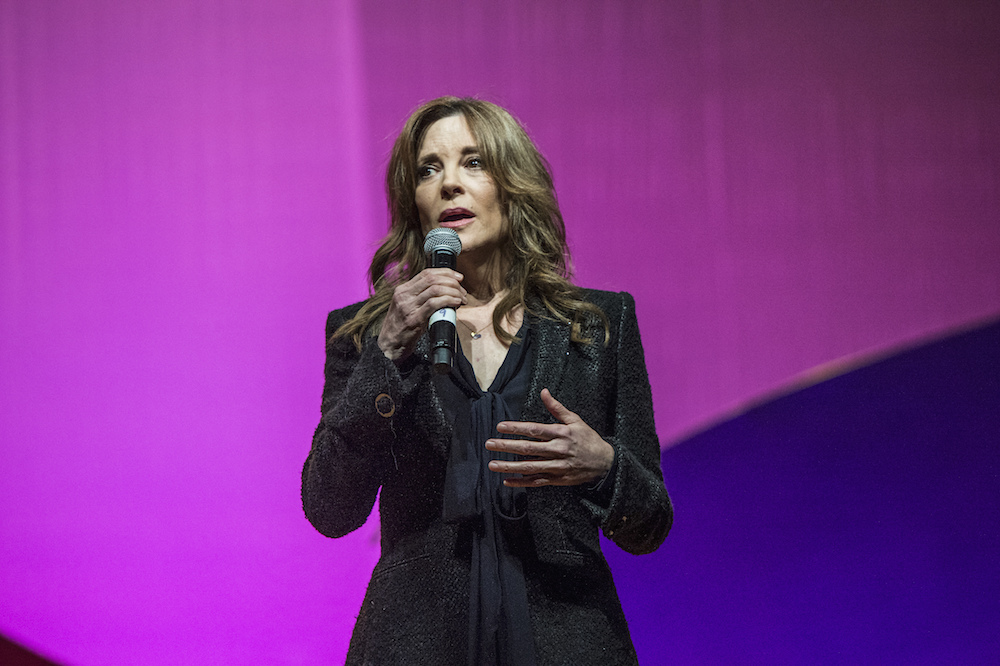 Democratic presidential candidate Marianne Williamson. (2017 AP file photo)
Marianne Williamson
Current occupation: Author and public speaker
Federal offices: None
Key positions: Condemned Israeli settlements as illegal; spoke out against the U.S. relationship with Saudi Arabia
State and local offices: None
Private sector work: Counselor at Center for Healing, founder of Project Angel Food, co-founder of The Peace Alliance
Military: None
Books authored: "A Return to Love," 1992; "Illuminata," 1993; "A Woman's Worth," 1993; "Healing the Soul of America," 1997; "Enchanted Love," 1999; "Everyday Grace," 2002; "The Gift of Change," 2004; "The Age of Miracles," 2007; "A Course in Weight Loss," 2010; "A Year of Miracles," 2011; "The Law of Divine Compensation," 2012; "Tears to Triumph," 2016; "A Politics of Love," 2019
Education: dropped out of Pomona College after studying theater and philosophy for two years
Birth date: July 8, 1952
Personal life: One child
Religion: Jewish
Top issues: Child advocacy, economic inequality, climate change, gun control, reproductive rights
Miscellaneous: She plans to assemble a council of African-American leaders to distribute $200 billion to $500 billion over 20 years in reparations to benefit the descendants of slaves.
Other coverage: PolitiFact's Truth-O-Meter; CNN Town Hall, April 2019; interview on MSNBC's Morning Joe, April 2019; profile in The Washington Post Magazine, February 2019; interview on CBS News, November 2018
Recent fact checks:
Williamson claimed in April that Jimmy Carter was the last "U.S. president to say flat out those (Israeli) settlements are illegal." PolitiFact rated that Half True.
Also in April, she said "For every dollar we spend on actual peace creation, we spend over $1,000 on ways to prepare for war." PolitiFact rated that Half True, as well.
Campaign website: https://www.marianne2020.com/
Browse the Truth-O-Meter
More by Chris Nichols