Get PolitiFact in your inbox.
Hangings, guillotines and Gitmo: Going behind Real Raw News' sensational (and fabricated) headlines
If Your Time is short
Real Raw News is a relatively new website that regularly publishes fantastical, false stories with made-to-go-viral headlines.

Real Raw News stories carry the byline of "Michael Baxter," a pseudonym. The website has published more than 150 stories, many of which have circulated widely on social media and online. The website's "About Us" page features a disclaimer saying it contains "humor, parody and satire," but the author has repeatedly defended his stories as truth.

The "Michael Baxter" behind Real Raw News previously ran at least three other websites and associated YouTube channels that also promoted conspiracy theories, a PolitiFact review of open-source information has revealed. His real name is Michael Tuffin.

After PolitiFact reached out about Real Raw News, Facebook removed the website's page from its platform for violating the company's COVID-19 policies. Google also banned ads from at least two Real Raw News stories that promoted coronavirus and vaccine misinformation after PolitiFact asked about them.
After the Pentagon mandated the COVID-19 vaccines for the U.S. military in late August, a viral story describing an intense backlash among service members exploded online.
"27 U.S. Air Force Pilots Resign Over Covid-19 Vaccination Mandate," said the headline on the Sept. 1 article. The story spread widely, shared by the likes of journalist Lara Logan of Fox Nation, Fox News' streaming service, and George Papadopoulos, an aide to former President Donald Trump's 2016 campaign.
The story of mass Air Force pilot resignations was fabricated, however. It originated on a website that publishes fantastical, demonstrably false stories of arrests, trials, hangings and executions, with headlines such as "James Comey Loses His Head to Guillotine," "Hillary Clinton Hanged at Gitmo" and "Military Executes Tom Hanks." The site is one of several conspiracy-oriented pages set up in recent years by a person who goes by the pseudonym "Michael Baxter," a PolitiFact investigation found.
The website is called Real Raw News, and it bills itself as an "independent publisher" that "explores content often avoided by the mainstream media." Since the site started publishing in late December 2020, it has posted over 150 articles, spinning a narrative of military arrests and executions that reads like a wish list for diehard believers of the QAnon conspiracy theory. The articles routinely rack up thousands of likes, shares and other engagements across social media, according to BuzzSumo, an audience metrics tool.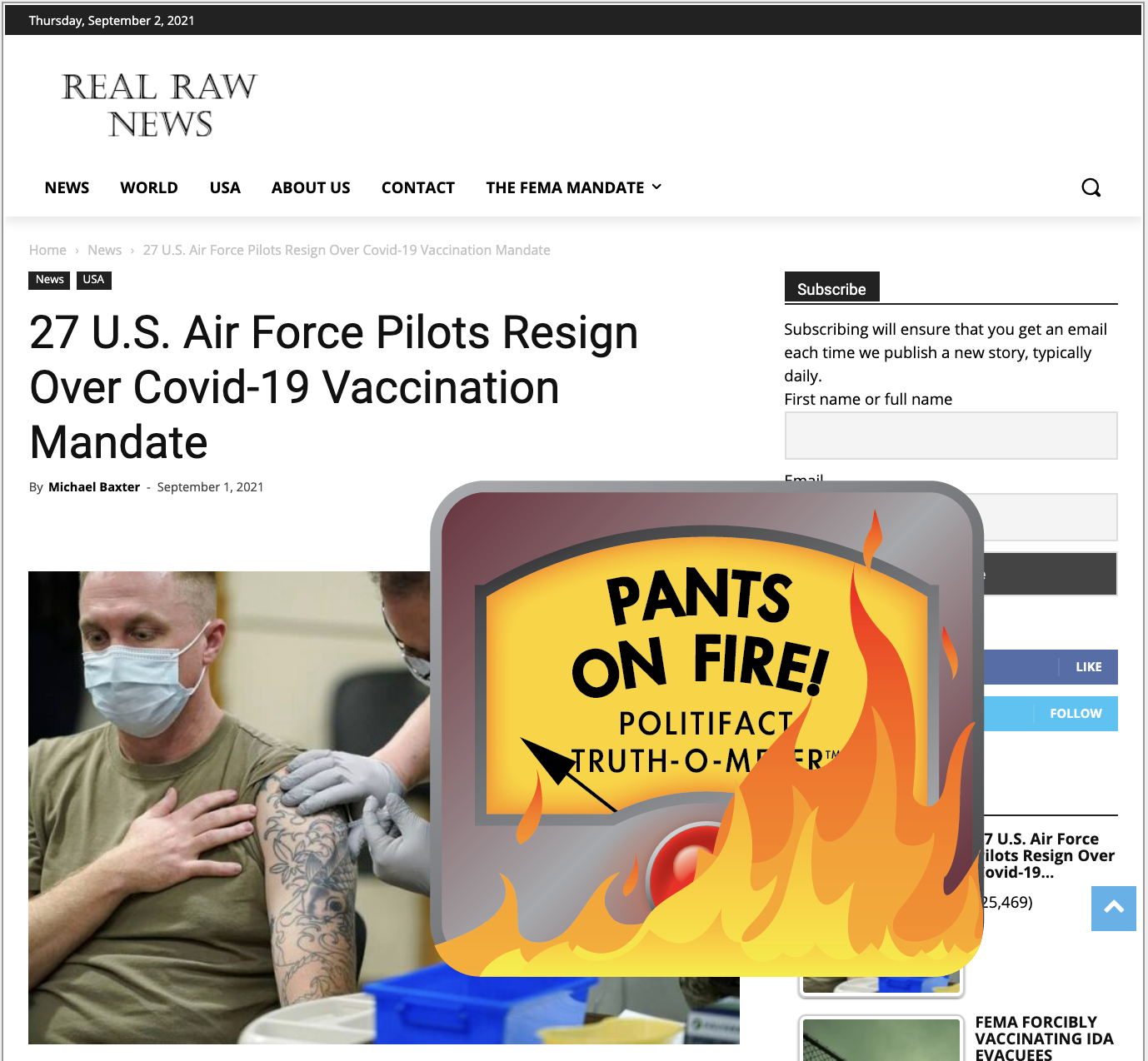 A Sept. 1, 2021, story from Real Raw News made a Pants on Fire false claim about Air Force pilot resignations.
Written in the style of authentic news stories, Real Raw News articles often come in several installments, like the five-part series detailing an alleged military tribunal held for Hillary Clinton.
Site author "Michael Baxter" portrays himself as a reporter with access to privileged information. He cites unnamed sources who he claims are in day-to-day contact with Trump, and others who he claims are at Guantanamo Bay. He promises to check back with them regularly. He attributes direct quotes to named people. He issues corrections when he makes spelling errors or gets someone's title wrong. A disclaimer added to its "About Us" page in April says the website contains "humor, parody and satire," yet Baxter has defended the accuracy of his writings dozens of times in the comments sections on various articles.
"We don't publish fake news," he wrote in one such comment.
"The headlines can read like pretty straight news reporting, if you're at all kind of susceptible to believing that this is really happening," said John Gregory, a senior analyst at NewsGuard, a service that reviews and rates websites according to various journalistic criteria. "It doesn't have some of the telltale signs of hoaxes or misinformation that we might see on other sites."
In the alternative universe of Real Raw News, former Vice President Mike Pence has been on the run for months in an escape that saw him seek asylum in Qatar and take a bullet to the chest. Dr. Anthony Fauci, the White House's chief medical adviser, hasn't gotten his COVID-19 vaccine. The military has arrested dozens of public figures — including Hunter Biden, former Attorney General William Barr, and billionaire Bill Gates — and several of them have been hanged, sent to the guillotine, shot by a firing squad or otherwise executed.
Of course, none of that is true. But these headlines haven't stopped the site from building a following. Though the website has been publishing for less than 10 months, mentions of Real Raw News, realrawnews.com and related hashtags have more than doubled across social media, broadcast and traditional media, and online sites within the last two months, according to an analysis from Zignal Labs Inc., a media intelligence firm. Several stories from that time frame got thousands of shares on Twitter and Facebook.
"We have this assumption that most people can spot that this is a fake news site, and therefore it's not impactful," said Rachel Moran, a postdoctoral fellow at the University of Washington's Center for an Informed Public. "But I just don't think that's the case anymore."
After debunking more than a dozen claims in 2021 that originated on Real Raw News, PolitiFact decided to investigate the website and who was behind it.
We found that the "Michael Baxter" behind Real Raw News previously ran at least three other websites and associated YouTube channels that, while now mostly purged from the internet, also promoted far-fetched conspiracy theories — about everything from the mythical planet "Nibiru" to alien visitations.
Public records and other publicly available information show the author's real name is Michael Tuffin, 53, who lived in Texas as recently as July and has also lived in New York.
PolitiFact asked Facebook why the Real Raw News page was permitted to post misinformation and conspiratorial content on the platform. In response, Facebook notified us that it had removed the page from its platform for violating the company's COVID-19 policies. Google also banned ads from at least two Real Raw News stories that promoted coronavirus and vaccine misinformation after PolitiFact inquired about them. Real Raw News reacted on Twitter, telling readers to follow its account on Telegram.
"Happy doxxing, and thank you for the publicity," Tuffin added in his only email response to PolitiFact.
PolitiFact used open-source intelligence leads — including details from public records, archived webpages, social media postings, and the comments sections on Real Raw News — to stitch together the backstory behind this growing source of online misinformation.
A trail of 'twisted truth'
Real Raw News was created in April 2020, according to domain registration records. It started publishing in late December, with stories alleging that FEMA had purchased assault rifles from China, and that Trump had indicted Fauci.
The website first came onto PolitiFact's radar in January, when it falsely claimed that the Marine Corps had rejected House Speaker Nancy Pelosi's request for inauguration security. Around the same time, Real Raw News also caught the attention of NewsGuard.
As part of its review of Real Raw News, NewsGuard reached out to the email address that was connected to a PayPal account on the website. (The PayPal link is no longer listed on the site.) NewsGuard received a reply from an email account named "Twisted Truth."
"It's a satire site, exposing the insanity of rabid Trumpists (who lack the mental wherewithal to distinguish fact from fiction)," the email from Twisted Truth said, according to NewsGuard.
Searching the internet for "Twisted Truth" and "Michael Baxter," PolitiFact discovered a website called twistedtruth.net, as well as a corresponding YouTube page. At least one since-deleted article from Real Raw News, about the mythical planet Nibiru, was copied word-for-word from a previous article on Twisted Truth. The article's headline on both sites: "France to Nuke Nibiru."
The author of Twisted Truth, which has not posted an article since February 2020, also goes by "Michael Baxter." And his biography on Twisted Truth matches what he wrote on Real Raw News. The "About Us" page for Twisted Truth says the "Michael Baxter" on its bylines is "a former mainstream journalist" who worked for the New York Post, the Village Voice, and the Dallas Morning News, and that he "is also a former English teacher." The "About Us" page for Real Raw News says Baxter is "a former mainstream journalist and former English teacher."
We could not confirm Baxter's employment history or journalism credentials. The New York Post declined to comment, and PolitiFact's inquiries to the Village Voice and the Dallas Morning News went unanswered.
Our research into the Twisted Truth website led us to a 2017 YouTube video that showed an interview with a "Michael Baxter" associated with yet another website and YouTube channel.
A June 30, 2017, YouTube video shows a live discussion between David Greig and "Michael Baxter" (YouTube/dazzathecameraman).
The video of Baxter was on a YouTube channel belonging to David Greig, a New Zealand man who uses his account to debunk online claims. In an interview with PolitiFact, Greig said that he was inspired to begin his own online fact-checking in 2011, after New Zealand had a deadly earthquake, prompting the spread of numerous fear-mongering claims.
Among the claims Greig checked were several relating to conspiracy theories about the hypothetical planet Nibiru. Sometimes called Planet X, Nibiru is a supposedly undiscovered doomsday planet that was going to catastrophically crash into Earth at the end of the Mayan calendar in 2012.
In 2017, Greig learned that Baxter, wearing a camouflage face covering, had made a video challenging him to a live debate about Nibiru and other related topics. At the time, Baxter was running a website called someonesbones.com, along with a YouTube channel called "Nibiru News." One article that Real Raw News published in January — "Delta Force Raids Biden Compound in Ukraine" — very closely resembled a similar story posted on someonesbones.com in 2017, which PolitiFact rated Pants on Fire.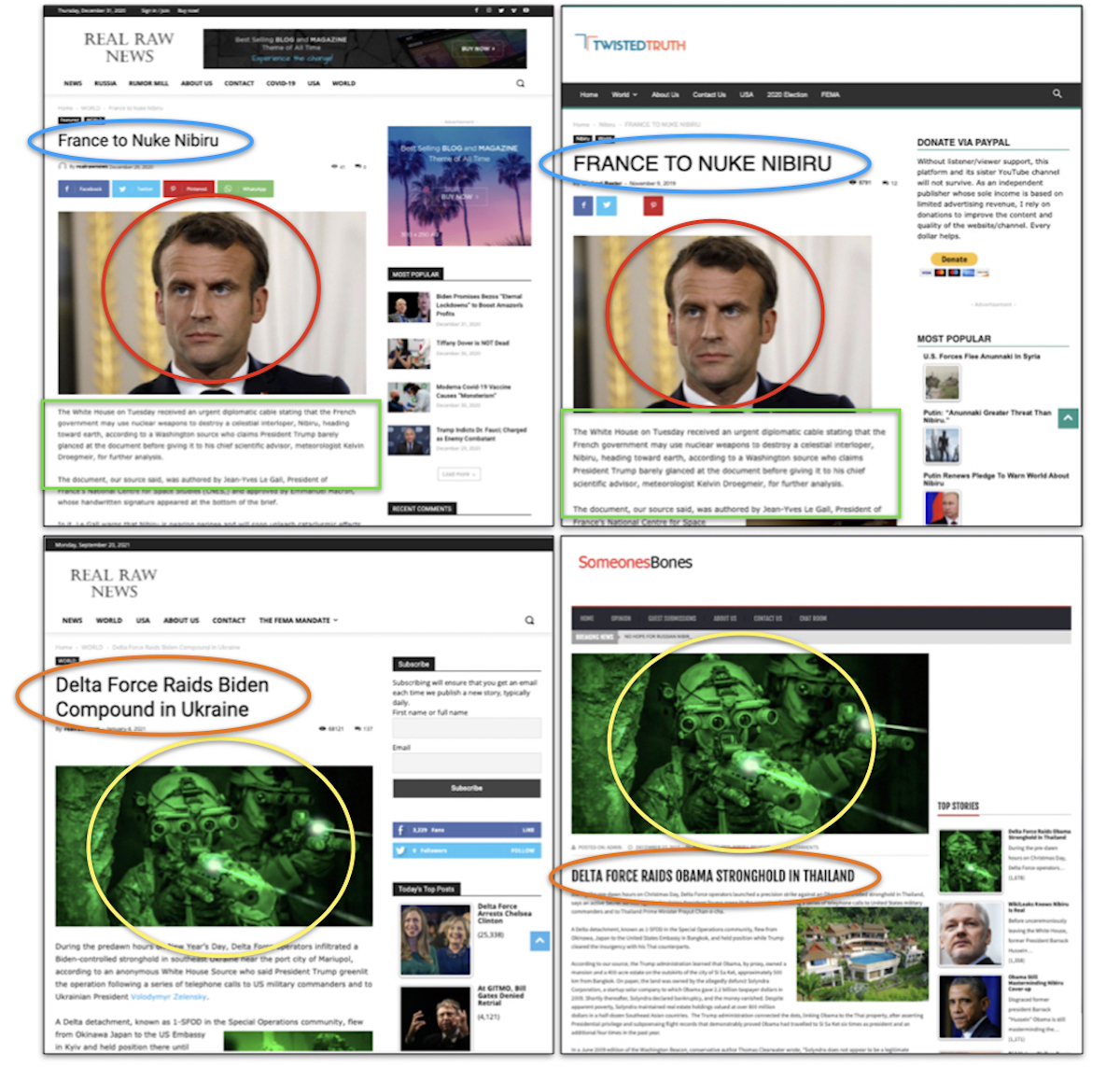 This illustration shows stories published on Real Raw News beside stories published on twistedtruth.net and someonesbones.com.
Greig agreed to host a June 30, 2017, live streamed discussion with Baxter. In it, Baxter told Greig that he launched someonesbones.com and Nibiru News around 2014. In another podcast we found from 2018, Baxter said he also ran another website, beholdapale.com.
Experts who study misinformation said it's not uncommon for websites that push false claims to be linked together, or for certain writers to bounce between sites and create new ones.
"There's such a low barrier to entry," Moran said. "I mean, this Real Raw News is literally a WordPress site. You can plug and play and make anything look like a news site."
The man behind the website
Baxter's real identity wasn't easy to learn. He wore the camouflaged mask throughout his live discussion with Greig. Someonesbones.com no longer exists, and his "Nibiru News" channel is no longer visible on YouTube.
But Greig had saved several videos from the "Nibiru News" channel before they disappeared, and he provided PolitiFact with a six-minute clip from 2018 that showed Baxter without a mask.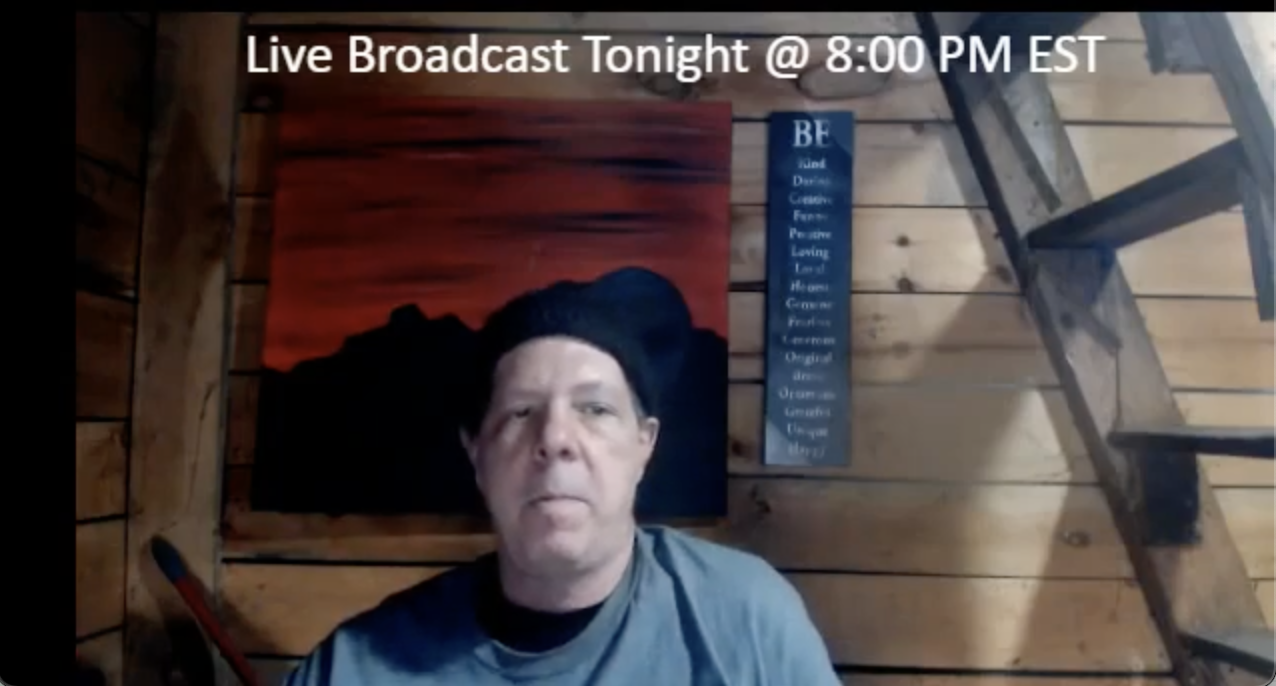 A screenshot from a March 2018 video shows "Michael Baxter," then of someonesbones.com and the YouTube channel "Nibiru News."
"I have no doubt that it is the same 'Michael Baxter,'" Greig told PolitiFact, after he reviewed the website for Real Raw News. "The style is much the same."
With searches for "Michael Baxter" and "Nibiru News," PolitiFact unearthed more information about the man behind Real Raw News and the other sites. And in Baxter's own comments on the Real Raw News site's more than 150 articles, he shared scattered details about himself that aligned with our other research.
Most importantly, buried beneath one March article that made claims about Hillary Clinton, Guantanamo and a psychedelic drug popular with QAnon, PolitiFact found a link to a GoFundMe set up in March that raised more than $10,000 for Real Raw News.
The GoFundMe's organizer was listed as being from Irving, Texas. But the organizer's name wasn't "Michael Baxter." It was Michael Tuffin.
Court filings and public records revealed a Michael Tuffin whose identifying information aligned with what was on a GoFundMe created for "Nibiru News" and a Skype profile Baxter used, as well as with comments Baxter made about himself on Real Raw News.
Michael Tuffin also created an account in June on the Flickr photo sharing service that featured the same two shots of the Rocky Mountains that serve as the profile and cover images on the Twitter account for Real Raw News. The account used an identifier linked to Baxter, and its photos included selfies and other pictures of Tuffin, revealing that he is the same person seen posing as "Michael Baxter" from someonesbones.com and "Nibiru News" in the 2018 video shared with PolitiFact by Greig, the New Zealand YouTuber.
PolitiFact reached out to Tuffin, and also to his brother, in order to provide Tuffin an opportunity to comment. Shortly after, Real Raw News tweeted about inquiries to his family from "MSM watchdogs."
"As we dig deeper, and hit harder, the political elite and their MSM watchdogs are getting desperate and trying desperately to shut us down .... to the point my immediate and non-immediate family are getting harassed," the account wrote. "We will keep fighting."
Hours later, PolitiFact also received Tuffin's brief emailed response to an inquiry in which we shared our findings about Tuffin and Real Raw News. The email was signed, "Michael."
How Real Raw News became a force for misinformation, and why it matters
The far-fetched hoaxes about military arrests and executions that populate Real Raw News' webpages stand out relative to other misinformation websites, but misinformation experts worry that Tuffin's "trust nobody but me" style of writing is becoming a blueprint for hoax sharing.
The false claims on Real Raw News are more extreme than many other misinformation sites, and Tuffin often runs several stories related to the same hoax, unlike the one-offs on other sites.
"This does feel like it's one of the more farcical sites," Moran said. "Some of it is standard boilerplate misinformation, particularly around the COVID stuff … But this one is also like a lot of QAnon inspired or adjacent, militaristic content. Someone is always getting arrested."
Tuffin has tweeted from the Real Raw News account that his website is distinct from QAnon, insisting that all Real Raw News content "is properly sourced and vetted prior to publication."
Gregory, the senior analyst at NewsGuard, said that of all the websites he has helped review, Real Raw News "is the first time I can recall where there's been such dedication to the hoax."
Yet in the weeks following the Jan. 6 Capitol insurrection, and again in the last two months, the website drew elevated attention, according to Zignal's analysis tracking mentions of the site and related hashtags. It has gotten big enough that a different Michael Baxter, a writer from the U.K., told PolitiFact he has been asked four or five times if he moved to Real Raw News.
The Pants on Fire false story about Air Force pilots resigning over the military's COVID-19 vaccine mandate was shared more than 2,000 times on Twitter, Zignal found. A week earlier, another Pants on Fire false story was shared nearly 20,000 times across Twitter and Facebook.
"It's probably the promise and the curse of the internet. Anyone can be a journalist," Gregory said. "It's not hard for someone who simply wants to make stuff up and spread misinformation."
Reposts of Real Raw News stories and screenshots of their headlines have often circulated separately on Facebook, where PolitiFact and other fact-checking organizations have debunked them after they have been flagged as part of Facebook's efforts to combat false news and misinformation on its News Feed. (Read more about our partnership with Facebook.)
That type of spread can be especially misleading, misinformation experts said, because it happens divorced from the disclaimer that's buried on Real Raw News' "About Us" page.
"If you share a link through Facebook, it presents it the same way as if it's the New York Times or the Washington Post," Moran said. "It spreads on social media pretty much unchecked."
In the comments section of one story, Tuffin wrote as "Michael Baxter" that the disclaimer he added in April was "to somewhat indemnify myself against potential legal ramification. That said, I stand behind the articles and the sources who risk their safety to share information."
The disclaimer is tucked in the "About Us" page and not highlighted on individual stories, a tactic that misinformation experts said is common among pages that promote falsehoods.
Amy Gajda, a professor of law at Tulane University, said this type of "satire defense is actually very protective" against various legal challenges, including defamation lawsuits, which must prove that a statement about a person is not only false, but believable and reputation-harming.
"This is why tabloids can get away with their outrageous claims," said Samantha Barbas, a professor of law at the University of Buffalo. "It's not likely that Hillary Clinton's reputation would be harmed by a headline reading 'Hillary Clinton Hanged at Gitmo,' which is obviously fake."
Still, Tuffin takes great effort to pass off his stories as fact-based reporting, separating his work from what is frequently seen on other websites with similar satire disclaimers.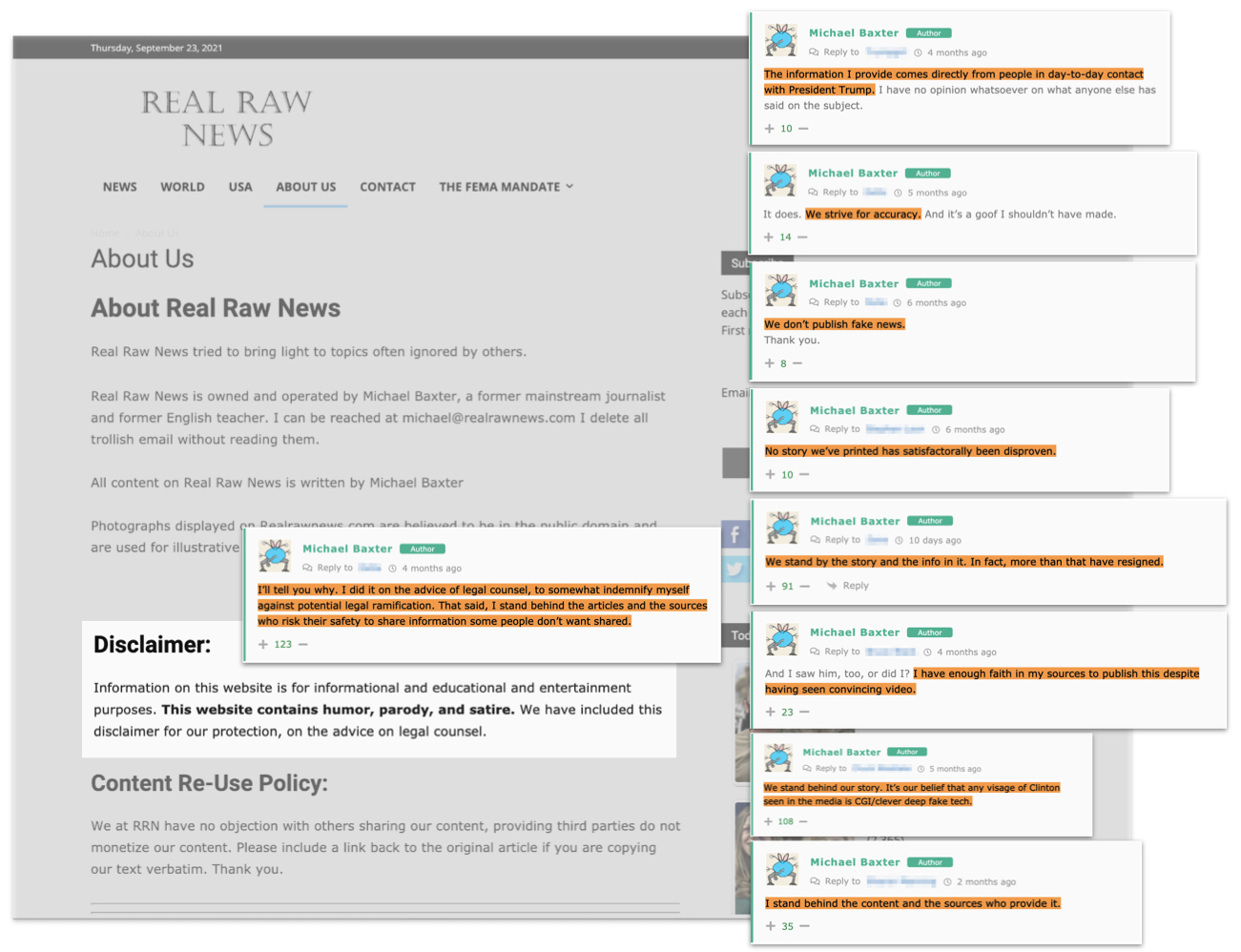 This illustration shows the disclaimer on the Real Raw News "About Us" page, along with a compilation of author comments.
In dozens of comments posted to Real Raw News as "Michael Baxter," Tuffin has defended the accuracy of his work and the credibility of his unnamed sources. "We stand by the story and the info in it," he wrote after a reader pointed to fact-checks debunking his story about Air Force pilots resigning.
When readers point out clear evidence that disproves what he's written — such as the reality that Hillary Clinton is alive — Tuffin has responded by asserting that the version of Clinton seen on TV is the product of computer-generated imagery, or a hologram, or cloning. He has said the same thing about Pelosi, Hanks, former CIA director James Brennan, Rep. Adam Schiff, and Mark Milley, chairman of the Joint Chiefs of Staff.
In other comments, Tuffin has repeatedly instructed readers not to trust the mainstream media, including networks that cater to conservative audiences, like One America News, Fox News and Newsmax. And in a tagline posted at the bottom of some stories, he has claimed that PolitiFact and other fact-checkers have "waged war" against Real Raw News.
"The one thing that gets me is that so many of these websites will say that they are producing stories on things that mainstream media won't cover," Moran said. "That if you go on Google, and you can't find the story anywhere, that is confirming to you that it's true. That's a really sort of dangerous form of evidence, because it's unfalsifiable, and it's a really strong tactic."
PolitiFact researcher Caryn Baird contributed to this report.
Real Raw News, accessed Sept. 21, 2021
Real Raw News on Facebook, accessed Sept. 21, 2021
Real Raw News on Twitter, accessed Sept. 21, 2021
Michael Tuffin on Flickr, accessed Sept. 21, 2021
Twisted Truth, accessed Sept. 21, 2021
Someonesbones.com, accessed via the Internet Archive, Sept. 21, 2021
Beholdapale.com, accessed via the Internet Archive, Sept. 21, 2021
Twisted Truth on YouTube, accessed via the Internet Archive, Sept. 21, 2021
Nibiru News on YouTube, accessed via the Internet Archive, Sept. 21, 2021
Nibiru News on Patreon, accessed via the Internet Archive, Sept, 21, 2021
Various searches on Whois, Sept. 21, 2021
Various searches on BuzzSumo, Sept. 21, 2021
Various searches on Google, Sept. 21, 2021
Various searches on Google Maps, Sept. 21, 2021
Various searches on Nexis, Sept. 21, 2021
Various searches on TinEye, Sept. 21, 2021
Various searches on Yandex, Sept. 21, 2021
Various searches on PimEyes, Sept. 21, 2021
Various searches on GettyImages, Sept. 21, 2021
Various searches on Whitepages, Sept. 21, 2021
Zignal Labs Inc., "Zignal Labs: Real Raw News Mentions," Sept. 20, 2021
NewsGuard, "Realrawnews.com," January 2021
Real Raw News on GoFundMe, March 19, 2021
Space.com, "Nibiru: The Nonexistent Planet," Dec. 4, 2018
The Washington Post, "Just kill us already, Planet X," April 13, 2018
Nibiru News on GoFundMe, Jan. 29, 2018
Dazzathecameraman on YouTube, "Live Hangout with Michael of Nibiru News / someonesbones.com" (archived), June 30, 2017
Dazzathecameraman on YouTube, "Nibiru News / Someonesbones - Challenge Accepted," (archived), June 26, 2017
The Leak Project, "Exclusive – Dr Shimschuck – NASA, Nibiru Coverup – Planet X – Wormwood," July 12, 2016
Insider, "More On The Planet 'Nibiru' That's Supposed To Smash Into Earth Tomorrow...," Dec. 20, 2012
Court records from Dallas County, Texas, May 30, 2006, accessed Sept. 21, 2021
PolitiFact, "No, Gen. David Berger didn't push back against COVID-19 vaccine mandate for Marines," Aug. 12, 2021
PolitiFact, "No evidence that 27 fighter pilots have resigned due to COVID-19 vaccine mandate," Sept. 10, 2021
PolitiFact, "No, FEMA isn't forcing Ida evacuees to get a COVID-19 vaccine," Sept. 10, 2021
PolitiFact, "No, the military didn't arrest Hunter Biden," Sept. 8, 2021
PolitiFact, "No, the military doesn't control the White House," July 30, 2021
PolitiFact, "Claim of Susan Rice tribunal, Gavin Newsom indictment is Pants on Fire false," July 26, 2021
PolitiFact, "The military didn't arrest Deborah Birx in spite of social media posts," June 2, 2021
PolitiFact, "No, the military didn't arrest Adam Schiff," June 23, 2021
PolitiFact, "No, Hillary Clinton wasn't hanged at Guantanamo Bay," April 28, 2021
PolitiFact, "No, Amy Coney Barrett wasn't indicted," April 6, 2021
PolitiFact, "No, Navy SEALs didn't arrest Hillary Clinton," March 11, 2021
PolitiFact, "No, there wasn't an attempted assassination against Trump," Feb. 4, 2021
PolitiFact, "No, Marine Corps didn't rebuff Pelosi's request for inauguration security," Jan. 17, 2021
PolitiFact, "Fake news: military raided Obama's compound in Thailand with Trump's permission," Jan. 8, 2018
Emailed statement from Michael Tuffin, Sept. 21, 2021
Emailed statement from Facebook, Sept. 21, 2021
Emailed statement from Google, Sept. 21, 2021
Emailed statement from YouTube, Sept. 20, 2021
Emailed statement from Hofstra University, Sept. 20, 2021
Phone correspondence with the Hofstra University Department of Journalism, Media Studies and Public Relations, Sept. 20, 2021
Email correspondence with the Leak Project, Sept. 19, 2021
Email correspondence with Erin Dillon, vice president of human resources at the New York Post, Sept. 16, 2021
Phone interview with Amy Gajda, professor of law at Tulane University Law School, Sept. 21, 2021
Email interview with Samantha Barbas, professor of law at the University of Buffalo School of Law, Sept. 20, 2021
Email interview with David Greig, host of the "Dazzathecameraman" YouTube channel, Sept. 14, 2021, through Sept. 20, 2021
Phone interview with Rachel Moran, postdoctoral fellow at the Center for an Informed Public at the University of Washington, Sept. 20, 2021
Phone interview with John Gregory, senior analyst and deputy health editor for NewsGuard, Sept. 16, 2021
Email interview with Michael Baxter, author at Technopian, Sept. 13, 2021
Browse the Truth-O-Meter
More by Bill McCarthy