Stand up for the facts!
Our only agenda is to publish the truth so you can be an informed participant in democracy.
We need your help.
I would like to contribute
In the last month, Congress passed a bill addressing climate change, health care and corporate taxation; the FBI searched former President Donald Trump's residence, Mar-a-Lago, for classified documents; and PolitiFact looked into the shortage of poll workers ahead of November's midterm elections.
Our fact-checking and analysis on these topics prompted comments from many of our readers on Facebook, Twitter, Instagram, TikTok and via email. Here is a look at some of the responses, lightly edited for length and clarity.
Readers can email us fact-check ideas and feedback at [email protected].
The Inflation Reduction Act and Biden's campaign promises
Congress passed the Inflation Reduction Act, a budget reconciliation bill that advances some of Biden's promises about climate change, health care and corporate taxation.
PolitiFact has tracked the most important promises the past three presidents, Biden, Trump and Barack Obama made throughout their campaigns. For each promise, our reporters researched the issues and rated them based on five categories: Promise Kept, Promise Broken, Compromise, Stalled, In the Works.
Our story on eight promises addressed by the Inflation Reduction Act raised questions about our monitoring of promises.
"I'm curious about this obsessive promise tracking; I don't recall seeing daily updates for the last WH occupant," one reader wrote on Twitter. "Of course, he was more interested in control than keeping promises, but still."
"How about posting promises kept instead of those that the GOP nixed?" a reader said on Facebook.
"Why do you always mention what didn't pass instead of praising what did?" another reader wrote on Facebook. "It becomes President Biden's problem and not the Republicans who were instrumental in blocking it."
The Inflation Reduction Act delivers on President Biden's campaign agenda regarding climate change and Medicare prescription drugs.

It also falls short on promises he made about childcare, pre-school and family/medical leave. https://t.co/rZ73mHWvSH

— PolitiFact (@PolitiFact) August 13, 2022
Trump's home searched by the FBI
On Aug. 8, the FBI searched Trump's Palm Beach, Florida, estate, Mar-a-Lago. We wrote articles analyzing the search warrant and list of items taken by federal agents, examining Trump's possible defense, looking back at previous prosecutions for mishandling White House records, answering questions about Trump's ability to run for president if convicted, and comparing Hillary Clinton's emails and the Watergate burglary to Trump's boxes of files and the search on his home.
One reader raised questions about our story on Trump's ability to run for reelection.
"I think we are asking the wrong questions about Trump. Not, can he run while indicted or in jail; but how could he run effectively?" the reader said via email. "It looks like Trump is most concerned about his actions in Georgia as they are criminal in nature. Showing up for court prepared might limit a run, No one has asked whether this person could conduct a campaign from jail. The limitations and rules of living in a jail probably would prohibit a campaign."
Other letter writers cited discrepancies between Clinton's private email account and the FBI search on Trump's residence.
"To me, one of the biggest distinctions between the Clinton emails and Trump's actions and positions is that Secretary of State Clinton had asked the state department for a mobile phone dedicated for her business use, and they denied her request," the reader said.
One reader disagreed with our analysis.
"I agree with you that these cases are quite different, but not for the reasons you mention," the reader said.
"The classified marking issue is a distraction, which Clinton herself highlighted, I'm not sure why you guys mentioned it. She signed a (nondisclosure agreement) with the federal government when she became secretary of state in which she said she understood what classified information was, and that she was obligated to protect it, including marking it appropriately herself, which she didn't do.
"Additionally, as president, Trump could declassify anything. It's not clear he didn't do that in this case," the reader continued. "Clinton could not declassify anything, and there was evidence her staff altered classified markings before transmitting (the emails). The inspector general also concluded she violated the Federal Records Act, which was unmentioned in your article."
On a lighter note, the photo we used for this article of Trump and Clinton during a 2016 debate brought up some amusing references.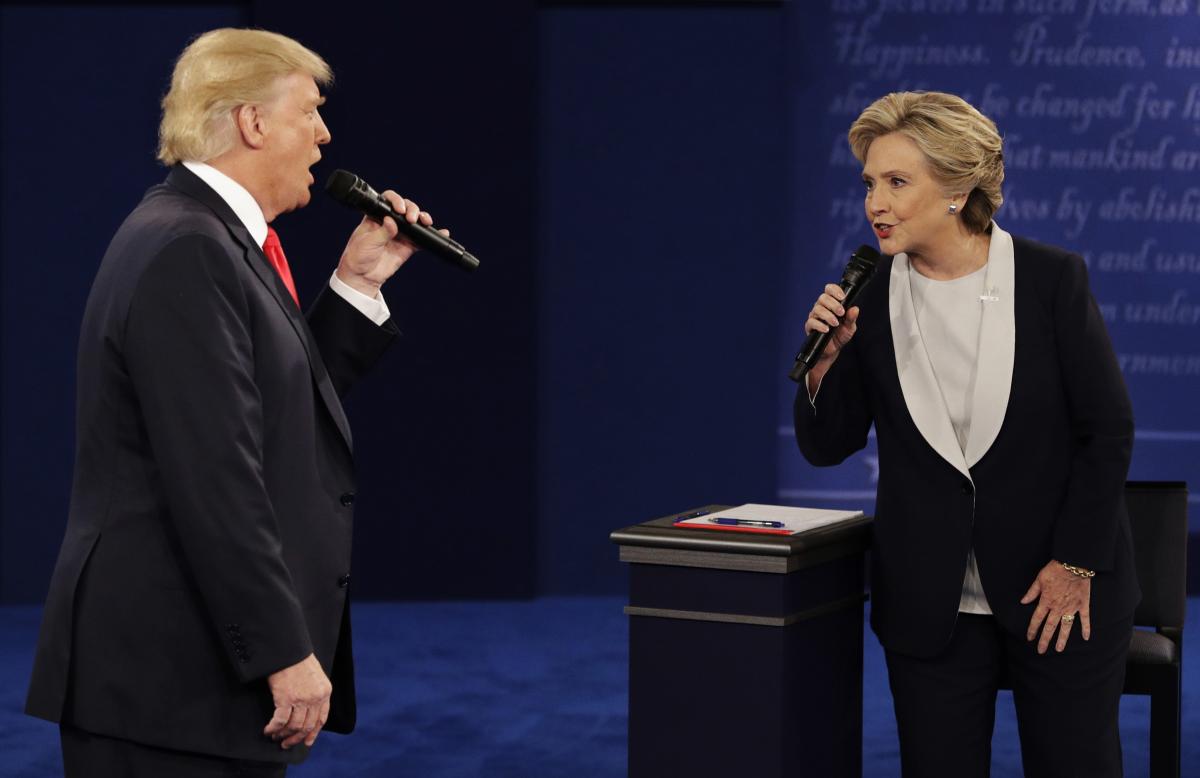 Republican presidential nominee Donald Trump and Democratic presidential nominee Hillary Clinton speak during the second presidential debate at Washington University in St. Louis on Oct. 9, 2016. (New York Times)
"Why does this image look like they're at a karaoke party singing Elton John and Kiki Dee's 'Don't Go Breaking my Heart?," one Reddit user said.
"The picture makes me think they are singing 'You're the One That I Want,'" another reader added a few days after singer-actor and "Grease" star Olivia Newton-John's death.
Debating our use of the Flip-O-Meter
During questioning by the New York attorney general's office as part of a civil investigation into his business practices, Trump invoked the Fifth Amendment. The decision stood in contrast to statements he made in the past about people who took the Fifth.
We put Trump's previous statements about the Fifth Amendment on our Flip-O-Meter, a rating we use to gauge whether someone's position has changed on an issue, without making a value judgment about the person who changed positions.
We asked readers for feedback on the Flip-O-Meter. Some said they liked it and its ability to track politicians' stances on an issue.
"Simply: Yes — keep it going!" one reader said.
"I like the Flip-O-Meter. I actually like for politicians to change their positions if they do it because of new understanding of an issue," another added.
"While it might just seem fun, it's actually an indicator as to how sincere someone is on a position," a reader mentioned. "As I think (former 'Daily Show' host) Jon Stewart said, 'If you only practice your values when it's convenient, they're not values, they're hobbies."
"On many occasions I have changed my view on something after learning new information. "Flipping" in that case is part of the process of educating oneself. Flipping with obvious disregard to one's principles, or lack of, should be called out," another reader said.
Other readers seemed to have reservations about our guage's name.
"Sounds too 'flip' — need another name," one reader said.
"Forget using the Flip-O-Meter. It clearly isn't a "meter". It would be better just to use descriptive words like a total flip, where someone has reversed their position. A flip-flop, where they have reversed their position and then gone back to the original."
Another reader mentioned. "Or just say, as in Trump's case, that he is totally dependent on the facts of the situation and how they affect him personally or whether he thinks the person taking the Fifth (Amendment against self-incrimination) is an ally or not."
In 2016, Trump attacked Hillary Clinton aides for taking the Fifth Amendment.

Today, he took the Fifth Amendment during questioning by the New York attorney general's office. https://t.co/mRwaZBOwbK

— PolitiFact (@PolitiFact) August 11, 2022
Poll worker shortage and ranked choice voting in Alaska
We wrote a story detailing the challenges election officials nationwide are facing as they struggle to recruit poll workers.
"I have worked the polls in California since 2008. It is the best experience one could ever have. Sign up and do your part for democracy!!!" one reader said.
At a rally, Trump dismissed Alaska's new voting method as "ranked choice crap voting" that is a "total rigged deal." We rated this claim Pants on Fire.
Some readers responded positively to this fact-check, saying they learned something new.
"I wasn't aware that any states had ranked choice voting but am glad to hear it," one reader said on Twitter. "We need to get this to all states because it's the quickest and most efficient way to solve the problems of our two-party system. It would give third parties a legitimate chance of getting in."
Another reader wrote, "Please continue to call out the blatant lies and disinformation which continue to poison the body politic in the USA, PolitiFact. Truth cannot be allowed to be suppressed in these dangerous and unstable times."
Browse the Truth-O-Meter
More by Maria Ramirez Uribe