Democratic challenger misleads in claim on Rep. Tom McClintock's record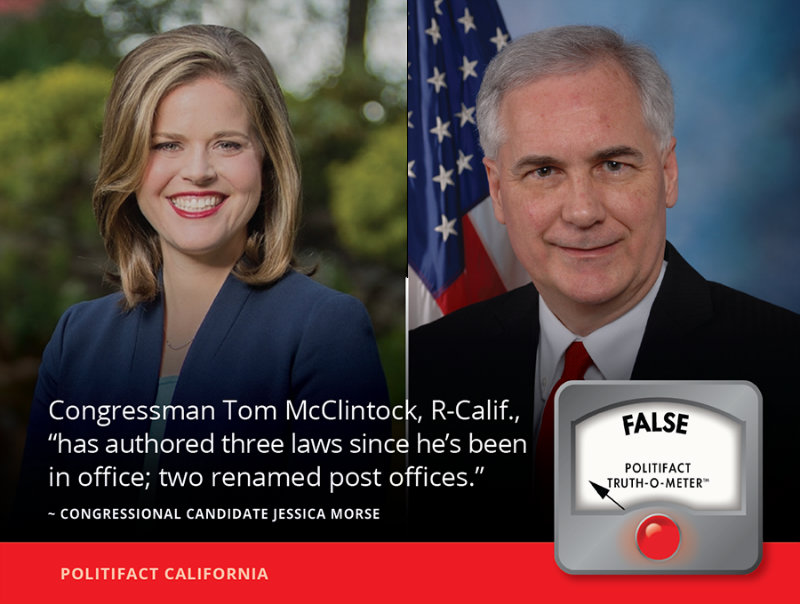 Jessica Morse, the Democratic challenger in California's 4th Congressional district race, describes incumbent Republican Rep. Tom McClintock as "a career politician" whose done next-to-nothing in Congress.
Morse, 36, is a former State Department employee and first-time candidate. McClintock, 62, is seeking a fifth term representing the largely rural district east of Sacramento. Before his time in Congress, he spent 22 years as a state lawmaker.
Morse made another claim about McClintock that caught our attention on Twitter:
"I believe McClintock is beatable. Word is getting out that, like Trump, he is shamelessly dishonest and utterly ineffective; he has authored three laws since he's been in office; two renamed post offices."
I'm standing up to McClintock's abysmal leadership, join me!
We decided to fact-check the portion about McClintock authoring just three laws. Was Morse right?
Our research
Asked about the claim, Morse's campaign said it "was simply quoting Eric Johnson, the author of the article linked in the tweet."
Johnson is the editor of the Sacramento News & Review. Morse's tweet links to his July 19 column in the publication, titled Defeat Trump's local ally.
Morse does use quotation marks in her tweet. But she doesn't explicitly attribute it to Johnson. The impression left is that the words are hers or, at the very least, that she stands by the claim. Her tweet gives it a stamp of approval and perpetuates questionable information.
In the past, PolitiFact has called out politicians, including President Trump, for quoting and retweeting inaccurate information on Twitter. In November 2015, for example, Trump tweeted an image packed with racially loaded and incorrect murder statistics. PolitiFact rated it Pants On Fire.
We'll take the same approach in our examination of Morse.
Number of bills
Starting with the number of bills McClintock has authored that became law, Morse's statement is off. Websites Govtrack.us and Congress.gov show McClintock has authored four bills that were signed into law.
Morse is right that two of McClintock's bills were to rename post offices.
But does the number of bills passed truly measure a politician's effectiveness?
Not necessarily, said Jack Pitney, professor of politics at Claremont McKenna College.
"Bill authorship is only one dimension of effectiveness," Pitney wrote in an email. "A lawmaker can have a huge impact without being prime sponsor of a major bill.
"A great deal of legislating takes place in the amending process," he added. "The amending may take place in committee, or on the floor, as part of an informal negotiation. A member of the House may not pass a measure as a freestanding bill but then be able to attach it as a part of a larger bill."
Claims about members of Congress passing a small number of bills, some to rename post offices, aren't new.
In 2016, we rated Half True now Sen. Kamala Harris' claim during a debate in the race for U.S. Senate that Rep. Lorretta Sanchez had "passed one bill in her 20 years in Congress, and that was to rename a post office."
We found that was technically correct. But it ignored the fact that relatively few stand-alone bills introduced by members of Congress are passed on their own. Many are added as amendments to larger bills. Longtime Democratic House members Maxine Waters and Nancy Pelosi, at that time, had sponsored a combined 10 stand-alone bills that became law during their careers.
Thad Kousser, a political science professor at UC San Diego, agreed the number of laws passed isn't the only measurement of effectiveness. Still, it's "a reasonable way to go" when examining a politician, he said.
For some conservative lawmakers, passing laws isn't necessarily the goal, Kousser added.
"Tom McClintock is not a guy who believes you need a law for everything," Kousser said. "He doesn't necessarily view a law as an accomplishment."
Our ruling
Democratic challenger Jessica Morse claimed on Twitter that GOP Rep. Tom McClintock "has authored three laws since he's been in office; two renamed post offices."
Websites Govtrack.us and Congress.gov show McClintock has authored four bills that were signed into law. Two were to rename post offices.
Morse's claim is wrong on the number signed into law. But her tweet is also misleading because members of Congress rarely author stand-alone bills. Most are added as amendments to larger bills.
Additionally, the number of bills authored is not necessarily the best measurement of a politician's effectiveness. There are many other ways they can shape legislation.
We rated Morse's statement False.
---
FALSE – The statement is not accurate.
Click here for more on the six PolitiFact ratings and how we select facts to check.