Jeff Sessions' misleading claim: California bans police cooperation with ICE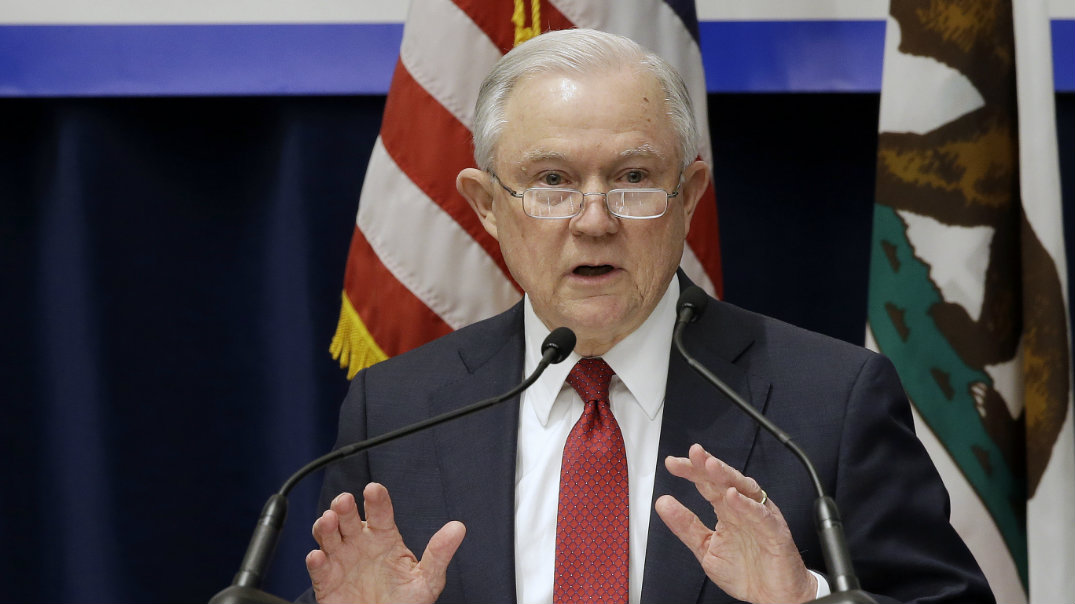 Does California ban local law enforcement from transferring prisoners to and even communicating with federal immigration agents?
U.S. Attorney General Jeff Sessions made that claim in a speech in Sacramento on March 7, 2018, one day after the Department of Justice announced it's suing California over allegations the state's immigration laws obstruct federal authorities.
Here's what Sessions told a group of local and state law-enforcement officials in downtown Sacramento:
"California won't let law enforcement officers like you and your people to transfer prisoners to ICE custody or even to communicate with ICE that you're about to release them from your custody — people that ICE is looking for."
California has enacted laws — SB 54, AB 103 and AB 450 — that limit cooperation with federal immigration agents, largely in response to the Trump administration's aggressive stance on immigration enforcement.
But do those state laws really prevent local police from transferring prisoners to and talking with U.S. Immigration and Customs Enforcement agents?
We set out on a fact check.
Our research
Experts on immigration told us Sessions' statement includes some truth, but exaggerates the limits on local law enforcement.
Police and sheriff's officials are prohibited from cooperating with ICE agents in cases where undocumented immigrants are in jail for minor crimes — unless they are presented with a federal warrant or criminal removal order.
"What the attorney general did is leave out important qualifying language," said Kevin R. Johnson, dean of the UC Davis Law School. "It's not as if state and local law enforcement never have to cooperate with ICE."
Senate Bill 54, often referred to as California's sanctuary state law, says, in part, California law enforcement agencies shall not "transfer an individual to immigration authorities unless authorized by a judicial warrant or judicial probable cause determination."
Notably, local law enforcement can cooperate with ICE when undocumented immigrants are convicted of about 800 serious misdemeanors and felonies, said Louis DeSipio, a political science professor at UC Irvine who studies immigration.
"ICE is also able to enter county jails to question immigrants," DeSipio said in an email. "Transfers to ICE are authorized after conviction of 30 or so serious crimes. So, clearly, it allows for communication and transfers. State law does, however, seek to protect immigrants in jails for minor crimes and after conviction for those minor crimes."
'Sessions is wrong'
One expert took an even stronger stance:
"Sessions is wrong," said Bill Ong Hing, a professor at the University of San Francisco School of Law and its director the university's Immigration and Deportation Defense Clinic. "Under Senate Bill 54, communication between ICE and state and local law enforcement agencies allows passing on information about inmates who have previously been deported for a violent felony, or are serving time on a misdemeanor or felony and have a prior serious or violent felony conviction."
Gov. Jerry Brown said at a news conference following Sessions' speech that he is still willing to cooperate with the U.S. attorney general on immigration enforcement targeted at criminals. That's possible, the governor added, because of the limitations he demanded on SB 54.
When we asked for evidence supporting Sessions' claim, a spokesman for the U.S. Justice Department cited in an email three "real examples of declined detainer requests and the release of criminal aliens back onto the streets of California since the implementation of SB 54."
They include three separate cases of undocumented immigrants arrested in California for a range of alleged crimes, from sexual abuse of a minor to vehicle theft to felony drug possession.
Our ruling
U.S. Attorney General Jeff Sessions claimed California prevents local law enforcement from communicating with and transferring prisoners to federal immigration agents.
There are limits on cooperation under California's SB 54. Local law enforcement are prohibited from working with immigration agents in cases where undocumented immigrants are charged with minor crimes, unless they are presented with a federal warrant. Notably, the law does not limit cooperation in cases involving 800 serious misdemeanor and felony crimes.
Sessions' statement has an element of truth, but ignores critical facts that would give a different impression.
We rate it Mostly False.
---
MOSTLY FALSE – The statement contains some element of truth but ignores critical facts that would give a different impression.