Stand up for facts and support PolitiFact.
Now is your chance to go on the record as supporting trusted, factual information by joining PolitiFact's Truth Squad. Contributions or gifts to PolitiFact, which is part of the 501(c)(3) nonprofit Poynter Institute, are tax deductible.
I would like to contribute
Obama "voted against critical resources: no to individual body armor, no to helicopters, no to ammunition, no to aircraft."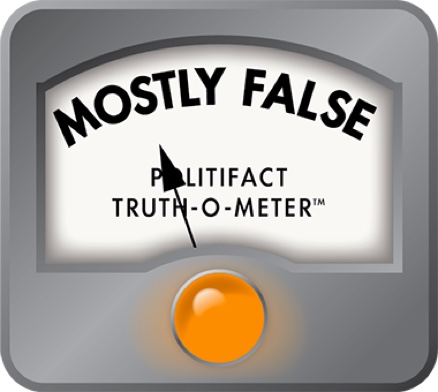 On the heels of a McCain ad attacking Barack Obama for his 2007 vote against war funding, the Republican National Committee has ratcheted up the rhetoric with a radio ad that claims Obama voted against helicopers, ammunition and even body armor.
"When it came time to act, he voted against critical resources," the announcer says about Obama. "No to individual body armor, no to helicopters, no to ammunition, no to aircraft. The bill Obama opposed even had funding for veterans' medical facilities and rehabilitation programs. And why did he say no? Obama chose Washington politics over the needs of our military."
A casual listener might not notice that the ad's evidence is a single vote — a May 2007 appropriations bill.
It's true that Obama voted against that bill, which raises two questions. Did the bill contain the items mentioned in the ad? And were those really what Obama was voting against?
On the first question, yes, the U.S. Troop Readiness, Veterans' Care, Katrina Recovery and Iraq Accountability Appropriations Act of 2007 , which Obama voted against, included provisions for purchasing body armor, helicopters, ammunition and aircraft, and for funding veterans' medical facilities and rehabilitation programs.
But no, those items are not the reason Obama voted against the bill. As he took pains to explain at the time, he voted against it because it did not include a timetable for withdrawal from Iraq.
Congress' power of the purse is a crucial tool of leverage for influencing the president's foreign policy, and with this protest vote, Obama and 13 other Democratic senators sought to push President Bush to draw down troop levels in Iraq.
''This country is united in our support for our troops, but we also owe them a plan to relieve them of the burden of policing someone else's civil war,'' Obama said at the time. ''Gov. (Mitt) Romney and Sen. McCain clearly believe the course we are on in Iraq is working, but I do not.''
Implying Obama's vote was specifically against aircraft, veterans' facilities and the like is misleading — about as misleading as it would be to say McCain voted for the bill because it funded tornado aid in Kansas and bereavement payments to relatives of deceased congressmen, to name two of the many items in the bill not related to the war.
In some ways this ad illustrates the common wisdom that senators don't make good candidates for president, because senators often vote on controversial issues, and any one vote can be pulled out of context. For example, the Obama campaign, in responding to recent attacks, pointed to a 2005 vote to increase funding for armored vehicles. Obama voted to increase funding; McCain voted against it. The vote failed, largely along party lines.
The claim in the RNC ad is technically true, but it leaves out important context that it was a single vote, and it distorts Obama's record by making him sound like he advocates cutting off funds for troops in the field. On several other occasions, Obama has voted in favor of funding the wars in Iraq and Afghanistan. Earlier this year, Obama voted for a funding bill that passed 92-6. McCain was absent.
In 2006, Obama voted for a war supplemental that passed 77-21. McCain opposed that bill, joining a group of Republicans who felt the legislation contained extraneous and unnecessary spending. In a news report, the Los Angles Times noted the Republicans "risked being labeled as voting against the troops to take a stand against what they considered excessive spending."
Although the ad bases its claims on a kernel of truth — Obama did vote against the 2007 bill — the RNC gives the impression that Obama opposes body armor, helicopters, ammunition and aircraft generally. The RNC ad is misleading enough to merit a label of Barely True.
Editor's note: This statement was rated Barely True when it was published. On July 27, 2011, we changed the name for the rating to Mostly False.
YouTube.com, Obama Chooses Washington Over Our Military , accessed July 23, 2008

U.S. Government Printing Office, U.S. Troop Readiness, Veterans' Care, Katrina Recovery, and Iraq Accountability Appropriations Act, 2007

U.S. Senate, Motion to Concur in House Amdt. to Senate Amdt to H.R. 2206 , May 24, 2007

New York Times, Clinton and Obama Face G.O.P. Attacks for War Vote , May 26, 2007

U.S. Senate, The Supplemental Appropriations Act, 2008 (the war supplemental) , June 26, 2008

Washington Post, Senate Passes Broad War Funding Measure , June 27, 2008

U.S. Senate, A bill making emergency supplemental appropriations , May 4, 2006

Los Angeles Times, Senate OKs Spending Bill Despite Veto Threat , May 5, 2006
Browse the Truth-O-Meter
More by Angie Drobnic Holan
Support independent fact-checking.
Become a member!
In a world of wild talk and fake news, help us stand up for the facts.