Stand up for the facts!
Our only agenda is to publish the truth so you can be an informed participant in democracy.
We need your help.
I would like to contribute
Obama used to be a lawyer for ACORN.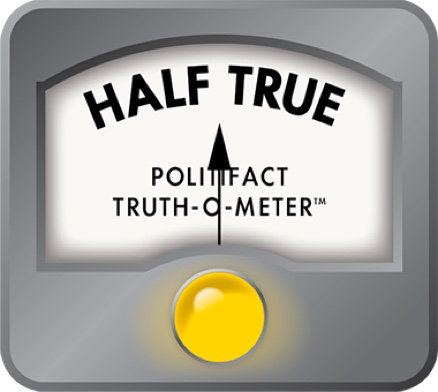 Rove claims Obama used to be a lawyer for ACORN
It has not been a good week for the Association of Community Organizations for Reform Now, better known by its acronym ACORN.
By now, you probably have seen or at least heard of the hidden-camera videos shot by a man and woman who went into several ACORN offices pretending to be a pimp and prostitute. In several cities, ACORN employees offered them advice about how to skirt housing and tax laws.
ACORN notes that we haven't seen all of the uncut versions of all of the videos, but suffice to say it doesn't look very good.
ACORN admitted as much when chief executive Bertha Lewis referred to the conduct as "the indefensible action of a handful of our employees." ACORN has canned or suspended some of the employees, and ordered mandatory training for employees and an independent review. Meanwhile, a number of Republican lawmakers — who have long been critical of the voter registration practices of this left-leaning group — have called for a federal investigation and to cut off all federal funding to the group.
While ACORN has taken a public beating, some conservatives renewed accusations of close past ties between President Barack Obama and ACORN.
"Is it time for him (Obama) to weigh in on this group (ACORN), with which he does have some considerable ties, or at least he did?" Fox News' Megyn Kelly asked Republican strategist Karl Rove on Sept. 16, 2009.

"Yeah, he used to be a lawyer for them," Rove replied.
"Look, it is a problem for him," Rove said. "This is a key element of his campaign. They played a huge role in voter registration efforts last year."
Obama has not commented on the ACORN situation this week. But the same day Kelly raised the question on Fox, White House spokesman Robert Gibbs condemned the comments made by ACORN employees on some of the videos.
"Obviously the conduct that you see on those tapes is completely unacceptable," Gibbs said in a daily press briefing on Sept. 16. "I think everyone would agree with that."
But what about Obama's ties to ACORN? Was Rove correct that Obama used to be a lawyer for ACORN?
We first looked at this during the presidential race when the Sen. John McCain campaign made a similar claim about Obama.
And here's the skinny:
Obama graduated from law school in 1991, worked on the book that would become his memoir Dreams From My Father , and directed a voter registration drive in 1992. After that, Obama went to work for a civil rights law firm then named Davis, Miner, Barnhill and Galland. (It is now known only as Miner, Barnhill and Galland.) The firm's specialty is civil rights litigation and neighborhood economic development work. 
Obama and two other attorneys represented ACORN in a 1995 federal civil lawsuit against the state of Illinois — Gov. James Edgar and other state officials were the named defendants — to demand that it enforce a new federal law known as "motor voter," which allowed people to register to vote when they got their drivers' licenses. There were five other named plaintiffs in the case, but ACORN was the lead plaintiff. Among the groups that sided with ACORN in the matter: the U.S. Department of Justice and the League of Women Voters. The courts concluded that Illinois had to enforce the law, and the case generated several federal court orders through 1995 and 1996.
During the final presidential debate on Oct. 15, 2008, Republican opponent McCain said the country deserved to know "the full extent of Sen. Obama's relationship with ACORN."
Said Obama: "ACORN is a community organization. Apparently what they've done is they were paying people to go out and register folks, and apparently some of the people who were out there didn't really register people, they just filled out a bunch of names.

"It had nothing to do with us. We were not involved. The only involvement I've had with ACORN was I represented them alongside the U.S. Justice Department in making Illinois implement a motor voter law that helped people get registered at DMVs."
But as evidence of deeper ties, some have pointed to that voter registration drive we mentioned earlier, one that Obama directed in 1992 for Project Vote, a nonprofit focused on voter rights and education.
Back in 1992, Project Vote and ACORN were separate organizations with common goals: getting people to vote, especially low-income, minority and young voters. But in 1994, Project Vote went through a reorganization and the two organizations began to partner with each other on voter registration.
But even in 1992, the groups were close.
In a 2004 article in Social Policy , Toni Foulkes, a Chicago ACORN leader, said that under Obama's leadership, Project VOTE in 1992 delivered 50,000 newly registered Illinois voters that helped Carol Moseley Braun win a Senate seat. Of those 50,000 votes, Foulkes wrote, "ACORN delivered about 5,000 of them."
"Since then," Foulkes wrote, "we have invited Obama to our leadership training sessions to run the session on power every year."
The Obama campaign Web site fightthesmears.com states that ACORN never hired Obama as a trainer, organizer or any type of employee.
When Obama met with ACORN leaders in November 2007, he reminded them of his affinity for ACORN and his time as a Project Vote organizer.
Sen. Obama said, "I come out of a grass roots organizing background. That's what I did for three and half years before I went to law school. That's the reason I moved to Chicago was to organize. So this is something that I know personally, the work you do, the importance of it.  I've been fighting alongside ACORN on issues you care about my entire career. Even before I was an elected official, when I ran the Project Vote voter registration drive in Illinois, ACORN was smack dab in the middle of it, and we appreciate your work."
ACORN's political action committee endorsed Obama for president. We note that Obama said he worked "alongside" ACORN, but not for ACORN. And ACORN itself says Obama didn't work for them during that time.
We provide all of this information so that you can decide how deep the president's ties are with the embattled ACORN.
As for Rove's claim that Obama used to be a lawyer for ACORN, yes, Obama once took on a case for ACORN. But Obama was never a staff attorney for ACORN. He did not do ongoing work for the organization. He handled o ne case along with two other attorneys. ACORN was one of several plaintiffs. And the U.S. Department of Justice sided with ACORN in the case. We think Rove's comment suggests a deeper legal relationship between Obama and ACORN than actually existed. And so we rule Rove's statement Half True.
PolitiFact.com, "He represented them in one case," by Angie Drobnic Holan, Oct. 10, 2008
PolitiFact.com, "Project Vote not 'an arm of ACORN,'" by Angie Drobnic Holan, Oct. 10, 2008
GOP.com, "Barack Obama's ACORN tree"
Chicago Sun Times, Strong, silent type; Obama's legal career: He was 'smart, innovative, relentless,' and he mostly let other lawyers do the talking , Dec. 17, 2007
Los Angeles Times, Obama's law days effective but brief , April 6, 2008
Obama Campaign's Fight the Smears, "Barack Obama Never Organized with ACORN"
New York Times, "Conservatives Draw Blood From Acorn," by Scott Shane, Sept. 15, 2009
Obama campaign Web site, Community Blogs: "ACORN Political Action Committee Endorses Obama," by Sam Graham-Felsen, Feb. 21, 2008
Council on Foreign Relations, Presidential Debate Transcript , New York, Oct. 15, 2008
ACORN v. Edgar, No. 95 C 174, No. 95 C 281, No. 95 C 433, No. 95 C 1387, UNITED STATES DISTRICT COURT FOR THE NORTHERN DISTRICT OF ILLINOIS, EASTERN DIVISION, 880 F. Supp. 1215; 1995 U.S. Dist. LEXIS 4007, March 28, 1995, Decided, March 31, 1995
Chicago Tribune, "GOP targets voting group; Organization behind registration drive is known for low-income membership," by Bob Secter, Oct. 11, 2008

New York Times, "Group's Tally of New Registered Voters Was Vastly Overstated," by Michael Falcone and Michael Moss, Oct. 24, 2008
Social Policy, Case Srtudy: Chicago- The Barack Obama Campaign, by Toni Foulkes, Spring 2004
Browse the Truth-O-Meter
More by Robert Farley
Support independent fact-checking.
Become a member!
In a world of wild talk and fake news, help us stand up for the facts.