Stand up for the facts!
Our only agenda is to publish the truth so you can be an informed participant in democracy.
We need your help.
I would like to contribute
The national debt grew an estimated $15 billion last weekend.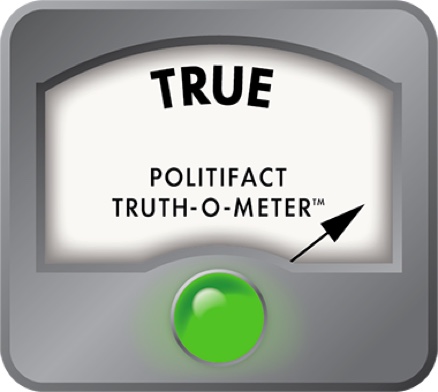 Sen. Mark Warner estimates national debt grew $15 billion over weekend
U.S. Sen. Mark R. Warner says Washington must spoon out foul-tasting medicine to ease the nation's debt.

The Virginia Democrat is urging the White House and congressional leaders to consider strong doses of spending cuts and tax increases brewed this fall by the National Commission on Fiscal Responsibility and Reform. The recommendations, which include trimming or ending the deduction for home mortgage interest, were set back last Friday when they failed to receive a super majority of votes needed on the bipartisan commission to advance them to Congress.

Warner, who is not a member of the commission, says the proposals could reduce long-term debt by an estimated $4 trillion over the next decade.

"The seriousness of our nation's fiscal challenges -- the compelling need to address these issues in a responsible and bipartisan way -- did not suddenly dissipate or magically disappear over the course of the weekend that just ended," Senator Warner said in remarks on the Senate floor Monday. "In fact, since the Commission's final meeting ended on Friday afternoon, the national debt -- the running tally of what the United States government owes -- has increased by an estimated $15 billion."

That's a sobering credit card tab for a weekend, so we looked into the numbers.

Asked for a source, Warner spokesman Kevin Hall sent us a national PolitiFact story that looked at a claim by Rep. Vern Buchanan, R-Fla., that the debt increased more than $1.7 billion during an 11-hour Wimbledon match in June..

That story looks at the change in debt in a couple of ways.

One way uses the Congressional Budget Office's analysis of the president's budget, which was released in March. This predicts a $1.368 trillion deficit for 2010. If you divide this by 365 days, you get an incremental, daily addition to the debt of $3.748 billion. Over three days, the total is $11.244 billion. That doesn't quite live up to Warner's claim.

Another way uses the Office of Management and Budget's historical tables for federal debt. These tables list the federal debt as it stands every year on Dec. 31. If you take the debt estimate for the end of 2010 ($13.787 trillion) and subtracted the debt as it stood at the end of 2009 ($11.876 trillion) you can determine the debt increase over the course of 2010 ($1.911 trillion).

Dividing by 365, you get a daily debt increase of $5.236 billion, or about $15.7 billion over three days. So by that token, Warner's correct that the debt could increase by an "estimated" $15 billion over three days.

We thought it would be interesting to see if it actually had.

Unlike the previous PolitiFact story, which relied on an average because it measured a span of hours, Warner's three-day time span can be checked using official debt figures from the U.S. Treasury.  

The Treasury keeps historical debt to the penny figures for each business day. We looked at the change from Friday ($13.834 trillion) to Monday ($13.835 trillion).

So in reality, not even close. Without rounding, the debt increased only about $1.3 billion over the weekend -- almost $14 billion short of Warner's claim.

Joyce Harris, a Treasury Department spokeswoman with the Treasury's Bureau of Public Debt, said these numbers are "absolute," with accountants measuring inflows and outflows, and added that calculations based on averages are entirely unsafe due to fluctuations.

"Keep in mind that bonds and securities are being redeemed all the time," she said.

"Debt accumulation is pretty random," agreed Marc Goldwein, a senior policy analyst at the nonpartisan New America Foundation. "It isn't even linear from month-to-month, let alone day-to-day. In fact, even in this world of trillion dollar per year deficits we have days and weeks when debt goes down...A small snap shot in time is not a very useful indicator of the debt's trajectory."

Let's recap.

Based on daily debt calculations using Office of Management and Budget data, Warner's absolutely correct.

Looking back using the Treasury's actual debt figures? Not so much.  

But we can't say Warner was off by nearly $14 billion for two reasons: 1) the Treasury's official numbers aren't released until one business day after the date they reflect, so he couldn't have known Monday's debt figure on Monday, and 2) he is careful in his wording to point to "estimates" rather than claim the figure is correct for that specific period of time.

So we find his claim to be True.  
 
Sen. Mark Warner Calls For Prompt Action On U.S. Deficit & Debt, Dec. 6, 2010
U.S. Treasury, The Debt to the Penny, accessed Dec. 7, 2010

Congressional Budget Office, "An Analysis of the President's Budgetary Proposals for Fiscal Year 2011" (Table 1-1: Comparison of Projected Revenues, Outlays, and Deficits in CBO's March 2010 Baseline and CBO's Estimate of the President's Budget), March 2010

Office of Management and Budget, president's budget for fiscal year 2011 (historical table 7.1—"Federal Debt at the End of Year: 1940–2015)," accessed June 23, 2010

PolitiFact, "Vern Buchanan estimates debt growth during marathon Wimbledon match," June 24, 2010

Email interview with Joyce Harris, U.S. Treasury, Dec. 7, 2010

Email interview with Gary Burtless, economist with the Brookings Institution, Dec. 7, 2010

Email interview with Marc Goldwein, senior policy analyst, New America Foundation
Browse the Truth-O-Meter
More by Wes Hester
Support independent fact-checking.
Become a member!
In a world of wild talk and fake news, help us stand up for the facts.