Stand up for the facts!
Misinformation isn't going away just because it's a new year. Support trusted, factual information with a tax deductible contribution to PolitiFact.
I would like to contribute
"I'm running against a groundhog. He saw his shadow on the primary day, and no one has seen him since."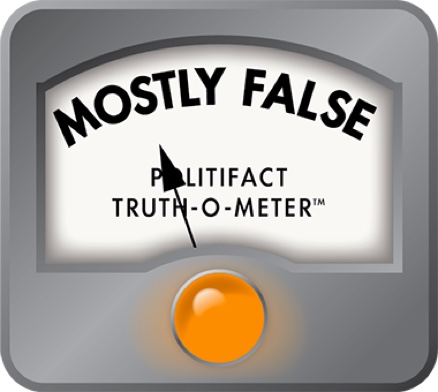 Democrat Jeff Weems says Republican foe has been an out-of-sight groundhog since March primaries
Houston lawyer Jeff Weems, the Democratic nominee for a seat on the Texas Railroad Commission, says his November opponent is so low, he's below ground.
"I'm running against a groundhog," Weems said June 26 at the Texas Democratic Party's convention in Corpus Christi. "He saw his shadow on the primary day, and no one has seen him since."
Say what?
Weems had already flashed a flair for appellations; he called his opponent a "potted plant" in June 25 remarks to the convention's United Auto Workers caucus. Later, he told us in an e-mail he's crossed paths with GOP nominee David Porter only once since the March 2 primaries; the two spoke separately at an April event in Wichita Falls.
Weems said Porter's campaign website and Facebook page reflect "a similar lack of activity." He said the online Texas Tribune "has been trying to schedule a debate or meeting or panel discussion with the two of us, but his campaign will not return their phone calls."
Michael Blunk, Weems' campaign assistant, followed up in an e-mail, saying: "We call David a groundhog because he's not showing his face any more, he went back into hiding."
Porter, a CPA who lives in Giddings but has long practiced in Midland, hasn't proved a media hound before or after upsetting the better-funded GOP incumbent, Victor Carrillo, in their primary, a search for news articles suggests.
Shortly after the primary, the Midland Reporter-Telegram quoted Porter, who had long been a local businessman, insisting he wasn't running a stealth campaign; the candidate was quoted saying he'd done mailouts, in-person campaigning and made online efforts to reach voters before the primary.
Using the Nexis search tool, we found 17 articles about Porter and the railroad commission published from January until the March primary. From then through June, there have been 41 articles or blogs mentioning Porter and the commission, most of them reflecting on Carrillo's loss. Our search yielded one mention of a Porter campaign stop; on April 18, the Wichita Falls Times Record News included a sentence about Weems and Porter appearing at the April 21 Alliance of Energy Producers meeting in Wichita Falls.
Of course, minimal news coverage doesn't prove a candidate is deliberately out of sight. A Nexis search for articles on Weems and the commission from January through June delivered 34 results. Down-ballot candidates nearly always draw less attention than, say, aspirants for governor or the U.S. Senate.
To get a feel for Porter's online outreach, we read his Twitter posts. Snippets: On March 3, Porter announced Barry Williamson, a former railroad commissioner, as his campaign chairman; on May 20, the candidate said he was heading to a GOP meeting in Lee County; on June 17, he hailed the backing of Michael Williams, current commissioner; and on June 28, Porter wrote: "Last week was busy with several meetings in Houston, and Austin and ending up Saturday night at the Bastrop Tea Party with about 250 people." About 15 minutes later, he wrote: "Know of an event I should attend? Please email [email protected]"
Seeking other signs of campaign activity, we looked at Porter's campaign site, which didn't list any events.
So, stealth candidate after all?
Not so, said Corbin Casteel of Austin, Porter's general consultant.
Casteel said Porter has been balancing a wind-down of his accounting business with politics; during May and June the candidate made 33 campaign stops in nine counties including Bastrop, Travis, Tarrant, Dallas and Harris. "It's all energy (group) meetings and GOP leader meetings," Casteel said.
Casteel declined to share details of the stops, saying that would play into Weems' hands. "We're not going to let him bait you into us releasing (Porter's) political activity," Casteel said.
Ahead, Casteel said, Porter plans to attend events hosted by the Texas Independent Producers and Royalty Owners Association and natural gas companies and he'll make a tour of more than 40 counties.
Casteel called Weems' claim Porter has not returned the Tribune's calls "a lie." Ross Ramsey, the Tribune's managing editor, said it hasn't had communication difficulties with either campaign.
One event Porter likely won't join: a debate. "Jeff Weems is a litigator," Casteel said. "David Porter is an accountant. Why would we put our candidate in that position, to stand in front of a podium?"
We asked about Porter's infrequent Twitter posts. Casteel said: "David is being true to himself and who he is as a person and candidate. He's not going to use social media in a way to produce faux activity."
Trying another tack, we contacted officials with groups that watch the commission closely. Bill Stevens, executive vice president of the energy alliance, said that since the primary, Porter has participated in a 30-minute conference call with the alliance and came to its Wichita Falls meeting.
Wayne Hughes, executive vice president of the Panhandle Producers & Royalty Owners Association, said Porter provided answers for a questionnaire printed in the group's May newsletter. Asked if the GOP hopeful has otherwise seemed out of sight, Hughes replied: "We don't have any guidelines for judging Mr. Porter's appropriateness as a candidate. We feel like we have a clear picture of what Mr. Weems is all about and his appropriateness as a candidate. Can I stop there?"
We informed Weems of the activities summarized by Porter's campaign. He stood by his convention critique.
Our suss: Porter has kept a low profile, but that does not a Punxsutawney candidate make. The Democrat's statement is Barely True.

Editor's note: This statement was rated Barely True when it was published. On July 27, 2011, we changed the name for the rating to Mostly False.
Interview, Corbin Casteel, general consultant to David Porter campaign, June 30, 2010

Interview, Adam Haynes, Austin, senior director of government affairs, Chesapeake Energy, July 1, 2010

Interview, Ross Ramsey, managing editor, The Texas Tribune, July 1, 2010

E-mail, Michael Blunk, Jeff Weems' campaign, June 29, 2010

E-mail and interview, Jeff Weems, Democratic nominee, Texas Railroad Commission, Houston, June 28 and July 1, 2010

Interview, Wayne Hughes, executive vice president, Panhandle Producers & Royalty Owners Association, Amarillo, July 1, 2010

Interview, Bill Stevens, executive vice president, Texas Alliance of Energy Producers, July 1, 2010

Midland Reporter-Telegram, news article, "Midland CPA upsets incumbent Railroad Commission chairman," March 6, 2010, accessed July 2, 2010

David Porter campaign, website, accessed June 30 and July 1, 2010

Texas Alliance of Energy Producers, website, accessed July 1, 2010
Browse the Truth-O-Meter
More by W. Gardner Selby
Support independent fact-checking.
Become a member!
In a world of wild talk and fake news, help us stand up for the facts.