Stand up for the facts!
Our only agenda is to publish the truth so you can be an informed participant in democracy.
We need your help.
I would like to contribute
Said he is the only Democratic candidate for state attorney general who has "represented the entire state of Georgia."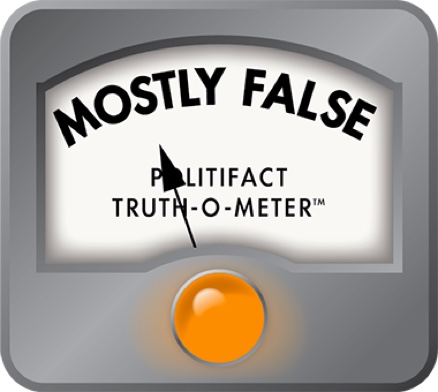 Did lawmaker from Cobb represent the entire state?
Politicians are always looking for an edge in a close race. In the contest between the two Democrats for attorney general, candidate Rob Teilhet is using his time under the Gold Dome to try to claim an advantage over his opponent, Ken Hodges.

Elected four consecutive times since 2002 to serve a portion of Cobb County in the Georgia Legislature, Teilhet said in a questionnaire that he "represented" the entire state.

"As the only Democratic candidate (for attorney general) who has represented the entire state of Georgia, I'm uniquely positioned to introduce and implement groundbreaking public policy designed to curtail crime, consumer fraud and public corruption," Teilhet wrote.

We were curious about this one. Teilhet explained.

"You are elected to represent a district, but you also serve the state of Georgia," he said.

Teilhet pointed us to the oath of office for the 180-member state House of Representatives.

Here's the first part of the oath: "I do hereby solemnly swear or affirm that I will support the Constitution of this state and of the United States and, on all questions and measures which may come before me, I will so conduct myself, as will, in my judgment, be most conducive to the interests and prosperity of this state."

So does Teilhet represent the entire state as he claimed?

Teilhet was elected by voters from a portion of east Cobb County that includes Marietta, Smyrna and the Dobbins Air Reserve Base. He has been in the Legislature since 2003. The Hodges camp duly noted the boundaries of Teilhet's district as part of its argument against his claim.

"It's the first line in his campaign bio," Shannon Marietta, Hodges' campaign manager, wrote in an e-mail.

Hodges, who served 12 years as Dougherty County's district attorney, had to pledge that he would support the Georgia Constitution.

The state constitution says representatives should be elected from "representative districts of the state." They have the power to write local legislation and the mandate to approve a balanced budget. They do not have the power to approve contracts or regulate charges for public utilities.

Teilhet worked with other House members on about two dozen pieces of legislation earlier this year that were designed to have an impact across the state, such as a bill to take DNA samples of people accused of felonies -- that bill failed. A handful focused on issues that were of particular interest to Cobb residents, such as a bill imposing up to 20 years in prison for theft in a disaster area. Cobb County was hardest hit during September's record flooding. He also wrote about a dozen resolutions that ranged from commending the county manager, David Hankerson, to honoring the South Cobb High School marching band for performing at President Barack Obama's inauguration.

George Hooks, whose 20 years in the Georgia Senate is longer than that of any of his colleagues, said lawmakers have dual roles of representing the district and constituents across Georgia. Sometimes, Hooks said, he supports legislation that people in his South Georgia district may not like, but it benefits the state, such as a bill earlier this year that could offer new funding sources for transportation.

"I voted for it because I see it as benefiting the state," Hooks said. "If it benefits Atlanta, it will benefit the state."

University of Georgia political science professor Charles Bullock, whom Teilhet said was one of his college professors, said some representatives work as "trustees," serving the interests of everyone. Others act as "delegates," taking care of the people in their home district.

Steve Anthony, who has worked at the state Capitol and is a lecturer at Georgia State University, believes Teilhet is "playing loose with verbiage."

"If he had said he represented the interests of the state of Georgia, he would be correct," Anthony said. "He didn't represent Georgia. He represented the interests of Georgia."

Anthony also took issue with the second part of Teilhet's statement, saying the candidate cannot introduce legislation as attorney general. "He can get some friend to introduce it for him."

Teilhet replied: "By that standard, the governor has never introduced a bill."

Teilhet and others have different interpretations about the role of members of the Georgia House of Representatives. The state constitution does not say whether representatives are elected to serve the entire state. The oath does say that representatives should work toward goals that are "conducive to the interests and prosperity of this state."

Teilhet said he has talked on the campaign trail about the oath of office directing representatives to serve the interests of the state. "Maybe that would have been a little tighter [to say in the questionnaire]," Teilhet said. We agree that Teilhet would have been better served if he said he represented the "interests" of the state. As even Hooks said, Teilhet's statement is "broad." We rate Teilhet's statement as Barely True.
Editor's note: This statement was rated Barely True when it was published. On July 27, 2011, we changed the name for the rating to Mostly False.
E-mail from Hodges campaign manager Shannon Marietta, June 28, 2010

Georgia Constitution.

Georgia House of Representatives oath of office.

Gwinnett Forum questionnaire, June 5, 2010.

Rob Teilhet candidate biography.

Telephone interview with Steve Anthony, June 25, 2010

Telephone interview with Charles Bullock, June 28, 2010

Telephone interview with state Sen. George Hooks, June 28, 2010

Telephone interviews with Rob Teilhet, June 25 and 30, 2010
Browse the Truth-O-Meter
More by Eric Stirgus
Support independent fact-checking.
Become a member!
In a world of wild talk and fake news, help us stand up for the facts.