Stand up for facts and support PolitiFact.
Now is your chance to go on the record as supporting trusted, factual information by joining PolitiFact's Truth Squad. Contributions or gifts to PolitiFact, which is part of the 501(c)(3) nonprofit Poynter Institute, are tax deductible.
I would like to contribute
"Nearly all of the top 50 prescribers of oxycodone in the United States are in Florida."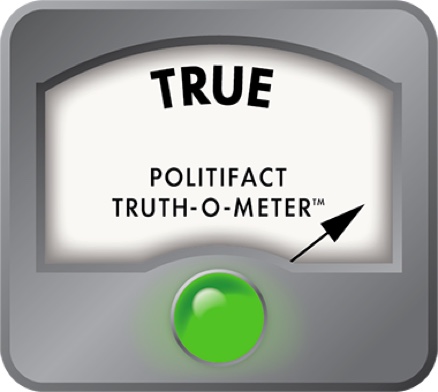 AG candidate Kottkamp says nearly all of nation's top 50 oxycodone prescribers are in Florida
Lt. Gov. Jeff Kottkamp, who is seeking the Republican nomination for attorney general, is highlighting the abuse of prescription drugs as a key issue in his statewide campaign.

Kottkamp wrote a column that was published in newspapers across the state detailing the severity of the problem in Florida.

"An average of six Floridians die each day from a prescription drug overdose — five times as many deaths as from all illegal drugs combined," he wrote in article published Feb. 28, 2010. "In fact, the number of drug overdose deaths in Florida increased by 77 percent from 2003 to 2008, and each one involved at least one prescription drug.

"Often the illegal prescription drug of choice is oxycodone, a very strong narcotic commonly prescribed to relieve moderate to severe pain," Kottkamp wrote. "Nearly all of the top 50 prescribers of oxycodone in the United States are located in Florida."

Kottkamp's op-ed contains several interesting facts, but we're choosing to focus on perhaps the most startling number -- that "nearly all of the top 50 prescribers of oxycodone in the United States are located in Florida."

Oxycodone is the active ingredient in OxyContin and other painkillers such as Percocet. Oxycodone abuses have been well documented, particularly the problems in Florida. From 2001 to 2008, more than 2,000 Floridians have died of overdoses of oxycodone, the St. Petersburg Times reported. The Miami Herald also wrote an in-depth examination of the problem last year.

Kottkamp said the problem was more severe in Florida because the state had lax regulation, particularly in tracking clinics that prescribed a large amount of the drug.

Abuse, in part, stems from "pill mills," which can be advertised as pain clinics, but can also be health care facilities that routinely conspire in prescribing and dispensing controlled substances, Kottkamp says.

Are almost all of the top 50 prescribers of oxycodone -- the leading candidates to be pill mills -- in Florida?

We started by asking the Governor's Office of Drug Control, a group Kottkamp leads, to see if the figure was accurate.

Bruce Grant, the director of the drug control office, cited a report from the United Way of Broward County Commission on Substance Abuse. While the report focuses primarily on Broward County, it uses national figures from the federal Drug Enforcement Administration to say that 49 of the 50 top prescribers are in Florida.

And 25 of the top 50 prescribers are in Broward, according to the report, which relied on figures from Oct. 1, 2008 to March 31, 2009.

"We're trying -- without saying the sky is falling -- to let people know this is a genuine crisis," said Grant. "This is bad."

Grant said South Florida has become a popular marketplace for people from all over the country who want the painkiller.

"If you go down there, when you see what's going on, it will blow your mind," Grant said. "The parking lots are literally filled with out of state plates. People from Kentucky, West Virginia, North Carolina, they're hanging around. People are lined up outside the doors."

DEA Special Agent David Melenkevitz, who is based in Miami, confirmed the accuracy of the Broward report. He said the numbers come from oxycodone distribution statistics, which the DEA tracks. A list of the specific pharmacies or clinics is not public record, Melenkevitz said.

And what can be done to tame the problem?

In an interview, Kottkamp said the Legislature took a good first step last year when it approved a bill that requires the state to track and monitor the distribution of certain prescription drugs.

Kottkamp also supports measures that would regulate who can own a pain clinic, restrict the ability of clincis to be "cash only," and take away the ability to dispense medications on site.

"We need to bring all of our resources to bear," Kottkamp said. "What we don't want to happen is that these clinics move out of South Florida and just move to some other part of the state. We want to drive them out of business all together."

Back to Kottkamp's original statement. Trying to underscore the severity of the prescription drug problem in Florida, Kottkamp said that "nearly all of the top 50 prescribers" of the powerful pain killer oxycodone in the country are located in Florida. The DEA, using its most recent data, says that 49 out of 50 of the top oxycodone prescribers are located in Florida. We rate Kottkamp's statement True.
"Shut down the pill mills," article by Lt. Gov. Jeff Kottkamp, Feb. 28, 2010
"Pill mills: Florida county has become 'the Colombia' of pharmaceuticals," Miami Herald, April 9, 2009
"Sunshine State becoming a magnet for pill buyers," Los Angeles Times, April 25, 2009
"Deadly Combinations," St. Petersburg Times, Feb. 17, 2008
"Broward County Continues to Lead the Nation in Amount of Rx Oxycodone Dispensed Directly by Physicians," Broward County United Way report
Interview with Office of Drug Control director Bruce Grant, March 5, 2010
Interview with DEA Special Agent David Melenkevitz, March 8, 2010
Interview with Lt. Gov. Jeff Kottkamp, March 9, 2010
"Crist signs bill to end Florida's status as prescription 'pill mill' haven," Palm Beach Post, June 18, 2009
Browse the Truth-O-Meter
More by Aaron Sharockman
Support independent fact-checking.
Become a member!
In a world of wild talk and fake news, help us stand up for the facts.