Stand up for the facts!
Our only agenda is to publish the truth so you can be an informed participant in democracy.
We need your help.
I would like to contribute
Marco Rubio is a "Miami lobbyist."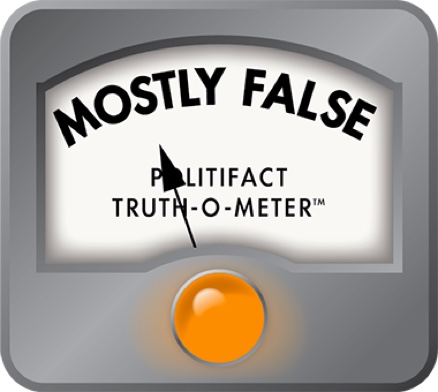 Crist and Democrats say Rubio is "Miami lobbyist"
The Charlie Crist for U.S. Senate campaign, trying to capitalize on the public perception that lobbying is unseemly, describes Republican Senate candidate Marco Rubio as a "Miami lobbyist" or "Miami Lobbyist-Politician" in its campaign literature.

One recent reference appeared in a March 15, 2010, press release that carried the following headline: "Marco Rubio: Can Florida Afford A Miami Lobbyist-Politician Who Laughs At Ethics?" In the release, the word "lobbyist" was mentioned three times in reference to Rubio.

The Florida Democratic Party also labels Rubio as "a lobbyist" in its press releases. In a March 21 statement e-mailed to reporters, the Democrats twice referred to Rubio as a "lobbyist" in criticizing him for not standing up to Tea Party activists.

"Looks like Lobbyist Marco Rubio isn't the only extremist Republican afraid to stand up to the Tea Party's racial and homophobic slurs today," said the release, which included a story from Roll Call, a Capitol Hill newspaper, noting racial slurs hurled against members of Congress as they arrived to the House for the vote on health care reform.

So was Rubio a Miami lobbyist? And is he still a Miami lobbyist?

We first went to the Miami City database of lobbyists and found no such evidence, and called Miami City Hall as well. A clerk there searched and said there is no Marco Rubio listed as a lobbyist as far back as they keep records – to 2003.

Next we went to Miami-Dade County, a separate, larger jurisdiction. It has an elaborate Guide to Lobbyist Registration that outlines "applicable laws governing lobbyists doing business with the government of Miami-Dade County." The procedures include registration, fees as well as a reporting requirement for when a lobbyist is no longer representing a client.

There we found that Rubio registered seven times: three times in 1997, a year after he got out of law school, on mundane zoning and code enforcement efforts; twice in 1998 on behalf of a real estate effort and something called the American Sales & Management Org.; and once each in 2001 and 2002 as agent for companies listed as the Main Line Corp., a computer equipment company, and Pan American, a developer.

Miami-Dade lobbyist registrar Keith Knowles told us the paper records of that period have since been destroyed – a common county hall practice, with no backup to microfilm or microfiche. But he said the county database still reflects accurate lobbyist filings, and that Rubio filed a form closing out his record as a lobbyist on May 31, 2005. (He served in the Florida House from 2000-2008.)

So technically Rubio ceased to be a registered lobbyist with the county on May 31, 2005. But in fact, says Knowles, county records reflect that Rubio paid his last registration fee on April 26, 2002 -- $125 to represent Pan American, and did not renew the required lobbyist's fee in October of that year, when his two-year $500 registration expired.

To provide a little context, it appears that Rubio did some lobbying a year after he got his law degree and while serving as a commissioner in West Miami, a small city in the county. He kept his file active at County Hall during his first five years with the Florida Legislature although he did not have any lobbying clients after 2002.

Rubio did some of this work while at the Becker & Poliakoff law firm. So we checked with partner Alan Becker, who confirmed that the last two registrations -- Pan American and The Main Line Corp -- were during Rubio's August 2001-June 2004 tenure there.

Becker told us, "I think it's a stretch to say he was a lobbyist. He was a lawyer representing clients who had issues involving government. But the law doesn't distinguish and requires you to register as a lobbyist."

Rubio came to Becker's firm after working for Tew Cardenas, a well-connected lobbying and legal firm. While with Becker, Rubio rose to be majority leader in the Florida House. When Rubio left Becker's firm, for the Miami firm of Broad and Cassel, which did not lobby in Tallahassee, Rubio was in line to become speaker of the Florida House.

Becker said the lobbying work done in 2001 and 2002 were "very short representations" before the county and that Rubio was primarily an attorney. "As far as I was concerned I hired a lawyer who represented clients who often had governmental issues and that required you to register as a lobbyist." (Becker gives to Republicans and Democrats and has contributed money to both the Rubio and Crist campaigns.)

But Alex Burgos, Rubio's campaign spokesman, the lobbyist claim is a "silly" attack.
In a statement last month to the Miami Herald, he said that Rubio "worked as an attorney for law firms that did Request for Proposal (RFP) and land use work in Miami-Dade County."

"Out of an abundance of caution, law firms engaged in this type of work often register their lawyers as lobbyists. In fact, all lawyers representing clients on land use matters are supposed to register as lobbyists. While Marco worked on land use contracts and RFPs, he never met with elected officials to influence them on behalf of clients,'' he told the Herald.

So, we find that it's quite a stretch for Crist's campaign to call Rubio a "Miami lobbyist," which conjures images of a high-priced lawyer representing fat-cat clients in Tallahassee or Washington.

But that's misleading in two ways. The Crist campaign and Florida Democrats use the present tense, indicating that Rubio is a lobbyist. But he formally withdrew nearly five years ago. Also, his work was not what we traditionally think of as lobbying -- the Gucci-wearing attorney who seeks to influence the state Legislature or Congress. He worked at the local level, primarily on zoning matters.

So we find the claim to be Barely True.
Editor's note: This statement was rated Barely True when it was published. On July 27, 2011, we changed the name for the rating to Mostly False.
Charlie Crist for U.S. Senate campaign press release, Marco Rubio: Can Florida Afford A Miami Lobbyist-Politician Who Laughs At Ethics? March 15, 2010.

Florida Democratic Party press release e-mailed to media. "Rubio... Paging Lobbyist Rubio." March 21, 2010.

Miami Dade County database, Registrations by Lobbyist, Search conducted March 17, 2010

Telephone interview with Keith Knowles, lobbyist registrar, Miami Dade County, March 17, 2010

Telephone interview with Alan Becker, attorney at law, March 18, 2010

Federal Election Commission. Campaign Finance Reports & Data, Individual Search

Telephone interview with Steven Gretenstein, Dacra, March 18, 2010

Annual Report, Miami-Dade County, Lobbyist Registration, page 23. 2001.

Miami City Government, Lobbying Link, conducted March 17, 2010.

Becker-Poliakoff law firm Web site, accessed March 17, 2010.

Dacra real estate firm Web site, accessed March 17, 2010.
Miami Herald Naked Politics, Marco Rubio, lobbyist, Jan. 22, 2010
Browse the Truth-O-Meter
More by Carol Rosenberg
Support independent fact-checking.
Become a member!
In a world of wild talk and fake news, help us stand up for the facts.