Get PolitiFact in your inbox.
"Sue Lowden gave Harry Reid's campaigns a thousand dollars in five different elections, helping his Senate dreams come true."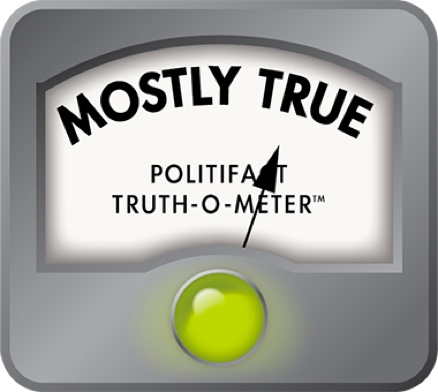 Nevada GOP Senate candidate says rival was Democrat Harry Reid "insider''
Sen. Harry Reid may be the Democratic Senate majority leader, but that doesn't mean he's a shoo-in for re-election in 2012. In fact, several potential Republican candidates outperform Reid in recent polls, suggesting Nevada voters are none too pleased with Reid.

Republicans are vying against each other to challenge Reid, and the primary appears to have several front-runners: Sue Lowden, a casino executive and former state party chairperson; Danny Tarkanian, a businessman and former college basketball star; and Sharron Angle, a former state representative with support from the Tea Party Express, a national group associated with the movement. The Republican primary is set for June 8.

The ads we've reviewed from the primary contest have similar themes: Government is too big, Washington can't be trusted, and only a true conservative should get the Republican nomination.

Tarkanian's ad "Insiders' Game" sounds these themes in fairly dramatic fashion, using ominous music and flashy graphics, and manages to attack Lowden and Reid simultaneously.

"Washington power was always Harry Reid's dream. That's why he needed to be stopped. Sue Lowden? She helped Harry Reid rise to power."

Lowden is then shown in a video clip, saying, "I supported Harry Reid early on."

"Sue Lowden gave Harry Reid's campaigns a thousand dollars in five different elections, helping his Senate dreams come true. Today Harry Reid's got his power, and Sue Lowden's worth millions. It's always an insiders' game," the ad concludes.

We couldn't get a response to our questions from the Lowden campaign, but we did call the Federal Election Commission to find out about Lowden's contributions.

She did donate to Harry Reid -- back in the 1980s. She gave him $2,000 in 1984, $1,000 in 1986, and $2,000 in 1989. The ad counts that as "five different elections," because in 1984 and 1989, Lowden made donations of $1,000 each for the primary and the general. Her husband, casino executive Paul Lowden, also contributed $8,000 between 1982 and 1995.

She told the Nevada media that she and her husband supported Reid at one time, but not anymore. "Early on in the '80s when he was independent, we did feel that he was representing Nevada," she said last year.

The ad implies -- but doesn't say explicitly -- that Lowden benefited from her support of Reid. The Tarkanian campaign points to a letter of recommendation that Reid wrote to the Illinois Gaming Board in 1992, expressing support for the Lowdens' casino operations, describing Reid's interactions with them during his time as chairman of the Nevada Gaming Commission from 1977 to 1981. "I have found them to be great assets to the state, and I have found them to be honest in all their dealings with me. I highly recommend Paul Lowden and his company," Reid wrote. (You can read the letter via the Las Vegas Sun website.)

Jon Ralston, a reporter and commentator on Nevada politics, pointed out in his own analysis of the ad that the Lowdens were wealthy before contributing to Reid's campaign, and that Reid raised plenty of money from other people.

Here, we're checking the statement from the Tarkanian campaign, that "Sue Lowden gave Harry Reid's campaigns a thousand dollars in five different elections, helping his Senate dreams come true."

The campaign is counting primary and general election contributions as donations for separate elections. You could argue that this was actually support for three elections, not five.

The ad also implies that this support helped Reid's "rise to power," and obliquely hints that there was some sort of mutual benefit. There's not much in the record to support that. Still, because the statement we're checking here is about Lowden's campaign contributions, which are a matter of public record, we're rating this Mostly True.
YouTube.com, Insider's game ad, April 29, 2010

Interview with Chistian Hilland of the Federal Election Commission

Las Vegas Sun, Fact sheet from the Tarkanian campaign for "Insider's Game" ad

Las Vegas Sun, "Reality Check," by Jon Ralston, May 4, 2010

Las Vegas Sun, "Many fronts in Sue Lowden's fight," April 4, 2010

The Las Vegas Sun, Letter from Harry Reid, Oct. 5, 1992

Las Vegas Review-Journal, Lowden unveils Senate bid, Oct. 1, 2009

Pollster.com, 2010 Nevada Senate Election:All Head-to-Head Matchups, accessed May 18, 2010

Sue Lowden for U.S. Senate, campaign biography, accessed May 18, 2010
Browse the Truth-O-Meter
More by Angie Drobnic Holan
Support independent fact-checking.
Become a member!
In a world of wild talk and fake news, help us stand up for the facts.