Stand up for the facts!
Our only agenda is to publish the truth so you can be an informed participant in democracy.
We need your help.
I would like to contribute
Georgia's high school graduation rate topped 80 percent in 2010.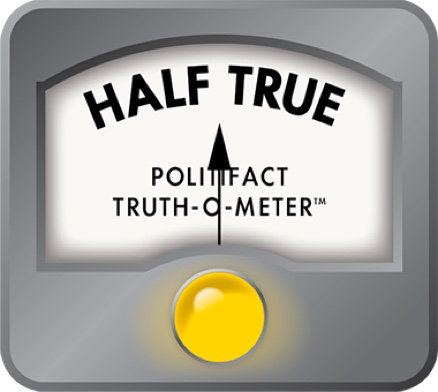 Perdue touts state's rising graduation rates
With the announcement that Georgia's high school graduation rate topped 80 percent, Gov. Sonny Perdue took a celebratory tour of the state's standout schools.

Perdue thanked students and staff at schools across North Georgia and along the South Georgia coast for their hard work. He promised he'd reach the 80 percent mark by 2010. With their help, he kept his word.

Or did he?

Other measures say Georgia's rate is lower by as much as 15 points. And while the state Department of Education reports it's making great strides, one group said last year that Georgia's graduation rate is so low Georgia's children are in "crisis." The Atlanta Journal-Constitution has uncovered multiple problems with how the rate is reported.

Is Georgia's graduation rate really 80 percent? We went to the Georgia Department of Education to sort the issue out.

Raising the rate to 80 percent by 2010 has been one of Perdue's major education initiatives. In 2005, he signed on to a national effort by the National Governors Association to standardize how states determine the graduation rate and improve the figure's accuracy. Under the new method, which the state will report for the first time this school year,school officials expect the rate to drop.

Perdue also created the position of "graduation coach," and he announced at a 2008 national education convention that it helped reduce dropouts by 10 percent in one year. The coaches identify high school and middle school students at risk of dropping out, find them mentors, organize tutoring programs, and help them sign up to retake classes they failed.

Now, back to the graduation rate. There are lots of ways to calculate it. Each has its own strengths and weaknesses. They can vary greatly. For instance, some count only students who graduate on time. Others count graduates who take longer.

Georgia uses what's commonly called the "leaver rate," a method used by 32 other states. The Education Department puts the exact graduation rate at 80.8 percent. It includes students who take more than four years to graduate.

The leaver rate is not the actual percentage of students who graduate. Until recently, the state Education Department lacked a record keeping system that could track that.

Instead, it's an estimate. To calculate it, you take the number of students who receive regular graduation diplomas and divide it by the following: the number of regular diploma recipients, plus the number of students who receive special education diplomas and certificates of attendance, plus the number of dropouts from grades 9-12.

State officials acknowledge the measure is imperfect. The new method will be more accurate.

Still, it's a fair accountability measure, they said. Since the state has used the same method to calculate graduation rates since Perdue took office in 2003, a year-to-year comparison is valid. Those numbers show the graduation rate surged from about 63 percent to 80 percent, said Perdue spokesman Bert Brantley.

Another advantage of Georgia's leaver rate is it's the most current data around. Graduation rates calculated with other measures have yet to be updated with numbers from two or three years ago. That means they don't measure the impact of the graduation coach program, Brantley said.

But AJC PolitiFact Georgia thinks there are other shortcomings with the leaver rate that should be acknowledged, and which cast Georgia's apparent success in a different light.

The most perplexing is that the state's calculation misses thousands of students.

In 2008, the state Department of Education could not account for nearly 20,000 students they marked as transfers, although it's not clear they went.

The state's 2010 graduation numbers raise similar questions. Georgia's Class of 2010 entered high school in 2006 at about 146,000 strong, according to the state's figures.

But when the state calculated its 2010 graduation rate, it pegged the combined number of Georgia students who graduated plus those who didn't make it at about 113,300.

That means this year's graduation calculation does not include about 33,000 of the Class of 2010's original members. A portion likely went to private school or are being home schooled, but given the department's past problems, it's far from clear that that's where all of them went.

Another problem is that while Georgia's leaver rate soared during Perdue's term, other widely used measures did not.

Consider the public high school averaged freshman graduation rate, which is collected and published by the National Center for Education Statistics, the U.S. Department of Education's main data clearinghouse, and graduation calculations from Editorial Projects in Education, a nonprofit education research center.

The averaged freshman graduation rate uses the number of on-time graduates with regular diplomas and an estimate of the freshman class size four years earlier to come up with its rate.

The Editorial Projects in Education rate multiplies together how many students were promoted on time each year to get its rate.

According to Editorial Projects in Education, Georgia's graduation rate grew between 2002-2003 and 2006-2007, the most recent school year available, by about 1.4 points to 57.8 percent.

During that same time period, the U.S. Department of Education's averaged freshman graduation rate for Georgia grew by 3.3 points to 64.1 percent.

In those same years, Georgia reported its graduation rate grew by 9 points to 72.3 percent.

These discrepancies may occur because the rates count different things, said state Department of Education spokesman Matt Cardoza. Georgia's leaver rate includes five-year graduates, but the other two measures count only those who finish on schedule.

Georgia officials think it's important to count students who take extra time, because it shows schools are committed to students who need more help.

"If we keep them [high school students] five years instead of four, and that helps them graduate, we're all for it," Cardoza said.

Still, it's difficult to tell which measure is more accurate, said John Robert Warren, a University of Minnesota sociologist. He was part of a major effort by the National Academy of Education that studied how to improve the reliability of graduation rates.

"They're all sort of in the ballpark of not being that good," Warren said of the measures.

In the case of leaver rates, experts agree they often inflate graduation figures. That's because the formula depends so heavily on a state's dropout rate. Experts agree dropouts are easy to undercount. A typical dropout doesn't bother to tell his school he no longer intends to show up, and schools often don't have the resources or incentive to track down missing students.

Another problem is shared by all measures. They're only as accurate as the data used to calculate them. In Georgia, there's evidence that at least some of this data has serious problems.

In June 2009, an Atlanta Journal-Constitution investigation found the state couldn't locate nearly 20,000 students who local districts said transferred to other Georgia schools
during the 2008 school year, but who never re-enrolled.

In April, the U.S. Department of Education rebuked the state Department of Education and Clayton County and determined the county's 2006-2007 dropout rates were undercounted.

A state Education Department spokesman said they enhanced their procedures, but did not correct older data.

In August, another Atlanta Journal-Constitution investigation found that thousands of Atlanta Public Schools students vanished from its rolls during the past eight years, and this may be the primary reason behind the system's rising graduation rates. Many students were marked as transfers, even though there was no evidence they re-enrolled elsewhere.

So what does all of this information say about Georgia's graduation rate?

If one thing is clear, it's this: No one knows the state's true graduation rate.

Although the state Education Department said it has improved its reporting methods, the way the agency calculates the rate and the data's quality still have enough unresolved problems that it's hard to say whether the state actually met Perdue's goal.

It's also not clear how much the state graduation rate has improved. Georgia said its rate has soared during Perdue's term, but one measure said it's flat and another said it rose by a few percentage points. Those other rates don't measure the exact same thing. They also use old data, so it's possible that fresh calculations will show a spike in rates. But at this point, it's doubtful they'll register a 17-point change as Georgia's leaver rate did.

This means that while the high 2009-2010 graduation rate may be an encouraging sign, it's not quite a cause for celebration.

Perdue's statement is accurate but leaves out important details or takes things out of context. By PolitiFact's standards, it rates a Half True.
The Atlanta Journal-Constitution, "Graduation rate up at high schools," Oct. 27, 2010

The Office of Governor Sonny Perdue, press release, "State Graduation Rate Soars Above 80 Percent," Oct. 26, 2010

The Atlanta Journal-Constitution, "Atlanta grad rate doesn't add up," Aug. 15, 2010

The Atlanta Journal-Constitution, "'Coaches' help lower number of dropouts," Nov. 20, 2008

The Atlanta Journal-Constitution, "School audit criticizes state," April 18, 2010

The Atlanta Journal-Constitution, "Georgia in bottom 5 for graduation," July 23, 2009

The Atlanta Journal-Constitution, "Student rolls don't add up," June 7, 2009

U.S. Department of Education, National Center for Education Statistics, "Public School Graduates and Dropouts From the Common Core of Data: School Year 2007–08," June 2010

Editorial Projects in Education, Diplomas Count 2010, June 10, 2010,

Georgia Department of Education, Governor's Office of Student Achievement, "A simplified explanation of Georgia's high school graduation rate," January 2008

National Academy of Education, "High School Dropout, Graduation, and Completion Rates:
Better Data, Better Measures, Better Decisions" Oct 28, 2010

National Governors Association, "Graduation Counts," July 27, 2009
Interview, Christopher Swanson, vice president of research and development, Editorial Projects in Education, Nov. 9, 2010

Interview, John Robert Warren, sociologist, University of Minnesota, Nov. 10, 2010

Interview, Matt Cardoza, spokesman, Georgia Department of Education, Nov. 11, 2010

Interview, Bert Brantley, spokesman, Gov. Sonny Perdue, Nov. 9, 2010

Interview, Bob Wise, president, Alliance for Excellent Education, Nov. 10, 2010
Browse the Truth-O-Meter
More by Willoughby Mariano
Support independent fact-checking.
Become a member!
In a world of wild talk and fake news, help us stand up for the facts.