Stand up for the facts!
Our only agenda is to publish the truth so you can be an informed participant in democracy.
We need your help.
I would like to contribute
Says President Obama has grown the federal government payroll by 141,000 workers and wants to add 125,000 more.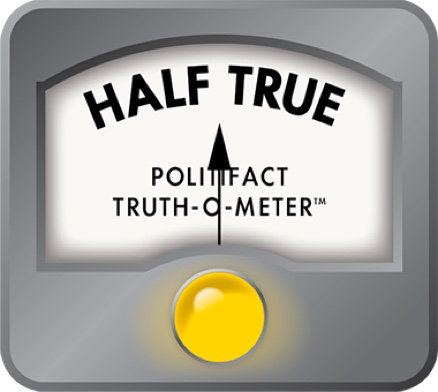 Wisconsin Republican Party chairman Reince Priebus says President Barack Obama has added 141,000 workers to the federal payroll and wants to add 125,000 more
Eager to ridicule the economic stimulus package, Republicans long have pounded President Barack Obama for overseeing a rise in federal government employees even while private-sector payrolls have shriveled.

It started over the summer, when two Ohio congressmen -- including soon-to-be U.S. House Speaker John Boehner -- separately claimed the federal payroll had jumped by 400,000 or 590,000 since Obama took office in January 2009.

Those claims were greatly inflated by including temporary U.S. Census workers, PolitiFact National found.

Now the GOP is back with a new set of numbers.

In the wake of election victories, officials are working them into interviews and even social-networking messages, such as this Nov. 16, 2010 Twitter post from Reince Priebus (@ReincePriebus), chairman of the Republican Party of Wisconsin:  

"Obama has grown fed. payroll by 141k workers-not counting Census, postal, & uniformed military. Wants to add 125k more."

Priebus weighed in on this national topic -- coincidentally we assume -- about a week after his name came up in speculation about succeeding Republican National Committee chairman Michael Steele at some point.

Priebus' tweet linked to a Fox News.com story that quoted U.S. Rep. Jason Chaffetz (R-Utah), who is in line to run a House subcommittee on federal employment.

Chaffetz was pushing a 10 percent across-the-board pay cut for federal employees. He told Fox that Obama had added 141,000 federal workers. The Fox story, without attribution, added: The president wants to hire 125,000 more workers."

Since the numbers had changed from the summer, we wondered how the new ones added up.

First some context and history.

Federal employment figures are cyclical. They are lower now than 20 years ago. The federal payroll began a dive in the 1990s, rose again after the 9/11 terrorist attacks, held pretty steady for much of the last decade -- then began a sharp climb up in 2008, the last year of George W. Bush's presidency.

The White House and private analysts attribute much of the rise this decade to homeland security and civilian defense positions related to fighting two wars and international terrorism.

Let's start with how much the federal work force has gone up.

During Obama's tenure, the number of federal workers has increased by about 141,000, according to the U.S. Bureau of Labor Statistics -- though it is in large part a product of Bush's last budget.

Priebus and Chaffetz did not include census workers, avoiding the misleading approach taken by Boehner and others.

They also excluded U.S. Postal Service workers in their count, which tallies some 2.19 million civilian federal workers. That makes the increase much larger than it otherwise would be, since the postal workforce is shrinking.

Got that?

If the postal workers cuts were included, the overall increase in employees under Obama would be about 40,000, or a modest 1.4 percent increase in the workforce. By leaving the postal service out, as the GOP does, the increase is 141,000 jobs, or almost 7 percent.

That's a huge difference.

Tad DeHaven, a budget analyst at the libertarian Cato Institute, says postal workers are federal employees and should be included.

But government statisticians, the White House and some private watchdog groups routinely exclude postal workers in their reports. So Chaffetz and Priebus are not off base -- and both were careful to note which workers they meant.

A second caveat is more important.

Obama was elected in November of 2008 and took office in January of 2009. An analysis by Cato, the libertarian think tank, said the vast majority of spending for the 2008-'09 year -- which began a month before the election -- was from Bush-implemented changes.

If you start counting with the first full fiscal year under Obama, the job increase under Obama is half of the 141,000. But it's also true that Obama picked up the ball from Bush and ran with it.

Let's look at part two of the Priebus claim: that Obama wants to add 125,000 more workers.

It's based on the Fox story, which did not attribute that number to anyone.

The 125,000 figure is an apparent reference to fiscal year 2011. But the 125,000 figure is not the projected job growth in fiscal year 2011 -- it's just new hires, according to an analysis by the Partnership for Public Service, which provides research for The Washington Post.

Priebus' tweet makes it sound as if that 125,000 would come on top of the 141,000 increase. But two-thirds of the 125,000 hires will replace departing federal workers, the Partnership estimated. So those positions won't grow the number of federal jobs.

We won't know until next fall, when the 2011 fiscal year ends, how many net jobs were added across the government.

But like any good charge, a pointed tweet doesn't wait.

So, our evaluation won't wait either.

Like others in his party, state GOP chairman Reince Priebus' claim on federal hiring takes a statistical approach that makes the 2009-'10 trend more dramatic than under another method. And the claim pins the entire growth on Obama, while ignoring the budget implemented by Bush. But it's a legitimate number, commonly used, and clearly defined.

The second claim is off base, using a new-hire number as a proxy for job growth to suggest that Obama would nearly double the two-year job growth in one year. The mixed message earns Priebus a Half True.
Fox News.com, GOP assault on federal pay puts Obama in politically difficult position, Nov. 16, 2010

Bureau of Labor Statistics, Historical growth in federal employment

Bureau of Labor Statistics, Current Employment Statistics Survey

Office of Management and Budget, Analytical Perspectives, Budget of the U.S. Government, Fiscal Year 2011

Washington Post, Estimate: Government to make 125,000 new hires, Oct. 15, 2010

Cato Institute, Defending Obama Again, Nov. 29, 2009

E-mail interview with Alisia Abegg Essig, communications director, Rep. Jason Chaffetz, Nov. 17, 2010

Interview with Stacey Standish, press officer, U.S. Bureau of Labor Statistics, Nov. 18, 2010

White House, OMB report

Interview with Tad DeHaven, Cato Institute, Nov. 19, 2010

Interview with Moira Mack, Office of Management and Budget, Nov. 19, 2010

PolitiFact National, We've gained 590,000 public sector jobs, Aug. 18, 2010

PolitiFact National, The federal government has grown by more than 400,000 jobs, July 15, 2010
Browse the Truth-O-Meter
More by Dave Umhoefer
Support independent fact-checking.
Become a member!
In a world of wild talk and fake news, help us stand up for the facts.