Stand up for the facts!
Our only agenda is to publish the truth so you can be an informed participant in democracy.
We need your help.
I would like to contribute
"Paul Workman wants to raise the sales tax."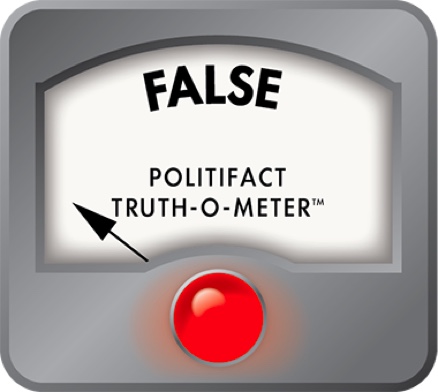 Rep. Valinda Bolton says that Paul Workman wants to raise the sales tax
The run-up to Nov. 2 is full of frightful statements. For instance, a recent political mailer from Rep. Valinda Bolton, D-Austin, that casts GOP challenger Paul Workman as a vampire with a tax scheme that will suck your wallets dry.
Flip the mailer over to see a picture of a Jack-O-Lantern bucket filled with money. "Paul Workman's scary sales tax: A treat for politicians and a trick on families."
When Bolton's leaflet landed on our desks, we were already reviewing a similar statement from an earlier mailer. In it, Bolton says "Paul Workman wants to raise the sales tax" and that he "admitted that he supports a plan to raise the sales tax dramatically."
Both ads cite a Sept. 9 Oak Hill Association of Neighorhoods (OHAN) forum where Workman and Bolton each spoke.
When we asked Bolton to back up her statement, her campaign manager, Elizabeth Hartman, sent a campaign document citing both the Republican Party of Texas platform and Workman's remarks at the forum.
The Bolton camp's document says that since Workman is listed as a Republican candidate on the Travis County Republican Party website and received campaign contributions from the Republican Party of Texas, "one can assume his positions are in alignment with his party's platform."
According to the document, the Texas GOP's platform proposes to abolish the Internal Revenue Service, repeal the 16th Amendment — the one that allows Congress to collect income tax —and implement a national sales tax in place of all other federal taxes. "However, until such time that the income tax is abolished, we support deductions for private and home schooling, home mortgages and sales tax," the party's platform states.
On the state level, the party supports abolishing "property taxes for the purpose of funding schools and to shift the tax burden to a consumption-based tax while maintaining or reducing the overall tax burden." The party opposes "all professional licensing fees and real estate and similar transaction fees or taxes," taxes on Internet sales and wants the state to repeal the revised franchise tax. Under the GOP scenario, until property taxes can be abolished property valuations should remain fixed for no less than three years following each revaluation. Currently, property is taxed based on its Jan. 1 market value.
Bolton's take-away point: the platform "urges the elimination of property taxes and would have that revenue stream replaced by a consumption-based tax — in other words, a sales tax."
From the OHAN forum, the Bolton camp's document quotes Workman saying: "We're not going to get an income tax in this state. It ain't gonna happen, so there's really only two ways to pay for schools. It's either going to be a property tax or it's going to be a sales tax... The only way that I would be in favor of a sales tax is if we eliminated property tax. But if you believe that the state of Texas is the one who is responsible for providing that free education, then the money needs to be collected to the state and then distributed to the school districts in some equitable basis." Workman then says that Texas would need to increase the sales tax by 5 cents for every dollar spent in order to replace the property tax system. The state sales tax is now 6.25 percent, though Texas cities, counties, transit authorities and special purpose districts can impose an additional local sales tax up to a total tax of 8.25 percent.
The Bolton campaign's conclusion: "Mr. Workman gave an 'either or' scenario — property taxes or sales taxes... Workman would support his party's plan to reform school funding — to first eliminate property taxes and then to replace them with increased sales tax."
On Oct. 19, Workman's campaign issued a press release responding to what it called Bolton's "intellectually dishonest attack." "Workman didn't advocate raising the sales tax at the OHAN forum," the release says. Eric Bearse, a consultant for Workman's campaign later cited another statement Workman made at the forum: "My position is that we will balance the budget by cutting spending," he said. "We will not raise taxes."
Lastly, we reviewed an audio recording of Workman's Oct. 12 interview with Austin American-Statesman reporter Kate Alexander. In it, he says: "There's really in my mind only three ways to pay for schools. That's an income tax, a state sales tax, or the current system of property tax plus whatever state revenue. Because we're not going to have an income tax, and I don't know if you can get the people to buy off on a state sales tax in lieu of property tax, so it appears to me that we're liable to be just kicking the can down the road further with no real fair equitable solution to the problem."
We'll stop kicking our own can to sum up what we've learned.
The state GOP platform, in keeping with the so-called national Fair Tax agenda, advocates replacing current taxes with a national consumption or sales tax. (A bipartisan panel convened under former President George W. Bush estimated that such a scheme would require a sales tax of 34 percent or more.) While Workman doesn't seem to have distanced himself from his party's platform, he has indicated he has practical concerns — like getting "people to buy off on a state sales tax in lieu of property tax."
True, going the GOP's preferred school-funding route would require a dramatic increase in the sales tax. Workman said as much at the forum attended by Bolton. He also said he'd favor such a change only if school property taxes were wiped out. Her statement ignores this critical fact, distorting Workman's position.
We rate the statement as False.
Mailer from the Valinda Bolton Campaign
Oak Hill Association of Neighborhoods candidate forum, Sept. 9, 2010
KXAN.com, Lively fight for GOP nod in SW Austin, Feb. 3, 2010
Oak Hill Gazette, District 47 candidates participate in OHAN forum, Sept. 14, 2010
Austin American-Statesman, Workman mounts strong challenge to Bolton in statehouse race, Oct. 15, 2010
Paul Workman's campaign website, Issues important to District 47, accessed Oct. 26, 2010
President's Advisory Panel on Federal Tax Reform, Final report, Nov. 1, 2005
E-mail interview with Eric Bearse, consultant for Paul Workman's campaign, Oct. 27, 2010
E-mail interview with Elizabeth Hartman, campaign manager for Valinda Bolton's campaign, Oct. 27, 2010
Interview with Chris Elam, communications director, Republican Party of Texas, Oct. 28, 2010
Interview with Paul Workman, Oct. 12, 2010
Browse the Truth-O-Meter
More by Ciara O'Rourke
Support independent fact-checking.
Become a member!
In a world of wild talk and fake news, help us stand up for the facts.