Stand up for the facts!
Misinformation isn't going away just because it's a new year. Support trusted, factual information with a tax deductible contribution to PolitiFact.
I would like to contribute
Charlie Crist's "personal approval numbers are plummeting."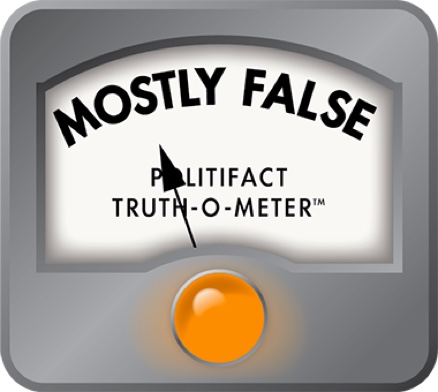 Top Democratic operative claims Charlie Crist's poll numbers are 'plummeting'
The man who ran President Barack Obama's successful presidential campaign in Florida has crunched the numbers in the state's high-profile U.S. Senate race and come up with a bold prediction:

Charlie Crist, the state's governor and a no-party candidate, will not win.

In a blog post published Aug. 31, 2010, Democratic operative Steven Schale said Marco Rubio is amassing enough of the Republican vote to keep Crist out of the U.S. Senate. But that's not Crist's biggest hurdle, Schale wrote.

"The bigger problem is (Crist) is falling into the same place as many other long time office holders: his personal approval numbers are plummeting," wrote Schale, who is supporting but not working for Democrat Kendrick Meek. "He no longer has that deep well of cross party lines personal support built up that allows him to transcend normal political divides. Instead, he now has to block and tackle like everyone else. In this political environment, absent some significant and unfortunate event that would thrust him back into the spotlight, the odds of him finding 15-20 points of political approval in the next nine weeks are slim, at best."

Schale's message has been spread by both Democrats and Republicans on the Internet. We wanted to see if it was true. Are Crist's personal approval ratings plummeting?
Looking at the polls
Pollsters measure Crist's performance two ways -- his job approval rating (approve or disapprove) and his personal favorable rating (favorable or unfavorable).

The website Pollster.com accumulates the polls of several organizations, plots their results on a graph, and keeps a rolling average. It has tracked Crist's personal favorable rating since October 2008 and his job approval numbers since September 2008. This is the polling site Schale sent to us to back up his claim.

A crude examination of responses to both questions shows that Crist is receiving less support.

Take a look at both Pollster.com graphs.

About 60 percent of voters approved of Crist's job performance in September 2008. The percentage remained relatively unchanged until June 2009 when Crist's job approval rating began to decline. Polls bottomed out at a little over 50 percent in February 2010, before rebounding slightly. The most recent polls have Crist's approval number closer to 55 percent with disapproval numbers in the high 30s or low 40s, depending on the specific poll. (If you click on the poll below, you'll go to Pollster.com, where you can create graphs by individual polling group).
Crist's favorable/unfavorable rating has fewer poll samples to examine. The Pollster.com aggregation shows a slow, but steady decline since October 2008. Polls in late 2008 had Crist's favorables in the high 60s where most polls now put Crist's favorable rating in the low to mid 50s.
We're not sure either result constitutes plummeting. In fact, opinions of Crist haven't really changed that much in eight months, according to the Pollster.com trend lines. Merriam-Webster defines plummet as to fall perpendicularly  or
to drop sharply and abruptly.
That said, a more detailed examination of the polls that make up Pollster.com shows a bigger problem with making generalizations about the data.

Quinnipiac, for instance, has polled Crist's favorable rating 12 times since late 2008. Crist peaked at 68 percent favorable in a February 2009 Q poll before dropping to 48 percent favorable in early April 2010. But his favorable rating has in fact rebounded some, and sits at 53 percent according to Quinnipiac's most recent poll.

What happened between the bottom in April and now? Crist left the Republican Party.

Quinnipiac's job approval ratings mirror the same pattern -- started in 2008 at 61 percent, bottomed out in April 2010 at 49 percent, but rebounded to 56 percent by August. That's just a 5 percentage point drop -- from a poll with a 3 percent margin of error -- in almost two years.

In both cases Crist's numbers are lower than were they were two years ago, but also higher than they were four months ago.

Peter A. Brown, assistant director of the Quinnipiac University Polling Institute, a group that polls nationwide, said Crist's personal numbers are very strong.

"A 56 percent job approval rating, in this economy, for a sitting governor, is very good," said Brown, who then launched into a comparison with Ohio Democratic Gov. Ted Strickland.

Strickland, who is running for re-election, has a job approval rating around 41 percent, with more people disapproving of his time in office. And more people have an unfavorable opinion of him than a favorable one.

"Here's my point. If Charlie Crist is getting more Democrats than Kendrick Meek, Charlie Crist is very likely to be the next senator from Florida," Brown said. "And he is (getting more Democrats) in our latest poll."

Now take the Rasmussen polls, which show big swings in favorable/unfavorable ratings of Crist. In March 2010, Crist had a 49 percent favorable rating, and a 48 percent unfavorable rating. In Rasmussen's last poll in July, his numbers had dramatically improved. Rasmussen reported a favorable rating of 69 percent, Crist's highest rating in any poll since October 2008 and the highest ever rating for Crist in a Rasmussen poll.

For the record, the same Rasmussen poll had Rubio slightly ahead of Crist in a three-way Senate race, with Meek a distant third.

Ipsos, which conducted polling for the St. Petersburg Times, Miami Herald, Bay News 9 and Central Florida News 13, in May and August, said Crist's job approval rating has remained steady at a little over 50 percent.

That "is pretty decent considering the amount of time he's been in office and his decision to leave his party," said Julia Clark with Ipsos.

In its poll, Ipsos also asked voters whether Crist's decision to leave the Republican Party and run as an independent made people more or less likely to vote for him. About one in five, 22 percent, say it made them more likely to vote for him, and the same proportion, 21 percent, say it made them less likely to vote for him. Half, 49 percent, say it hasn't changed their view.
Our ruling
Bottom line, polls are numbers and depending on what poll you're looking at and what time period you're examining, you can reach different but defendable positions. Rasmussen had Crist's job approval rating at nearly 70 percent in July, the second highest it's ever been.

Quinnipiac polled Crist's job approval rating down 5 percentage points since 2008. The polling group found that Crist's favorable rating, meanwhile, dropped a total of 20 points from 2008 to 2009, before bouncing back.

Schale said Crist's personal approval numbers are "plummeting." Pollster.com's tracking of several polls starting in October 2008 shows that Crist's favorable rating has declined among voters from around 70 percent, to between 50 and 55 percent. But Crist's position in voters' minds hasn't changed all that much for most of 2010, and even has rebounded a little in some polls, according to the same figures.

His job approval ratings, meanwhile, haven't changed all that much in nearly two years.

And pollsters say his numbers remain solid.

We rate Schale's claim Barely True.
Editor's note: This statement was rated Barely True when it was published. On July 27, 2011, we changed the name for the rating to Mostly False.
Steven Schale, "Sorry Charlie," Aug. 31, 2010
E-mail interview with Steven Schale, Aug. 31, 2010
Interview with Peter A. Brown, assistant director of the Quinnipiac University Polling Institute, Sept. 1, 2010
E-mail interview with Julia Clark, director of Ipsos Public Affairs, Sept. 1, 2010
Pollster.com, Charlie Crist job approval ratings (and corresponding individual polls), accessed Sept. 1, 2010
Pollster.com, Charlie Crist favorable ratings (and corresponding individual polls), accessed Sept. 1, 2010
Pollster.com, Ted Strickland job approval ratings, accessed Sept. 1, 2010
Pollster.com, Ted Strickland favorable ratings, accessed Sept. 1, 2010
Browse the Truth-O-Meter
More by Aaron Sharockman
Support independent fact-checking.
Become a member!
In a world of wild talk and fake news, help us stand up for the facts.