Get PolitiFact in your inbox.
"Taxes went down under Jerry Brown."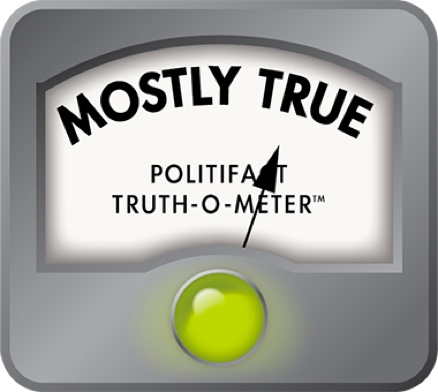 Jerry Brown raised taxes? Not overall
The California governor's race between Republican Meg Whitman and Democrat Jerry Brown has turned into a political retrospective of the '70s, '80s and '90s, with a special guest appearance from Bill Clinton.

Our story begins with an ad from the Whitman campaign and goes on to check a claim in a campaign ad by Brown.

"Jerry Brown's good old days -- but what really happened?" asks a narrator in the Whitman ad.

Cut to Clinton himself in his 1992 prime. "CNN -- not me, CNN -- says his assertion about his tax record was quote, just plain wrong. Jerry Brown went out there and took credit for the fact that the people of California voted for Proposition 13, which lowered taxes, which he opposed. And now he's going around and taking credit for it. He raised taxes as governor of California. He had a surplus when he took office and a deficit when he left. He doesn't tell the people the truth."

Clinton's words were from the 1992 Democratic primary for president, when Brown and Clinton ran against each other and regularly traded barbs. Today, of course, Clinton is the former president considered to be one of the best at getting the Democratic base to turn out in elections.

Brown responded to the new ad with the old footage at a meeting with his supporters on a Sunday just days after the ad ran. Either the ad touched a nerve or maybe Brown didn't know there was a camera in the room, but he lashed out -- not at the Whitman campaign, but at Clinton himself.

"I mean, Clinton's a nice guy, but who ever said he always told the truth?" Brown said on Sept. 12, 2010. "You remember, right? There's that whole story there about 'did he or didn't he.' ... I did not have taxes with this state, so let's be clear about that." That's a not-so-subtle reference to Clinton's impeachment.

It's not clear that Brown knew he was being taped that Sunday. He apologized to Clinton on Monday, and Clinton endorsed Brown on Tuesday. In a statement, Clinton said the ad is misleading because the CNN report he cited was "erroneous."

"Moreover the tough campaign we fought 18 years ago is not relevant to the choice facing Californians today. Jerry and I put that behind us a long time ago," Clinton wrote.
Brown defended his record on taxes again in his own ad.

His ad says, "Wouldn't it be nice if every time Meg Whitman told a lie her nose would grow? Newspapers report that claims in this Meg Whitman ad are false, and she knows it. Taxes went down under Jerry Brown. But Whitman's nose keeps growing by the millions." Here, we're checking Brown's statement that, "Taxes went down under Jerry Brown."
We started by going back to Clinton's statements in the Whitman ad and then looking at the former governor's record.
The metric that the CNN report used was a calculation put together by the California Department of Finance showing the tax burden per $100 of income. In 2010, for example, the tax burden was estimated at $6.48 per $100 of personal income. (See the historical chart here.)

Back in 1992, CNN's fact-check looked at the wrong years and reported that taxes went up. The most recent data shows that the tax burden went down. Factcheck.org's Brooks Jackson -- who worked for CNN back then -- explained the issue with the data in a post at the Factcheck.org website.

The budgets Jerry Brown oversaw were for fiscal years 1975 to 1982. The tax burden during that time started at $6.95, increased to a high of $7.74 in 1977, then declined to $6.56 in 1982.

There were no major laws passed increasing taxes during that time, so what made the collections rise and fall? We had a hard time finding consensus on this 20-year-old question. Property values were rising, which led to Proposition 13 in 1978, which lowered property taxes and made it harder to increase other taxes. But there's a dispute over whether Proposition 13 affected state tax revenues that much; some say that it curtailed local taxes, not state taxes. The reason for the state tax decline, according to this view, is that a poor economy depressed tax revenues.

We also wanted to check and see if Brown had signed any major new tax changes into law while he was governor. We looked through old news stories and found that Brown approved a two-cent per gallon gasoline tax for highways toward the end of his term. But he also approved a measure to index income tax brackets for inflation, a move that had the effect of reducing taxes for some. We also found news coverage of various business-related taxes; Brown signed measures that both increased and decreased taxes for some businesses.

In fact, Brown oversaw large state surpluses in his early years as governor, which happened without any new tax increases. Some people blame Brown for sitting on the surpluses, which allowed the tax revolt movement for Proposition 13 to gain steam. Brown opposed Proposition 13 before it passed, but after it did, he became an ardent defender. Los Angeles Times columnist George Skelton wrote about Brown's reversal in a column recently, reminding Californians that Brown called himself a "born-again tax-cutter" after the vote, and won the endorsement of Howard Jarvis, the proposition's chief backer.

In this year's race, Brown says there should be no tax increases without a vote.

We found that when Brown was governor, he signed an increase to gas taxes, a decrease to income taxes through indexing, and various increases and decreases for business. He had significant surpluses for the first part of his governorship and in all likelihood didn't need to raise taxes. The most significant evidence in favor of Brown's statement are the state numbers that show taxes per $100 of resident income. By that metric, taxes went up, and then down under Brown, and finished a little lower than when he started. Those numbers sway the meter in a positive direction. We rate the statement "Taxes went down under Jerry Brown," as Mostly True.
Meg Whitman for Governor, Whitman releases new TV ad: "Jerry Brown vs. The Truth", Sept. 9, 2010

California Department of Finance, Summary of state tax collections, 1967-2010

Factcheck.org, Jerry Brown and California Taxes, Sept. 10, 2010

Jerry Brown campaign, Brown Campaign Fires Back At Meg Whitman Regarding Her Latest False Attack On Jerry Brown's Record, Sept. 9, 2010

Jerry Brown campaign, Brown Unveils Two New TV Ads Dispelling Whitman's Latest Lies, Sept. 14, 2010

Los Angeles Times, Jerry Brown's a lot of things, but he's no tax-and-spender, April 12, 2010

Los Angeles Times, The parable of Jerry Jarvis, March 4, 2010

Los Angeles Times, Brown is lucky—and needs to be luckier, Sept. 16, 2010

Los Angeles Times, Brown Signs Bill Hiking State Gas Tax by 2 Cents, Sept. 18, 1981

Los Angeles Times, Brown Signs Bill Designed to Help Small Firms Strapped for Capital, Sept. 18, 1981

Los Angeles Times, Brown Signs Bill to 'Index' Income Tax, Oct. 2, 1979

Los Angeles Times, Bill to Kill Tax on Inventories OKd Signed Into Law, April 21, 1978

Sacramento Bee, Jerry Brown says he'd put any tax increases on ballot, July 1, 2010

Interview with Sterling Clifford of the Jerry Brown campaign

Interview with Dan Comstock of the Meg Whitman campaign

E-mail interview with Timothy Hodson of the Center for California Studies

Interview with Kris Vosburgh of the Howard Jarvis Taxpayers Association

E-mail interview with Harvey Englander of Englander Knabe & Allen

Browse the Truth-O-Meter
More by Angie Drobnic Holan
Support independent fact-checking.
Become a member!
In a world of wild talk and fake news, help us stand up for the facts.