Stand up for the facts!
Our only agenda is to publish the truth so you can be an informed participant in democracy.
We need your help.
I would like to contribute
"Our county now has the fastest growing airport in America, attracting nearly 1,000 new private sector jobs."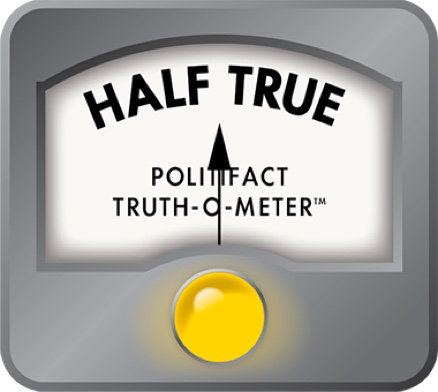 Scott Walker says Milwaukee airport is the fastest growing in the country, adding 1,000 jobs
On Sept. 14, 2010, after winning the Republican nomination for governor, Milwaukee County Executive Scott Walker in a victory speech rattled off a list of on-the-job accomplishments -- from holding down taxes to cleaning up county government.

Among the items Walker listed:

"Our county now has the fastest growing airport in America, attracting nearly 1,000 new private sector jobs."

Every month seems to bring a new announcement from Walker's county office of a new record for passengers at Mitchell International Airport.

But is Mitchell's traffic growth really leading the nation? And what about those 1,000 jobs?

A review of county records shows these are boom times at Mitchell -- thanks to consolidations and convulsions in the airline business. Airlines are adding flights to and from the airport and  more passengers are coming through the gates.

In July 2010, the airport set a single-month record with 928,497 passengers, the 11th consecutive month of record passenger growth.

In the first quarter of 2010, the airport handled 2,192,859 passengers -- a 35.3 percent increase over the first quarter of 2009.

That first quarter performance put MKE near the top of an international list.

According to Airports Council International, an industry group, Mitchell's year-over-year passenger growth was the world's fourth largest, behind Istanbul, Turkey; Phuket, Thailand; and Moscow.
Milwaukee was the only U.S. airport in the top 30 list.

So what is going on at Mitchell, and is Walker right to claim county credit for it?

It's simple, according to aviation consultant Michael Boyd, of Boyd Group International in Evergreen, Colo.: Three airlines -- AirTran Airways, Southwest and Republic -- are "trying to kill each other."

"It has nothing to do with county government," Boyd said. "It has to do with airline economics."

After the former owner of Midwest Airlines slashed the number of flights by 40 percent and cut hundreds of jobs, the others moved in on the business.

AirTran established a second national hub at Mitchell, increasing departures from 18 to 47 in the past year. Southwest began service in November 2009, adding 10 departures. And Republic, the new owner of Midwest (now operating as Frontier Airlines), began restoring service. It now has 90 flights a day, five less than what Midwest offered a year ago.

So the airport is leading the nation in passenger growth -- in part because it is working its way back up of the decline that came when Midwest cut its flights.

But what about the "nearly 1,000 new private sector jobs"?

No one counts "airport" jobs. Not the state, county or the Metropolitan Milwaukee Chamber of Commerce, which compiles area employment reports each month.

When asked for documentation, the Walker campaign responded with three clippings -- one each from the Milwaukee Journal Sentinel ("Republic Airways to add up to 800 jobs here"), BizTimes.com ("Southwest Airlines to begin with 12 flights out of Milwaukee") and WISN.com ("AirTran Brings More Jobs to Milwaukee"). Tallied together, they covered 940 new jobs.

The clips were all from 2009, so we contacted the airlines for fresh information.

Republic said it has added 500 jobs. AirTran said it added 100. Southwest added 41. That's about 640 jobs -- far short of those promised of the 940 promised , though AirTran and Republic have said they plan to continue to add jobs into next year.

Of course, the new jobs come against the backdrop of lost jobs, as Midwest struggled to stay afloat. The airline cut 2,600 jobs nationwide between early 2008 and the fall of 2009. In Wisconsin, Midwest notified the state of plans to lay off 1,600 workers -- 1,379 in 2008 and 234 in 2009.

The other airlines will, no doubt, hire some of those laid-off workers. But employment remains far short of where it was before Midwest's fall.

So, let's see if Walker's statement flies.

When it comes to growth in passenger count, Mitchell International Airport is leading the nation -- though much of that is through regaining traffic that had been lost in recent years. Experts note this is due to an airline battle, more so than any direct action by Walker or the county. On the jobs side, the new (and promised) jobs won't replace all the jobs that were lost. If they ultimately come through, Walker's election-night number of  "nearly 1,000" may be on target, but for now that portion of his claim can be marked "Flight delayed."

We rate Walker's statement Half True.
Interview, Pat Rowe, Mitchell International Airport spokeswoman, Sept. 15, 2010 and follow up e-mails

Mitchell International Airport press releases, statistics.

Airports Council International Quarterly Traffic Bulletin, first quarter, 2010.

Brookings Institute report, Oct. 2009.

E-mail interview, Carlo Bertolini, Republic Airways, Sept. 16, 2010

E-mail interview, Michael Boyd, Boyd Group International, Sept. 17, 2010

Interview, Christopher White, AirTran Airways spokesman, Sept. 17, 2009

E-mail interview, Brad Hawkins, Southwest Airlines spokesman, Sept. 19, 2010

Interview, Bret Mayborne, director of economic research, Metropolitan Milwaukee Chamber of Commerce, Sept. 15, 2010.

E-mail interview, Jill Bader, Walker for Governor campaign spokeswoman, Sept. 15, 2010

Wisconsin Department of Workforce Development layoff notices 2008, 2009, 2010

Milwaukee Journal Sentinel, Republic Airways to add up to 800 jobs here", Nov. 10, 2009

BizTimes.com, "Southwest Airlines to begin with 12 flights out of Milwaukee," June 23, 2009

WISN.com, "AirTran Brings More Jobs to Milwaukee," Dec. 29, 2009.
Browse the Truth-O-Meter
More by James B. Nelson
Support independent fact-checking.
Become a member!
In a world of wild talk and fake news, help us stand up for the facts.