Stand up for the facts!
Our only agenda is to publish the truth so you can be an informed participant in democracy.
We need your help.
I would like to contribute
Says Rick Scott's proposed budget "would lay off 20,000 teachers."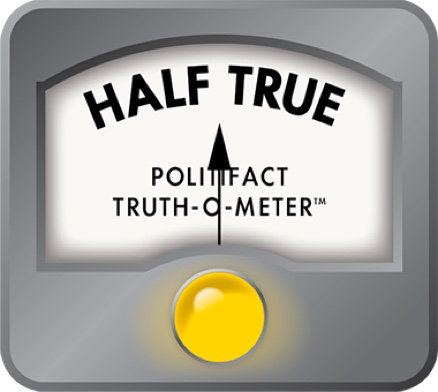 Democratic Party chairman Rod Smith says Rick Scott's budget would result in layoffs for 20,000 teachers
In his first State of the State address, Florida Gov. Rick Scott boldly told legislators that he has created the "most fiscally conservative state budget in the country."

"Our jobs budget is targeted to create private-sector jobs, increase accountability and reduce the size of government," Scott told a joint session of the Legislature on March 8, 2011.

Moments after Scott finished his 27-minute address, Florida Democratic Party Chairman Rod Smith offered a dramatically different interpretation of Scott's spending plan.

"Since he took office, Floridians have seen that Rick Scott only cares about imposing his rigid and extreme philosophy on our state, rather than working to implement common-sense solutions for Florida," Smith said in a statement. "Whether he is killing high-speed rail, proposing his spending plan that would lay off 20,000 teachers, or putting communities at risk by ending critical law enforcement tools to stop pill-mills, Rick Scott's agenda is doing real harm to our state."

The thing that jumped out at us in Smith's claim is that Scott's budget "would lay off 20,000 teachers" -- a huge amount. We'll explain how huge in a minute.

Budget cuts don't spare education

To balance the state budget as required in the Constitution, lawmakers must trim at least $3.62 billion from this year's $70.5 billion budget. Scott's proposal goes further -- reducing the budget by $4.6 billion to $65.9 billion.

PreK-12 education funding is hardly spared as part of Scott's proposed cuts.

Scott's budget proposal for 2011-12 reduces the total amount of state PreK-12 education funding from $18.2 billion, to $16.5 billion -- a total cut of about $1.7 billion. That number includes local property taxes the state mandates school boards collect (the required local effort), the state contribution from sales tax revenues and trust funds, and federal dollars passed through the state.

The cuts break down this way (we're rounding a bit, so everything might not add up exactly):

• The state's contribution would remain the same at about $8.9 billion.

• Required local education taxes would shrink by about $660 million, and discretionary local taxes would shrink an additional $200 million -- shrinking the local contribution from about $8.4 billion to nearly $7.5 billion.

• And the state also would not replace about $873 million in federal stimulus funds.

In total, Scott's budget proposals would reduce the amount of per-student funding by 10.19 percent, from about $6,900 per student to nearly $6,200 per student. (Some of that reduction could be offset for one year, Scott says, by requiring teachers to pay 5 percent of their salary toward their retirement and by using temporary federal funds given to school districts in 2010.)

Scott budget chief Jerry McDaniel has told lawmakers that the proposed budget would result in some teacher layoffs, though he did not offer a hard estimate. The budget document itself -- while cutting funding -- also does not explicitly say school districts should lay off 20,000 teachers.

So we turned to Smith's spokesman, Eric Jotkoff, to understand where the figure came from.

Basis of Smith's 20,000 teacher-layoff claim

Jotkoff said the figure originated from an article that appeared in the Gainesville Sun on Feb. 21, 2011, aptly titled "Worst-case scenario for education is 20,000 layoffs in Florida."

The article itself doesn't cite the origin of the 20,000-teacher layoff number; rather, it details Scott's proposed cuts, including a nearly 10 percent reduction in per-pupil education spending.

"While promising to create a world-class education system, Gov. Rick Scott has simultaneously proposed the deepest cuts for Florida public schools by any governor in recent history," the article states. "In a worst-case scenario, they would lead to more than 20,000 layoffs of teachers and other personnel in the state's 67 school districts."

The article does acknowledge that Scott's complementary proposal to make teachers contribute to their retirement could free up local school district dollars to offset some of the proposed education funding cuts.

Jotkoff referenced numbers presented in the article to help make his case.

• $1.75 billion -- the total of PreK-12 education funding cuts (we say $1.7 billion because of the way we rounded the numbers).

• 80 percent -- the percentage of education funds that the article says goes to personnel costs (we're not stating that number as fact and the Sun article didn't cite a source).

• $46,708 -- the average salary of a Florida teacher (a figure generated by the National Education Association).

Jotkoff said that if 80 percent of education spending is for personnel costs, that represents $1.4 billion of the overall proposed cuts. Divide those cuts by the average salary of a teacher and that equates to the salaries of 29,973 teachers -- even more than cited in the Sun article.

We found two issues with that calculation, however. First, the salary figure does not include teacher benefits. Second, while Education Week has reported that about 80 percent of school districts' budgets are personnel costs, that is a broad estimate that could vary depending on the school district, and also includes school district employees who are not teachers.

On top of that, there's a much simpler way to measure the impact of Scott's proposed cuts on teachers.

The Florida Department of Education said that at the start of the 2010 school year, school districts employed 169,540 teachers and 22,924 additional workers classified as instructional staff, a group that includes guidance counselors, school social workers, librarians.

That's 192,464 people classified as "instructional staff."

Using that number, Scott's 10.19 percent per-pupil funding cut would be the equivalent cut of 19,612 teachers and instructional staff. That's pretty close to the 20,000 teachers Smith is claiming would be fired under Scott's budget.

But you need to read the fine print.

More than just the numbers

As we've already said, Scott's budget cuts funding, not teachers. Specific cuts would be left to individual school districts.

But there are also two impediments to the large-scale teacher cuts Smith is warning of. The first is rooted in the state Constitution. In November 2002, Florida's voters approved an amendment to the Constitution that sets limits for the maximum number of students in a classroom starting with the 2010-11 school year. The Legislature tried to loosen the restriction through a second constitutional amendment in 2010, but the amendment failed to receive the needed 60 percent of voter approval.

Since 2003, the state has spent about $16 billion to implement the amendment, mainly by hiring some 30,000 additional teachers. It would be virtually impossible to cut 20,000 teacher jobs and still comply with the constitutional mandate.

Second, Scott proposes making school district employees contribute 5 percent of their salary toward their retirement. He says employee contributions would free up local school district funding to brace against some of the other education cuts. If that proposal were to pass, school districts would effectively see a per-pupil funding cut of about $505, Scott says, a 7.36 percent reduction. That would be the equivalent of 14,165 teachers and instructional staff.

But again, that doesn't mean that will be how many get laid off if Scott's education plan passes.

Our ruling

In offering a counter to Scott's budget message of fiscal restraint, Smith says Scott wants to recklessly lay off 20,000 teachers.

Scott is proposing major cuts to education funding. And even Scott's budget chief acknowledges layoffs will occur.

But trying to estimate a number is tricky. Yes, you can divide the number of teachers and instructional staff by proposed per-pupil cuts to reach a figure, but that ignores the Florida Constitution, which requires small class sizes, and local school district decisions, in how they will spend their money. Also, Scott's proposal to make school district employees contribute to their retirement could dilute some of the cuts being pushed by Scott.

That said, Scott's budget plan would strip a significant chunk of funding out of school districts, equivalent to the amount of around 20,000 teachers. Balancing it all, we rate Smith's claim Half True. 
Rod Smith, reaction to Gov. Rick Scott's State of the State address, March 8, 2011
Rick Scott's education funding proposal for 2011-12, accessed March 9, 2011
Associated Press, "Budget chief says Scott flexible on Fla. spending," Feb. 10, 2011
Gainesville Sun, "Worst-case scenario for education is 20,000 layoffs in Florida," Feb. 21, 2011
Interview with Florida Democratic Party spokesman Eric Jotkoff, Mach 9, 2011
Education Week article referencing personnel costs, Jan. 11, 2011 (subscription required)
Florida Department of Education 2010-11 school year teacher count, accessed March 9, 2011
Rick Scott education budget presentation (per-pupil funding), accessed March 9, 2011
St. Petersburg Times, "Florida teacher salaries headed to No. 47 in the nation," Feb. 18, 2011
Florida Department of Education, Florida Class Size Amendment, March 9, 2011
Browse the Truth-O-Meter
More by Aaron Sharockman
Support independent fact-checking.
Become a member!
In a world of wild talk and fake news, help us stand up for the facts.