Stand up for the facts!
Our only agenda is to publish the truth so you can be an informed participant in democracy.
We need your help.
I would like to contribute
"2008: Unions Spent $400 Million to Elect Obama."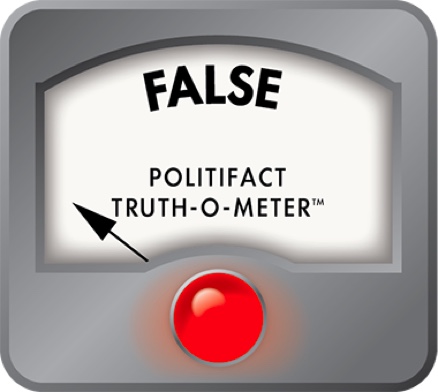 The RNC said unions raised $400 million for Obama in 2008
An ad from the Republican National Committee says that unions that supported President Barack Obama should stop fighting a budget deal in Wisconsin.

"Obama and the union bosses are standing in the way of economic reform," the ad says, adding "Stop Obama and his union bosses today."

Onscreen, the ad shows the words, "2008: Unions Spent $400 Million to Elect Obama."

There's no doubt that unions strongly supported Obama over Republican John McCain in the last election. But was it to the tune of $400 million? We decided to check it out.

The ad cited Politico and the Wall Street Journal as its sources, so that's where we went first. Both reported in March 2008 that liberal groups said they hoped to raise $400 million to spend in 2008. About $300 million would come from unions, and the rest from non-union advocacy groups, including MoveOn.org, ACORN and Emily's List.

So the part attributed to unions was $300 million, not $400 million. We also noticed that both the Wall Street Journal and Politico repeated the number in other news stories without attributing the information to a specific source. So we started looking around for evidence of whether the unions had succeeded at raising the hundreds of millions they said they would in March 2008. Keep in mind, the most detailed reports mentioned the number as a goal, not an amount that had already been raised.

Our attempts at independent confirmation were difficult, because unions do not have to report all of their campaign spending to the Federal Election Commission, according to independent campaign finance experts. The unions do have to report direct contributions to candidates and parties and some of their independent expenditures. But they do not have to report internal communications to membership, and they don't have to report get-out-the-vote efforts, even if the efforts are focused on heavily Democratic areas.

We contacted the staff at the Center for Responsive Politics, a nonpartisan organization that tracks campaign spending. They told us that it would be impossible to account for all union spending during the 2008 cycle; the law doesn't require that level of disclosure.

But in the data required to be reported, the center found $75 million in direct contributions from unions and union members to candidates and parties, of which over $68 million went to Democrats. It also found $86 million in outside spending by labor in the 2008 cycle, which largely benefited Democrats. It also identified an additional $52.7 million in spending from labor groups  in 527 organizations, tax exempt organizations that seek to influence elections. Add it up, and you get $206.7 million.

The $400 million discussed in March might have been aspirational and not actually achieved, said Eric S. Heberlig, a political scientist who studies the labor movement at the University of  North Carolina Charlotte. "The pressure to empty their coffers to help Obama out was less when they saw he was easily able to raise that amount of money elsewhere," he said.

Indeed, Obama raised an unprecedented amount of cash on his own. Public disclosures showed he raised $745 million, compared with John McCain's $368 million.

The RNC said the unions "spent $400 million to elect Obama." We do want to acknowledge that independent publications have reported that number to be the case. But when we looked into the sources for that number, we found that it was the unions themselves discussing what they hoped to raise in the 2008 election. Furthermore, the reports said they wanted to raise $300 million, not $400 million, and it was a goal, not something they had yet achieved. When we looked at the public disclosures after the election, we found the unions reported $206.7 million in spending for all Democrats. It's clear that the unions raised additional money for get-out-the-vote activities, but we don't know how much more -- nor does the RNC. Finally, all that money went to support Obama and other Democrats, not just Obama alone. In short, we don't see the evidence to support that unions spent $400 million to elect Obama. So we rate the statement False.
Republican National Committee, Obama's Union Bosses Web Ad, Feb. 24, 2011
The Center for Responsive Politics, Banking on Becoming President, accessed March 10, 2011
Interview with Dave Levinthal and Doug Weber of the Center for Responsive Politics

Interview with Brendan Glavin of the Campaign Finance Institute

Interview with Eric Heberlig of the University of North Carolina Charlotte

Interview with Robert Borosage of Campaign for America's Future

E-mail interview with Kirsten Kukowski of the Republican National Committee

The Wall Street Journal, Campaign '08: Groups Unveil Plans to Bankroll Democrats, March 19, 2008, accessed via Factiva
Browse the Truth-O-Meter
More by Angie Drobnic Holan
Support independent fact-checking.
Become a member!
In a world of wild talk and fake news, help us stand up for the facts.