Facts are under assault in 2020.
We can't fight back misinformation about the election and COVID-19 without you. Support trusted, factual information with a tax deductible contribution to PolitiFact
I would like to contribute
"Two million federal workers negotiate zippo, zero. There is no collective bargaining for federal employees."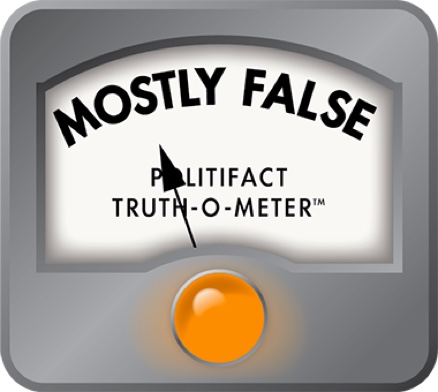 Gov. John Kasich says federal workers have 'zippo, zero' ability to collectively bargain
Equity among workers is one of Republican Gov. John Kasich's most consistent arguments in favor of Ohio's new collective bargaining law.

The law, Senate Bill 5, will bring Ohio's public workers closer in line with private sector workers, who, on average, pay more for health care benefits and have weaker pensions, Kasich repeatedly has said.

Now the governor is weaving collective bargaining for federal workers – or lack thereof – into his support for the law.

Even though SB 5 restricts collective bargaining for the state's 360,000 public workers, they would still be better off than federal workers, Kasich recently told a Youngstown radio show.

"Two million federal workers negotiate zippo, zero," Kasich told radio host Dan Rivers on April 26 when discussing SB 5. "There is no collective bargaining for federal employees."

Kasich has been among the most vocal supporters of SB 5, and likely will continue to fill that role if the law heads toward a voter referendum this fall.

Considering his influence and the widespread interest in SB 5, PolitiFact Ohio decided to check the governor's claim about collective bargaining for federal workers.

We did not have to dig deep to get started.

Our colleagues at PolitiFact checked a similar statement Republican Wisconsin Gov. Scott Walker made in late February, when his state, like Ohio, was in the middle of a controversial effort to pass legislation to limit collective bargaining for public workers.

Walker told NBC's Meet the Press host David Gregory that "most federal employees do not have collective bargaining for benefits, nor for pay."

PolitiFact gave Walker's claim a True rating. So how does Kasich's similar claim hold up?

Federal workers generally cannot collectively bargain pay and benefits, but they can negotiate working conditions, according to the Federal Labor Relations Authority, which administers the labor-management relations program for more than 1 million federal workers.

"Employees also have the right to engage in collective bargaining with respect to conditions of employment through representatives chosen by employees," the FLRA's program guide reads.

There are about 1.6 million non-postal federal workers. Of those, about 1.1 million are represented by more than 90 labor organizations. Some workers in agencies such as the Federal Deposit Insurance Corporation and the U.S. Securities and Exchange Commission can negotiate wages. Others in the Federal Bureau of Investigation, the U.S. Government Accountability Office and other departments do not engage in collective bargaining.

For the most part, however, federal workers only can negotiate working conditions, said Sarah Whittle Spooner, FLRA counsel for regulatory and external affairs.

The right to negotiate working conditions is significant, said Kate Bronfenbrenner, director of labor education research at Cornell University. (PolitiFact also interviewed Bronfenbrenner while checking Gov. Walker's claim. We interviewed her separately.)

Bronfenbrenner pointed to a recent union election among the Transportation Security Administration's 43,000 workers. They had three options: either of two unions vying to represent them or no union at all. More than 16,000 of the workers voted in favor of a union representation and about 3,000 voted for neither union. Because the vote between the two unions was so close, there will be a runoff election May 23 to June 21.

"Would they have organized a union if they didn't have the right to bargain?" Bronfenbrenner asked. "They wouldn't have gone through all this if there wasn't something at the end of the tunnel."

So what does it mean for federal workers who can negotiate working conditions?

It means they can negotiate discipline policies, hours of work, procedures for performance evaluations, safety, procedures for layoffs and more, according to the American Federation of Government Employees, the largest federal employees union, with about 625,000 members from about 75 federal agencies.

Kasich spokesman Rob Nichols acknowledged federal workers do have some ability to bargain collectively.

"The fact is most federal workers cannot collectively bargain for pay or benefits and the governor's point is that under Senate Bill 5, Ohio's public employees will have more collective bargaining rights than most federal employees," Nichols said.

So where does Kasich land on the Truth-O-Meter?

It would be easy to rate Kasich's statement False. Federal workers may have limited collective bargaining powers. But that isn't "zippo" and "zero."

But the governor also is known to shoot from the hip, and ruling an off-the-cuff statement as False without looking at his underlying meaning would amount to a game of gotcha -- a game PolitiFact doesn't play.

Kasich long has advocated reigning in collective bargaining, arguing that schools and governments needed better ability to control labor costs. But he has not called for it's elimination.

Changes approved in SB 5 would reduce the number of topics subject to union negotiations, ban public workers from striking, prohibit employers from paying more than 85 percent of workers' health insurance costs, and base pay raises on performance rather than length of service.

But public workers in Ohio would continue to have more collective bargaining powers than most federal workers, Kasich's underlying point.

That some federal workers can bargain over working conditions, rather than having "zero" collective bargaining ability, is a critical fact, though, that could give a listener a different impression.

We rate Kasich's statement Barely True.
Editor's note: This statement was rated Barely True when it was published. On July 27, 2011, we changed the name for the rating to Mostly False.
Dan Rivers' interview with Gov. John Kasich on Youngstown radio WKBN 570 AM, April 26, 2011.

E-mail correspondence with Beth Moten, legislative and political director for the American Federation of Government Employees.

Interview with Sarah Whittle Spooner, FLRA counsel for regulatory and external affairs.

FLRA press release, "FLRA Office of General Counsel Announces Results of TSA Election," April 20, 2011

AFGE press release, "AFGE Confident in TSA Runoff Election Victory," April 20, 2011

Interview with Emily Ryan, spokeswoman for AFGE.

PolitiFact, "Wisconsin Gov. Scott Walker says most federal employees do not have collective bargaining for benefits or pay," March 2, 2011

PolitiFact, The Obameter, "Restore collective bargaining rights to federal employees," Jan. 4, 2010

FLRA, "A Guide to the Federal Service Labor-Management Relations Program"

The Plain Dealer, "Ohio House approves overhaul of collective bargaining law," March 30, 2011
Browse the Truth-O-Meter
More by Joe Guillen
Support independent fact-checking.
Become a member!
In a world of wild talk and fake news, help us stand up for the facts.