Stand up for the facts!
Our only agenda is to publish the truth so you can be an informed participant in democracy.
We need your help.
I would like to contribute
Says Rick Perry is "the guy that tracked" down Democratic legislators who fled Texas in 2003.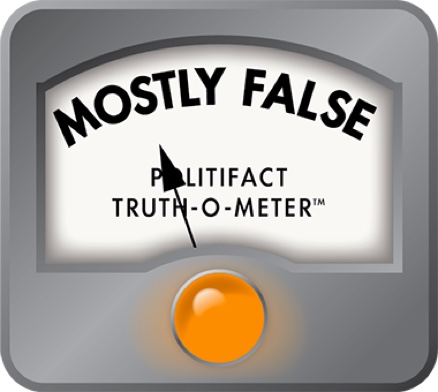 Rush Limbaugh says Rick Perry tracked down Democrats who fled Texas
Conservative commentator Rush Limbaugh, declaring that Texas Gov. Rick Perry is toying with running for president in 2012, has praised him for opposing abortion and amnesty for illegal immigrants -- and for tracking down Democrats.

According to a transcript of Limbaugh's May 18 program posted online, Limbaugh said: "Rick Perry's the guy that tracked these Democrats that left the state down. Remember they ran out, just like the Wisconsin Democrats did," a reference to the 14 Wisconsin state senators who left the Badger State for about a month this year in an attempt to stop legislation reducing the collective-bargaining rights of many state workers.

Limbaugh, who didn't respond to an email seeking the backup for that claim, was surely referring to one of two bygone events in the Texas Legislature: when House Democrats hied to Oklahoma in a May 2003 attempt to prevent action on a GOP-steered redraw of the state's congressional districts, or when Senate Democrats similarly made a July 2003 run to New Mexico.

Both flights temporarily kept the respective chambers from having sufficient members to conduct business. Both also ended with the Democrats returning--and Republicans ultimately setting in place revised districts that resulted in GOP candidates capturing a majority of the state's U.S. House seats.

Did Perry track down the departed D's, as Limbaugh says?

News reports from those episodes suggest Senate Democrats were not "tracked" at all since their destination was quickly revealed; before leaving Austin on July 28, some gave interviews on the fact the senators were boarding private planes to Albuquerque.

The Houston Chronicle reported the next day that Lt. Gov. David Dewhurst, who presides over the Senate, said that since the senators had left the state, "from a practical standpoint, there's not much we can do."

But the earlier surprise departure of more than 50 House Democrats on May 12, 2003, stirred search actions that involved Republican heavyweights including Perry.

The Dallas Morning News reported on May 13, 2003, that the Democrats had been found the night before, based on a sighting of a private airplane belonging to former House Speaker Pete Laney, D-Hale Center. Laney had boarded his Piper Cheyenne with his pilot on May 12, taking off from Hale County Airport and landing at the Downtown Executive Airport in Ardmore about an hour later, the newspaper said, quoting an airport employee.

In a telephone interview, former News reporter Matt Stiles told us he drove to Ardmore from Dallas the same day after a colleague, Pete Slover, twigged the plane's location. Stiles said he arrived at the Holiday Inn by 6 p.m., recognized Laney and then gathered comments from some House Democrats that became part of the paper's scoop that evening.

The News said that four Texas DPS officers, in plain clothes, also made it to the hotel in the wake of the Democrats. That evening, the newspaper said, the troopers spent most of their time sitting in the hotel lobby, with cars and planes at the ready for transporting anyone who volunteered to return to Austin.

The News quoted a DPS captain saying: "We came at the request of the governor's office to make contact and to inform them that their services are still needed in Austin. They have chosen to stay here." The newspaper said the troopers planned to depart by midnight.

Next, we contacted Bob Richter, former spokesman for then-House Speaker Tom Craddick. Richter told us that the day the Democrats vamoosed, Perry appeared "gung-ho on getting them back" and "brought a bunch of people together to try to find them." A command post was set up next to the speaker's office. At one point, Richter said, he saw Perry in his office calling out the number on the tail of Laney's plane.

A subsequent Morning News article on May 23, 2003 said that in the early hours of the search, a DPS lieutenant had called the federal Department of Homeland Security seeking the whereabouts of Laney's plane. Homeland Security officials released a partial transcript of the call and said the DPS officer had misled them into believing the plane had crashed, the newspaper reported.

According to a May 28, 2003, Houston Chronicle article, House General Investigating Committee Chairman Kevin Bailey, D-Houston said Capitol security tapes showed Perry entering and leaving Craddick's office on May 12. Bailey also said that Perry's homeland defense coordinator - Assistant Attorney General Jay Kimbrough - gave the DPS a California phone number for Homeland Security's air interdiction service, which tracks terrorists and smugglers.

The governor wasn't the only one looking for the Dems. U.S. Rep. Tom DeLay, R-Texas, then the House majority leader, said his staff asked the Federal Aviation Administration to find Laney's plane, according to the May 23 Morning News story. The report quotes DeLay saying that when he learned the plane was en route from Ardmore to an airport north of Austin, he passed the information to Craddick.

The San Antonio Express-News reported June 5, 2003, that Perry at one point directed a DPS official where to send Texas Rangers to hunt for two missing Democrats -- an order that the newspaper said "directly contradicts the governor's longstanding contention that he wasn't involved in the DPS search for Democratic lawmakers who fled Austin to kill a congressional redistricting bill."

According to the newspaper, the DPS official, Lt. Will Crais, described as the ranking officer at the command post set up at the Capitol, testified in a lawsuit brought against.the DPS by a Democratic legislator. The newspaper reported that Crais said Perry "began asking me numerous questions" and eventually ordered that Rangers be dispatched to Galveston and to Brownsville, where it was thought that Rep. Craig Eiland, D-Galveston, and Rep. Rene Oliveira, D-Brownsville, were hiding.

Neither legislator was there. Eiland was in Ardmore and Oliveira was in Matamoros, Mexico, across the Rio Grande from his hometown, the Express-News reported.  

Perry's spokeswoman, Kathy Walt, told the newspaper that Perry issued no such orders. Throughout, Walt had described the governor as having no involvement in the hunt beyond checking on its status.

According to a June 5, 2003, Austin American-Statesman news article citing Crais' testimony, Craddick was the one who told the DPS the missing lawmakers were in Ardmore.

Perry's office didn't immediately respond when asked about Limbaugh's claim that he pinpointed the Dems. Craddick issued a statement saying: "That is not correct. Perry was not the guy that tracked the Democrats down."

Our sense: Perry was trying to find the missing lawmakers. His homeland defense coordinator and the Department of Public Safety were joined in that effort, which also involved federal agencies, and the governor reportedly directed the Texas Rangers to two Texas cities.

But it was a news organization that got to the Democrats first.

We rate the statement Barely True.

Editor's note: This statement was rated Barely True when it was published. On July 27, 2011, we changed the name for the rating to Mostly False.
The Associated Press, news article, "State troopers, Texas Rangers sent to arrest absent Democratic lawmakers," May 12, 2003 (Nexis search)

Austin American-Statesman, news article, "Details emerge on lawmaker hunt," June 5, 2003 (Nexis search)

The Dallas Morning News, news articles, "Majority of AWOL Texas Lawmakers in Oklahoma," "DeLay Details Role in Texas Department of Public Safety's Hunt for Democrats," May 13, 2003 and May 23, 2003 (Nexis search)

The Houston Chronicle, news articles, "Democrat search probe spreads to Perry, aide," "Texas Democrats on the run again," May 28, 2003 and July 29, 2003

Rush Limbaugh Show, "Rick Perry Scares the Heck Out of the Washington Establishment," transcript, May, 18, 2011

San Antonio Express-News, news article, "DPS man says Demo search angered Perry ; He testifies governor felt troopers weren't doing enough," June 5, 2003 (Nexis search)

Telephone interview, Bob Richter, former spokesman, House Speaker Tom Craddick, May 23, 2011

Telephone interview, Matt Stiles, former staff writer, Dallas Morning News, May 23, 2011
Browse the Truth-O-Meter
More by W. Gardner Selby
Support independent fact-checking.
Become a member!
In a world of wild talk and fake news, help us stand up for the facts.