Stand up for the facts!
Our only agenda is to publish the truth so you can be an informed participant in democracy.
We need your help.
I would like to contribute
Says Barack Obama "robbed Medicare (of) $716 billion to pay for ... Obamacare."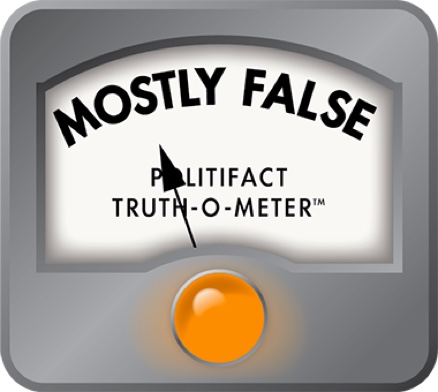 Mitt Romney said Barack Obama robs Medicare of more than $700 billion to pay for Obamacare
Medicare is a hot topic in the presidential race since Mitt Romney picked U.S. Rep. Paul Ryan to be his running mate.

Ryan, R-Wis., is the head of the Budget Committee in the U.S. House of Representatives and the architect of a plan to dramatically restructure Medicare.

Ryan's plan is for people who are under age 55 now. It would give them voucher-like credits to buy traditional fee-for-service Medicare or competing private insurance plans. (The credits are sometimes called "premium support.")

Though House Republicans voted overwhelmingly for Ryan's plan, polling shows public opinion is mixed, and Democrats have vigorously attacked the proposal as a voucher plan and worse. The Romney campaign, meanwhile, refutes those charges by saying President Barack Obama has targeted Medicare himself.

Here's how Romney put it in an interview with 60 Minutes shortly after selecting Ryan:

"There's only one president that I know of in history that robbed Medicare, $716 billion to pay for a new risky program of his own that we call Obamacare."

Here, we're checking whether Obama "robbed" Medicare of $716 billion dollars to pay for Obamacare.

$700 billion from Medicare?

The claim that Obama cut $700 billion out of Medicare is relatively new. Not long ago, the oft-cited number was $500 billion. How did he manage to cut another $200 billion when no one was looking?

First things first: Neither Obama nor his health care law literally cut a dollar amount from the Medicare program's budget.

Rather, the health care law instituted a number of changes to try to bring down future health care costs in the program. At the time the law was passed, those reductions amounted to $500 billion over the next 10 years.

What kind of spending reductions are we talking about? They were mainly aimed at insurance companies and hospitals, not beneficiaries. The law makes significant reductions to Medicare Advantage, a subset of Medicare plans run by private insurers. Medicare Advantage was started under President George W. Bush, and the idea was that competition among the private insurers would reduce costs. But in recent years the plans have actually cost more than traditional Medicare. So the health care law scales back the payments to private insurers.
Hospitals, too, will be paid less if they have too many re-admissions, or if they fail to meet other new benchmarks for patient care.
Obama and fellow Democrats say the intention is to protect beneficiaries' coverage while forcing health care providers to become more efficient.
Under the new law, the overall Medicare budget is projected to go up for the foreseeable future. The health care law tries to limit that growth, making it less than it would have been without the law, but not reducing its overall budget. So claims that Obama would "cut" Medicare need more explanation to be fully accurate. In the past, we've rated similar statements Half True or Mostly False, depending on the wording and context.

Because Medicare spending gets bigger every year, the cost-saving mechanisms in the health care law also get bigger. Also, it takes a few years for the health care law's savings mechanisms to kick in. In fact, the effects of time are the main reason the $500 billion number has turned into $700 billion.

The CBO determined in 2011 that the federal health care law would reduce Medicare outlays by $507 billion between 2012 and 2021. In a more recent estimate released this year, the CBO looked at the years 2013 to 2022 and determined the health care law affected Medicare outlays by $716 billion.

So it's timing that's making the cuts bigger, not changes to Medicare.

Historic steal for 'Obamacare'?

Now, to address the word "robbed." We know the civility is at a low ebb these days, but we think it's worth pointing out that the money was not robbed in any literal sense of the word.

Congress passed the law through its normal process, and the proposal was debated out in the open during the many weeks that the final law was being negotiated.

At the time the health care law was being finalized and passed, Democrats said it was important to them that the new law not add to the deficit. So the reductions in Medicare spending were counted against the health care law's new spending. That spending is primarily to cover the uninsured, by giving them tax credits to buy private insurance. But some new spending increases Medicare coverage for prescription drugs for seniors.

Finally, Romney said Obama is the "only one president that I know of in history that robbed Medicare." In reality, several presidents have reduced Medicare spending.

We reviewed this history in detail in a fact-check of Romney's statement from December, "Only one president has ever cut Medicare for seniors in this country . . . Barack Obama." We rated that False. Many presidents have sought to rein in Medicare spending.

Here are a few highlights from that fact-check:

• President Ronald Reagan cut Medicare by reducing payments to hospitals, and he cut benefits by raising deductibles.
   
• President George H.W. Bush cut benefits by repealing a law that would have expanded coverage for drugs and catastrophic illness.
   
• President Bill Clinton cut Medicare by changing payments to doctors and other providers, which could be considered to have an indirect effect on beneficiaries.

Our ruling

Romney said, "There's only one president that I know of in history that robbed Medicare, $716 billion to pay for a new risky program of his own that we call Obamacare."

The only element of truth here is that the health care law seeks to reduce future Medicare spending, and the tally of those cost reductions over the next 10 years is $716 billion. The money wasn't "robbed," however, and other presidents have made similar reductions to the Medicare program.

We rate this statement Mostly False.
CBS News, "60 Minutes": Romney, Ryan answer critics of Medicare position, Aug. 12, 2012

Congressional Budget Office, Letter to the Honorable John Boehner providing an estimate for H.R. 6079, the Repeal of Obamacare Act, July 24, 2012

Congressional Budget Office, CBO's Analysis of the Major Health Care Legislation Enacted in March 2010, March 30, 2011

Congressional Budget Office, H.R. 2, Repealing the Job-Killing Health Care Law Act, February 18, 2011

Congressional Budget Office, The Long-Term Budgetary Impact of Paths for Federal Revenues and Spending Specified by Chairman Ryan, March 20, 2012

NBC News, Romney struggles to get square with Ryan's Medicare plan, Aug. 13, 2012

Pew Research Center, Opposition to Ryan Medicare Plan from Older, Attentive Americans, June 6, 2011

PolitiFact, Ryan's plan includes $700 billion in Medicare "cuts," says Stephanie Cutter, Aug. 15, 2012

PolitiFact, Did President Barack Obama "steal" $500 billion from Medicare?, Sept. 12, 2011
Browse the Truth-O-Meter
More by Angie Drobnic Holan
Support independent fact-checking.
Become a member!
In a world of wild talk and fake news, help us stand up for the facts.