Stand up for the facts!
Our only agenda is to publish the truth so you can be an informed participant in democracy.
We need your help.
I would like to contribute
Congress gave an unelected board "the power to deny care to seniors."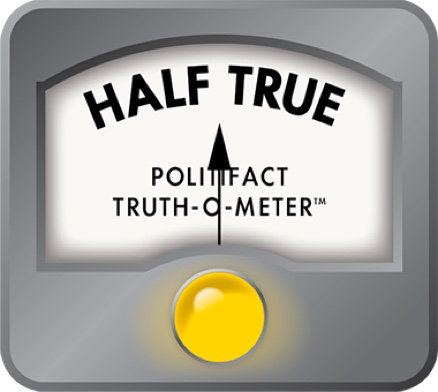 Price worries about health care law's impact to seniors
For critics of the controversial federal health care law, there are few elements of it that are discussed with as much disdain as the Independent Payment Advisory Board.

Rush Limbaugh, for example, has called the 15-member board "death panels."

U.S. Rep. Tom Price, a Republican from Roswell, explained some of his concerns about the board in a Dec. 8 letter he sent to constituents of the northwest metro Atlanta district he represents. Several people who received the letter asked us about the veracity of one particular sentence concerning the board.

"[T]hey put in place an unaccountable, unelected board of 15 bureaucrats, known as the Independent Payment Advisory Board [IPAB], and gave them the power to deny care to seniors," wrote Price, a doctor, underlining that specific part of the letter.

So can this board deny care to seniors, as Price wrote?

First, what is this board and what can it do?

It was created to reduce Medicare spending, if spending surpasses the targeted rate, which is the average of consumer and medical care inflation. Medical inflation has been higher than general inflation 24 of the past 25 years, according to the nonpartisan Congressional Research Service (CRS).

Board members are chosen by the president, with advice from the U.S. Senate. Board proposals to reduce spending must be submitted to the U.S. Department of Health and Human Services (HHS) by Sept. 1 of each year and to the president and Congress by Jan. 15 of the following year. The Senate can vote by a three-fifths majority to reject the board's recommendations, but it then must come up with Medicare spending cuts.

Board members should include doctors, employers, health economist researchers and third-party payers and can serve six-year terms. The HHS secretary, the Centers for Medicare & Medicaid Services administrator and the administrator of the Health Resources and Services Administration are nonvoting members of the board.

The board would be required to submit its first proposal to the president and Congress in January 2014 if per capita spending exceeds projections.

"[T]he Board is directed to consider, among other things, Medicare solvency, quality and access to care, the effects of changes in payments to providers, and those dually eligible for Medicare and Medicaid," according to the CRS.

The health care law has goals of maintaining or enhancing beneficiary access to quality care. It prohibits IPAB from reducing payments for inpatient and outpatient hospital services, inpatient rehabilitation and psychiatric facilities, long-term care hospitals and hospices until 2020, noted an April report by the Kaiser Family Foundation, a nonpartisan, nonprofit organization that researches health policy. The Kaiser report says there could be changes in "Medicare Advantage, the Part D prescription drug program, skilled nursing facility, home health, dialysis, ambulance and ambulatory surgical center services and durable medical equipment."

Another Georgia congressman, Rep. Phil Gingrey, claimed a few months ago that "a bunch of bureaucrats decide whether you get care, such as continuing on dialysis or cancer chemotherapy." Those bureaucrats were, yes, IPAB. We reviewed that claim and rated Gingrey's statement as False. Section 3403 of the health care law noted that IPAB may not submit "any recommendation to ration health care."

Price believes costs will exceed projections, which will require cuts to Medicare. The congressman told us that IPAB decisions will likely result in changes such as withholding payment to doctors for certain services, specifically under a formula the federal government uses for Medicare physician payment known as the sustainable growth rate.

Some doctors, the congressman believes, will see fewer Medicare patients. Lack of access is equivalent to a denial of care, Price argues.

"It's a cause-and-effect relationship," Price said.

The Kaiser report backs up Price's argument.

"If IPAB recommends policies that squeeze Medicare payment rates without equal pressure being placed on private payment rates, there is some concern that Medicare beneficiaries would be at greater risk of having access problems, as providers become more inclined to serve other patients," it says.

Robert Zirkelbach, spokesman for America's Health Insurance Plans, the trade group for the nation's private insurance companies, told us that seniors could be impacted by cuts to Medicare Advantage, a health choice program for recipients. Some argue otherwise, and note that Medicare Advantage users will pay slightly less this year for care.

Our conclusion

Price gets it partially right. The IPAB can push for changes that impact some areas of health care, and that could have an indirect result on care for seniors. The board, however, cannot propose changes that impact the most widely used forms of care -- such as inpatient hospital services, long-term care and hospice -- for Medicare beneficiaries.

The IPAB can impact changes to some programs, but not specific care to specific seniors as Price's statement implies.  

Price's concerns have merit, but his statement about the IPAB having the power "to deny care to seniors" needs much more context to be completely accurate.

We rate his statement Half True.
Congressional Research Service, "The Independent Payment Advisory Board," Nov. 30, 2010

Email from U.S. Rep. Tom Price's office, Dec. 20, 2011

Kaiser Family Foundation report on the Independent Payment Advisory Board, April 2011

PolitiFact Georgia, "Gingrey claims federal health care board can decide if you get dialysis, chemo," June 22, 2011

PolitiFact Ohio, "60 Plus Association, with spokesman Pat Boone, says the IPAB is like 'a Medicare IRS,' " Nov. 25, 2011

Telephone interview with U.S. Rep. Tom Price, Dec. 20, 2011

Telephone interview with Robert Zirkelbach, spokesman for America's Health Insurance Plans, Dec. 21, 2011

"The Rush Limbaugh Show," "IPAB: The Death Panels," April 20, 2011
Browse the Truth-O-Meter
More by Eric Stirgus
Support independent fact-checking.
Become a member!
In a world of wild talk and fake news, help us stand up for the facts.