Get PolitiFact in your inbox.
"Minnesota has passed and Indiana has passed" right to work laws making union membership and dues optional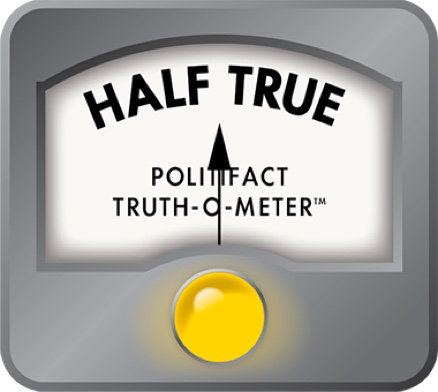 Rep. Jeff Fitzgerald says Minnesota and Indiana have passed 'right to work' laws
The prospect of a ban on workers having to join unions or pay dues has injected the debate over so-called "right to work" legislation into political campaigns across Wisconsin and the United States.

It drew attention in Wisconsin after Gov. Scott Walker's successful drive to sharply curtail collective bargaining for public employees raised the question of whether state Republicans might extend that to private-sector unions.

Assembly Speaker Jeff Fitzgerald, R-Horicon, is a "right-to-work" supporter and helped Walker pass the public-union measure. If he wins a U.S. Senate seat in November 2012, he might have a chance to vote on national legislation banning compulsory dues payment.

In May, the Wisconsin Democratic Party and Salon.com posted a video clip of Fitzgerald telling a Journal Sentinel reporter that Walker's Act 10 union legislation was not surprising, given the GOP desire to balance the budget without tax increases.

He added some Republicans wanted to go further than Walker.

"I had people in my caucus who were wondering if we were going to do 'right to work' in this state," he said during the interview. "To tell you the truth the collective bargaining (measure), to me, I thought was more of a middle ground, if you can believe that."

He added: "I had a number of people who thought (we should do) much like the states around us now -- Minnesota has passed and Indiana has passed 'right to work' states (laws)."

Critics say such laws are anti-worker, while supporters said they attract businesses. "Right-to-work" laws are most common in southern and western states.

But has "right-to-work" become a trend in nearby states? Let's look at Fitzgerald's statement on Minnesota and Indiana.

The second one is easy: News reports trumpeted Indiana's move to become the 23rd "right to work" state in January 2012.

That move drew attention in Wisconsin because it was signed by Indiana Gov. Mitch Daniels, a national Republican figure whom Walker has cited as a role model.

But did heavily unionized Minnesota follow suit and become just the second state since Oklahoma in 2001 to enact the law?

"Right to work" legislation was debated in Minnesota in early 2012, at a time when Republicans there controlled both legislative houses.

Instead of sending legislation to Gov. Mark Dayton, a Democratic Farmer Labor party member and right-to-work opponent, a group of conservative Republicans pushed a constitutional amendment to let voters decide.

On March 12, 2012, just before Fitzgerald made his statement, a "right to work" bill promoting a constitutional amendment won approval in a Minnesota Senate committee, by a 7-6 vote amid labor protests.

But that is far from final passage.

Indeed, in a very short time, the Minnesota bill was on life support, and by May 2012 it was considered all but dead, according to various news accounts.

The measure never emerged from a second committee, much less moved on to a full floor vote. A failed attempt in early May to attach right to work to the Vikings stadium legislation briefly brought the issue back into the public eye.

The legislative session is over and the bill is history now, said state Sen. Dave Thompson, chief author of the bill. Thompson said he could introduce it in 2013 if Republicans keep control of the Minnesota Legislature in the fall 2012 elections.

Bottom line: It's clear from the history that Fitzgerald's comment incorrectly lumped Minnesota in with Indiana.

There is one notable nuance in the timing the comment.

The Journal Sentinel interview was conducted March 21, 2012 but didn't go public until May. It was for a Journal Sentinel documentary on the 2012 recall election, "The Choice", but the comment didn't make it into the final version. Apparently, a Democratic Party tracker also filmed the interview as it was conducted after an appearance at the Milwaukee Press Club.

So at the time, the Minnesota committee vote was fresh, and it was on Fitzgerald's mind when he spoke, said Steve Stanek.

But even that was not a final vote.

And media reports on March 19, 2012 -- two days before Fitzgerald's comments -- had GOP Senate Majority Leader Dave Senjem saying the votes aren't there for the "right-to-work" amendment.

Our rating

Fitzgerald told a reporter that Minnesota and Indiana have "passed" "right-to-work" laws. He was on target regarding Indiana, but spoke prematurely about Wisconsin's westerly neighbor.

On balance, we rate Fitzgerald's statement Half True.
Milwaukee Journal Sentinel, video of interview with Rep. Jeff Fitzgerald, March 21, 2012

Wisconsin Democratic Party, web video of Fitzgerald interview, published on YouTube, May 15, 2012

Salon.com "New video could damage Walker," May 15, 2012

Milwaukee Journal Sentinel, "GOP lawmaker failed to get right to work bill," May 15, 2012

StarTribune.com, "Right to work passes committee by 7-6 vote," March 12, 2012

Minnesota Public Radio, The Daily Digest, March 19, 2012

Reuters, "Indiana becomes 23rd right to work state," Feb. 1, 2012

Phone interview with Chris Shields, communications director, Minnesota AFL-CIO, June 5, 2012

Phone interview with Minnesota Senator Dave Thompson, June 6, 2012
Browse the Truth-O-Meter
More by Dave Umhoefer
Support independent fact-checking.
Become a member!
In a world of wild talk and fake news, help us stand up for the facts.