Stand up for the facts!
Our only agenda is to publish the truth so you can be an informed participant in democracy.
We need your help.
I would like to contribute
"Mitt Romney received exactly zero votes in at least 12 Cuyahoga County precincts."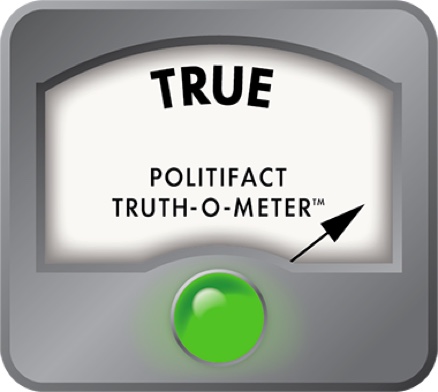 Emails, blog posts claim Mitt Romney got zero votes in some Greater Cleveland precincts
Election night results showed Barack Obama topped Mitt Romney in Ohio by a margin of 2 percentage points, but the distribution of votes was much less even than that split.

Romney won 72 of Ohio's 88 counties, including two that no Republican had won since 1972.

"On a map depicting the 2012 outcome, Ohio would be a sea of red with islands of blue," The Plain Dealer reported.

Obama's margin of victory was provided by Democratic strongholds like Cuyahoga County. In some areas, his tally was so lopsided that the numbers caused disbelief.

Readers asked PolitiFact Ohio to check into the accuracy of chain emails and blog and Facebook postings about Romney's performance in some Cuyahoga County precincts.

"Mitt Romney received exactly zero votes in at least 12 Cuyahoga County precincts," one email said. Others made similar claims, citing 9 or 21 or some other number of precincts, depending on the source.

The emails and postings variously described the numbers as "strange," "disturbing," "bizarre," "alarming" and "unprecedented," and some questioned whether the figures indicated impropriety.

So just what do the election numbers show? Did Obama indeed pitch a shutout in a dozen precincts?

PolitiFact Ohio started with the unofficial returns posted by the Cuyahoga County Board of Elections for the county's 1,077 precincts.

The table shows that Romney received no votes in 17 precincts in Cleveland. Romney also was shut out in one precinct in East Cleveland. That's 18 total precincts in Cuyahoga County where Romney received no votes.

Romney got just one vote in each of 20 precincts in Cleveland, two precincts in East Cleveland and two precincts in Warrensville Heights. And he got just two votes in each of 28 other precincts in Cleveland, East Cleveland and Highland Hills.

Some online postings about the election results linked to a Plain Dealer article by data analysis editor Rich Exner.

Exner told us that one sentence in the article was cited in a number of postings and emails to him: "The vote, incredibly, was unanimous in Obama's favor in nine Cleveland precincts." (Because third-party candidates received votes in the eight other Cleveland precincts where Romney received none, those weren't unanimous.)

Some of the blogs and emails interpreted his use of the word "incredibly" as meaning "not credible" and therefore not true.

Not so, says Exner.

"I used the word in the sense of 'amazingly' or 'strange but true,' as in 'Incredibly, he was still alive' -- meaning 'it's amazing' and 'he was alive,' not that it's not true.

"The vote was lopsided, but it was believable."

In his checks around the state, Exner found lopsided tallies for Obama in other urban areas, including precincts with no votes for Romney in Cincinnati (Hamilton County) and Dayton (Montgomery County).

PolitiFact Ohio also checked the 2008 results for Cuyahoga County. We found that John McCain got no votes in 18 precincts then, or the same total that denied any votes to Romney.

CBS News took note of the shutout precincts in Cuyahoga County while reporting that Romney also received no votes in 59 voting divisions in Philadelphia.

"Incredulous Republicans might be tempted to indict voter fraud as a culprit," the CBS story said, but "the reality is less salacious than the conspiracy theory - a consequence of demography, not electoral shenanigans. Most big cities are heavily Democratic to begin with, and geographic patterns of racial segregation may yield an even more one-sided electoral result in certain areas than in the city as a whole."

All the Cuyahoga County precincts in which Romney was shut out are in neighborhoods with heavily African-American or Latino populations.

An NBC/Wall Street Journal poll in August underlines the significance of that demographic. It showed Obama leading by a 2-to-1 margin among Hispanic voters and had his support at 94 percent among black voters, with zero percent favoring Romney. Six percent said they were undecided or had no opinion. None of the poll's 120 black respondents picked Romney.

An election day exit poll by NBC News found that black voters in Ohio picked Obama over Romney by 96 percent to 3 percent. That percentage matches the spread by which Obama won in Cleveland precincts east of the Cuyahoga River.

For more perspective, PolitiFact Ohio turned to an authority on voting in Cleveland: Mark Salling, senior fellow in the Levin College of Urban Affairs at Cleveland State University and director of its Northern Ohio Data & Information Service since 1981. He is also Ohio's liaison to the Census Bureau for its redistricting data programs.

Salling cited census data that showed more than 90 percent of the voting age population is black in 15 of the 17 Cleveland precincts in which Romney received no votes. The others are heavily Hispanic, and all are low-income neighborhoods "where Democrats traditionally are very, very strong," he said.

"Using standard measures of probability, given the overall distribution of percentages in the county's precincts," he said, "I find that a zero percent vote for Romney, though somewhat unlikely, is also entirely feasible."

Conversely, he said, those same demographics suggest it is "virtually impossible Obama would receive zero votes" in the county's precincts. It may be surprising that no Romney votes were found in some precincts, Salling told us, "but it is a far reach to suggest  fraud as the explanation."

The claim that Mitt Romney received no votes in more than a dozen precincts in Cleveland may seem amazing. But voting history, registration, demographics and statistical analysis say it is both feasible and credible. The Board of Elections says it is actually understated.

On the Truth-O-Meter, the claim rates as True.
Ohio Secretary of State, unofficial election results, November 2012

The Plain Dealer via Cleveland.com, "Mitt Romney didn't win Ohio, yet GOP margins in White House race improved," Nov. 7, 2012

The Plain Dealer via Cleveland.com, "Cuyahoga County precinct map shows areas where Obama beat Romney unanimously (database)," Nov. 10, 2012

NBC News, "Ohio Presidential election results," Nov. 15, 2012

Chain emails, week of Nov. 11, 2012

American Dream blog, "Election Fraud? Obama Won More Than 99 Percent Of The Vote In More Than 100 Ohio Precincts," Nov. 11, 2012

Cuyahoga County Board of Elections, 2012 general election unofficial results, accessed Nov. 15, 2012

Interview and email with data analysis editor Rich Exner, The Plain Dealer, Nov. 14-15, 2012

Cuyahoga County Board of Elections, 2008 general election results

Philadelphia Inquirer, "In 59 Philadelphia voting divisions, Mitt Romney got zero votes," Nov. 13, 2012

CBS News, "Romney earned zero votes in some urban precincts," Nov. 12, 2012

Politico, "Poll: 0 percent of blacks for Mitt Romney," Aug. 22, 2012

NBC News, "NBC/WSJ poll: Heading into conventions, Obama has four-point lead," Aug. 21, 2012

NBC News/Wall Street Journal Survey, August 16-20, 2012

Email and phone interviews with Mark Salling, Nov. 15-16, 2012
Browse the Truth-O-Meter
More by Tom Feran
Support independent fact-checking.
Become a member!
In a world of wild talk and fake news, help us stand up for the facts.