Stand up for the facts!
Our only agenda is to publish the truth so you can be an informed participant in democracy.
We need your help.
I would like to contribute
Says under U.S. Sen. Robert Menendez's watch the nation's unemployment rate and debt doubled and the federal budget deficit quadrupled.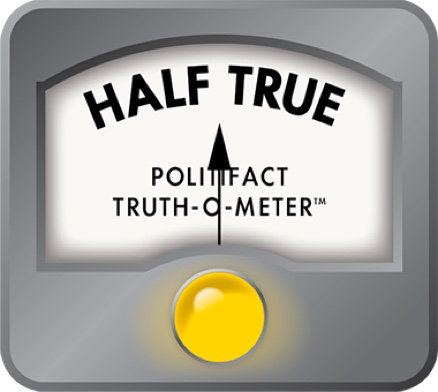 Joe Kyrillos pins blame on Robert Menendez for rising national unemployment, debt and deficits
Republican Senate hopeful Joe Kyrillos started his pitch for the votes of New Jersey residents in November by tying national economic woes to his Democratic rival.

In his opening remarks in a debate with Democratic incumbent U.S. Sen. Robert Menendez that aired on NJTV Thursday night, Kyrillos said the "American dream is in peril" and "we need to make a change."

"Now if you think things are just fine, that things are okay here in New Jersey and across the land, well then you'll choose my opponent again. But if you think that unemployment doubling — doubling — under his watch, the deficits quadrupling, our national debt doubling is unacceptable, then you're going to make a change and you'll choose me," said Kyrillos, a state senator from Monmouth County.

Kyrillos, for the most part, accurately reflected the economic trends since Menendez took office as a U.S. Senator in January 2006. But Kyrillos runs into trouble because as one expert said it's "beyond ridiculous" to pin those increases on one senator.

Here's how the three numbers -- unemployment, debt and deficit --  break down.

The unemployment rate stood at 4.7 percent in January 2006, according to federal labor data.

It climbed to a peak of 10 percent in October of 2009, but when Kyrillos made his statement the latest numbers showed the jobless rate was 8.1 percent. That's less than double the 2006 rate.
The unemployment rate dropped in September to 7.8 percent, according to data released Friday morning.

As for the growth in the national debt and deficit, since 2006 the former nearly doubled and the latter quadrupled.

The gross national debt includes money the government borrowed from outside investors and foreign countries, as well as money loaned from one governmental pocket, like the Social Security Trust fund to another, like the general fund.

The gross debt was about $16.16 trillion on Thursday, up from $8.17 trillion on Jan. 18, 2006, the day Menendez was sworn into the U.S. Senate. That's according to data from the U.S. Treasury Department.

According to the Office of Management and Budget, the budget for fiscal year 2006 had a nearly $250 billion deficit, which is the difference between incoming revenue and outgoing expenses in a year.  In 2009, the deficit hit a peak of about $1.4 trillion.

The nonpartisan Congressional Budget Office expects the fiscal year 2012 budget deficit to be about $1.1 trillion, more than quadruple the deficit in 2006.  

But how much, if at all, is Menendez responsible for those increases?

"Placing responsibility for national economic developments on an individual Senator is beyond ridiculous," Alan Auerbach, an economist at the University of California at Berkeley, said in an e-mail.

We have addressed similar issues in previous fact-checks, noting that governors, presidents and legislators aren't the sole catalyst behind broad economic trends.

In his campaign kickoff speech in February, Kyrillos blamed Menendez for increased deficits during his tenure in the Senate.

We noted in that fact-check that Menendez voted for some measures -- like the stimulus program --  that fueled more spending in 2009. But federal budget experts cited the recession as a major factor behind increased deficits, so Kyrillos' statement was rated Half True.

The same problems apply to Kyrillos' statement in the debate. The numbers are mostly on target, but the recession played a critical role in driving up government costs and driving down employment.

Menendez's campaign manager Mike Soliman called Kyrillos' statement "hypocritical" because of his support for policies, like the tax cuts passed by President George W. Bush, that contributed to the debt.

Kyrillos' campaign manager, Chapin Fay, stuck with the same refrain, saying in a statement, "Fact is, we are worse off since Bob Menendez took office."

Our ruling

Kyrillos said that under Menendez's watch the nation's unemployment rate and debt doubled and the federal budget deficit quadrupled.

While Kyrillos's arithmetic is mostly accurate in the time since Menendez joined the Senate, it's wrong to assign full responsibility for national economic trends on one legislator.

For that reason, we rate this claim Half True.
To comment on this ruling, go to NJ.com.
YouTube, NJ Senate debate, Menendez, Kyrillos at MSU, Oct. 4, 2012

PolitiFact New Jersey, GOP challenger Joseph Kyrillos blames U.S. Sen. Robert Menendez for rising annual deficits in federal budget, Feb. 13, 2012

PolitiFact New Jersey, Bob Menendez attacked by GOP challenger over federal debt increases, Jan. 8, 2012

U.S. Bureau of Labor Statistics, Labor Force Statistics including the National Unemployment Rate, accessed Oct. 5, 2012

U.S. Treasury Department, The Debt to the Penny and Who Holds It, accessed Oct. 5, 2012

Congressional Budget Office, An Update to the Budget and Economic Outlook: Fiscal Years 2012 to 2022, August 2012

The White House Office of Management and Budget, Table 1.1—Summary of Receipts, Outlays, and Surpluses or Deficits (-): 1789–2017, accessed Oct. 5, 2012

E-mail interview with Alan Auerbach, economist at the University of California at Berkeley, Oct. 5, 2012

E-mail interview with Meaghan Cronin, spokeswoman for Senate candidate Joe Kyrillos, Oct. 5, 2012
Browse the Truth-O-Meter
More by Erin O'Neill
Support independent fact-checking.
Become a member!
In a world of wild talk and fake news, help us stand up for the facts.