Stand up for the facts!
Our only agenda is to publish the truth so you can be an informed participant in democracy.
We need your help.
I would like to contribute
Says federal regulations adopted in 2011 increased the cost of each vehicle for his business by $10,000.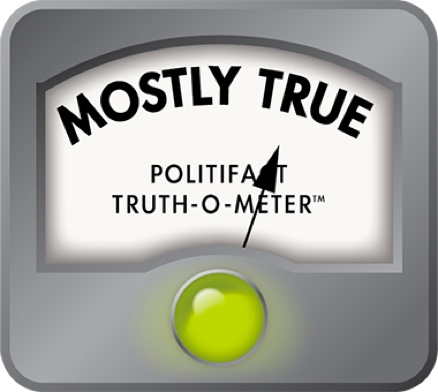 Does truck claim carry its weight in accuracy?
A congressional candidate says Uncle Sam is making it tougher to keep on truckin'.
Mike Collins told the Gwinnett Daily Post that changes in federal emissions standards have added $10,000 to the price of every new truck his family's trucking business buys.
"The EPA is stifling business," Collins told us, referring to the U.S. Environmental Protection Agency, which helped write those standards.
PolitiFact Georgia was curious about his claim and hit the fact-checking trail for more details.
Collins is running as a Republican for the U.S. House of Representatives in Georgia's 10th Congressional District, a conservative stretch of northeast Georgia. The current officeholder, Paul Broun, is running for the U.S. Senate. Broun's successor will take office in January 2015. Collins is one of six candidates in the race.
Collins' father, Mac, served 12 years in the U.S. House, from 1993 to 2005, representing portions of several south metro Atlanta counties.
The younger Collins is the vice president and financial officer of Collins Trucking, which boasts on its website that its vehicles can haul a minimum of 48,000 pounds of cargo. A heavy-duty truck can cost about $100,000. Collins said new federal emissions regulations that took effect in 2011 on heavy-duty trucks are responsible for some big changes in sales prices.
In May 2010, President Barack Obama announced a plan to produce more environmentally friendly vehicles. The National Highway Traffic Safety Administration and the EPA created new guidelines for combination tractors that are used for freight transportation, heavy-duty pickup trucks, and gasoline and diesel heavy-duty engines. The goal: reduce carbon dioxide emissions by anywhere from 7 percent to 20 percent, along with reducing greenhouse gas emissions. The new regulations took effect in August 2011.
The EPA outlined the environmental and cost benefits in one report:
"The agencies estimate that the combined standards will reduce (carbon dioxide) emissions by about 270 million metric tons and save about 530 million barrels of oil over the life of vehicles built for the 2014 to 2018 model years, providing $49 billion in net program benefits. The reduced fuel use alone will enable $50 billion in fuel savings to accrue to vehicle owners, or $42 billion in net savings when considering technology costs. A second phase of regulations is planned for model years beyond 2018."
So have these changes resulted in $10,000 price increases in the past two years?
"That's the number that's been floating around," said Guy Young, vice president of the Georgia Motor Trucking Association, based in Marietta.
There are no studies of the impact of emissions changes that took effect in 2011 on truck prices. An EPA spokeswoman said the $10,000 upfront cost is consistent with the EPA's regulatory impact analysis for heavy-duty vehicles starting in model year 2014.
"It should be noted, however, that the same analysis finds that using technologies commercially available today, the majority of vehicles will see a payback period of less than one year, while others, especially those with lower annual miles, will experience payback periods of up to two years," said the spokeswoman, Davina Marraccini. "For example, an operator of a tractor-trailer can pay for the technology upgrades in under a year and have net savings up to $73,000 over the truck's useful life."
Marraccini said the standards were developed with support from the trucking industry.
The National Automobile Dealers Association and American Truck Dealers released a report in March 2012 on the impact of emissions requirements on vehicles with a model year from 2004 to 2010. It disputes the EPA's cost-benefit projections.
"EPA underestimated compliance costs by a factor of 2-5," the report said. "These higher-than-projected costs resulted in, among other things, significantly lower-than-projected new truck sales which necessarily reduced the environmental benefits associated with these standards."
The report found the average surcharge on heavy-duty trucks made in 2010 that were compliant with the emissions guidelines was about $9,000 for nearly every manufacturer. For medium-duty trucks, the surcharge was generally between $6,000 and $7,300.
Bill Iredale, who's been in the truck sales business for nearly 40 years, said Collins was correct about the price increase.
"Absolutely," said Iredale, sales manager at Ace Beverage Refurb & Sales, based in Norcross.
Iredale said the price increases have resulted from a series of new federal emissions regulations over the past decade. Ten years ago, a medium-body truck cost about $50,000. Today, the price is about $75,000.
Iredale said the recent emissions requirements do have a positive impact on air quality.
"It's a good thing," he said. "It really helped clean up the air."
Young agreed that the vehicles have better fuel economy.
"They're really good fuel engines, but (manufacturers) had to make some changes to get that way," he said.
So, is Collins right? The EPA anticipated such additional upfront costs. Not surprisingly, the EPA and trucking industry debate the cost benefit of the regulations. The anecdotal evidence we heard and the 2012 truck dealers report suggest Collins may be right about the higher costs.
The statement, however, falls a bit shy of an absolute True ruling. It has to be viewed in the context of the overall fuel savings the new vehicles will accrue. That could be substantial and actually offset the higher costs in the long run.
We rate this claim as Mostly True.
Gwinnett Daily Post, "Political Notebook: Collins hopes to continue father's service," Aug. 1, 2013.
DieselNet, "Heavy-Duty Vehicles: GHG Emissions & Fuel Economy," accessed Aug. 2, 2013.
Email from Davina Marraccini, spokeswoman, U.S. Environmental Protection Agency, Aug. 7, 2013.
National Automobile Dealers Association and American Truck Dealers report on model year 2004-2010 heavy-duty truck emissions standards, Feb. 13, 2012.
Telephone interview with Mike Collins, Republican candidate, U.S. House of Representatives, Aug. 1, 2013.
Telephone interview with Bill Iredale, sales manager at Ace Beverage Refurb & Sales, Aug. 6, 2013.
Telephone interview with Guy Young, vice president, Georgia Motor Trucking Association, Aug. 6, 2013.
U.S. Environmental Protection Agency report, "Greenhouse Gas (GHG) Emission Requirements Combination Tractors and Vocational Vehicles," Nov. 3, 2011.
U.S. Environmental Protection Agency report, "Final Rulemaking to Establish Greenhouse Gas Emissions Standards and Fuel Efficiency Standards for Medium- and Heavy-Duty Engines and Vehicles," August 2011.
Browse the Truth-O-Meter
More by Eric Stirgus
Support independent fact-checking.
Become a member!
In a world of wild talk and fake news, help us stand up for the facts.