Stand up for the facts!
Our only agenda is to publish the truth so you can be an informed participant in democracy.
We need your help.
I would like to contribute
Says he would have "almost twice the actual experience practicing law" Greg Abbott did on becoming attorney general of Texas.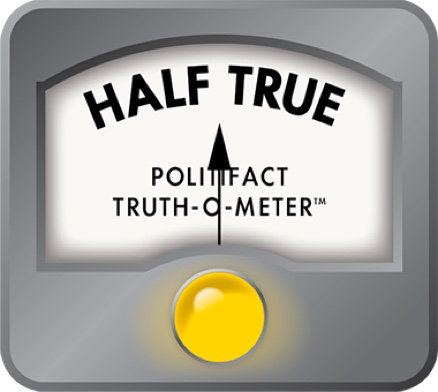 Sam Houston in private practice longer than Greg Abbott was at start of AG job
The only Democrat running for Texas attorney general claims more experience in practicing law than the incumbent started the job with.
Sam Houston, a Houston lawyer unrelated to the historical figure of the same name, includes this on his campaign website: "As a practicing Texas attorney with 26 years of experience, Sam Houston would enter the Attorney General's office with almost twice the actual experience practicing law than did Greg Abbott."
It's an all-lawyer field bidding to replace gubernatorial hopeful Abbott, though state law doesn't require that the attorney general be a practicing lawyer.
The Republicans running in the March 2014 primary are state Rep. Dan Branch of Dallas, who chairs the House Higher Education Committee, who got his law license in 1983, according to the State Bar of Texas' website; freshman state Sen. Ken Paxton of McKinney, vice chair of the Senate Transportation Committee and former House member licensed to practice law in 1991; and Texas Railroad Commission Chairman Barry Smitherman of Austin, licensed in 1984.
Houston told us by phone that though he's not addressing his potential opponents' experience with this claim, he is making a statement about elected officials holding the position. "What I think is wrong with the AG's office is it's been politicized," he said.
"I frankly think litigation experience is extremely important," he said, naming skills such as deciding which cases to pursue and advising clients.
The attorney general acts as the state's chief lawyer, whose duties as identified in the Texas Constitution include representing Texas in state Supreme Court cases, preventing corporations from exercising illegal powers or collecting illegal taxes and giving legal advice to state officials.  
Both Abbott and his predecessor, John Cornyn, were judges before becoming attorney general, Houston noted. "It's a fine thing to be a judge, but that's a different skill set," he said.
Abbott and Houston both got bachelor's degrees at the University of Texas; Houston's law degree is from Baylor University and Abbott's from Vanderbilt University in Nashville, Tenn. According to the bar association, Abbott's law license is dated Nov. 8, 1985, and Houston's Nov. 6, 1987.
News stories from Texas papers covering Abbott's past campaigns and positions said he started his law career at Butler and Binion in Houston. There, the Dallas Morning News wrote Oct. 22, 2002, Abbott "focused on tort litigation, doing work for banks and defending hospitals against malpractice claims."
Abbott was elected a state trial judge in Harris County's 129th District Court in 1992 and served three terms. Appointed by then-Gov. George W. Bush to the Texas Supreme Court in 1995, Abbott started there in 1996 and won election twice to stay there.
He resigned in June 2001 to run for another office, the news stories said, meantime becoming an appellate lawyer at Bracewell and Patterson in Austin. Human resources assistant Vira Santellena at the Houston office of the firm, now called Bracewell and Giuliani, told us by phone that Abbott was employed there from August 2001 through November 2002.
In November 2002, Abbott defeated Democrat Kirk Watson, now a state senator from Austin, and was sworn in as attorney general Dec. 2, 2002.
Judging by the dates involved, Abbott lawyered for Butler and Binion seven years, from about November 1987 through November 1992, then a year and a half at Bracewell and Patterson. That'd round up to nine years of private practice.
Mary Bell, a spokeswoman for Houston, told us by phone, "What we're saying is if you add up his private practice, that's nine years." As she emailed us career information on both men, she added, "If you were to include" Abbott's "time on the bench as time he was a practicing attorney, the total years is 17. Sam enters this race as a candidate with 26 years as a practicing attorney."
Houston's career is easier to sum up because he's worked since 1992 for a firm he helped start -- Shepherd, Scott, Clawater and Houston, formerly Cruse, Scott, Henderson and Allen. The firm changed its name in April 2010, office administrator Regina Thompson told us by phone.
After law school, according to news stories and Bell's information, Houston began in 1987 at Andrews Kurth in Houston. Thompson said he started with Cruse, Scott on the firm's first day, June 1, 1992, and is now a co-managing partner.
A Feb. 25, 2008, Houston Chronicle news story about Houston's 2008 state Supreme Court bid said Houston had been doing "mostly civil defense work, but he also has represented plaintiffs."
Starting the clock in November 1987, Houston's lawyering experience will total 27 years by the 2014 election.
To count or not to count Abbott's nine-ish years on the bench? We can see one school of thought might be that most people think of "practicing law" as representing clients. Then again, the state Supreme Court counts years on the bench toward the requirement that its justices must have practiced law for 10 years (district judges need only have been licensed in Texas for four years).
Houston asked us to look at specific parts of the state's codes of judicial conduct and the law governing the Texas bar.  
The code of conduct says a Texas judge "shall not practice law except as permitted by state law or this code"; exceptions we saw mostly allow judges to give legal advice to or draft documents for their own families and teach or write about law.
State law on what constitutes "unauthorized conduct of law" says, "In this chapter the 'practice of law' means" preparing a plea or other document in response to legal action, managing such an action or acting on behalf of a client in court, as well as services outside court such as giving advice or drafting wills and contracts.
In addition, reference librarian Ruth Harrison at the Texas State Law Library found us the Black's Law Dictionary definition for "practice of law," which makes no mention of judicial experience:
The professional work of a duly licensed lawyer, encompassing a broad range of services such as conducting cases in court, preparing papers necessary to bring about various transactions from conveying land to effecting corporate mergers, preparing legal opinions on various points of law, drafting wills and other estate-planning documents, and advising clients on legal questions.
Our ruling
Houston, who's nearing 27 years of private practice, said he would have "almost twice the actual experience practicing law" that Abbott did on taking office.
That would require Houston to have 18 years' experience if only Abbott's private practice is tallied, but 34 years if Abbott's time as a judge is counted
We rate Houston's claim as Half True.
---
HALF TRUE – The statement is partially accurate but leaves out important details or takes things out of context.
Click here for more on the six PolitiFact ratings and how we select facts to check.
Sam Houston for Texas campaign website, accessed Dec. 13, 2013
Telephone interviews, excerpted, with Mary Bell, a spokeswoman for Houston, Dec. 11, 2013
Telephone and email interview, excerpted, with Sam Houston, Dec. 11-12, 2013
Dallas Morning News news story, "Same profession, but different clients; AG candidates criticize whom, what the other one chose to represent," Oct. 22, 2002
Telephone interview with Vira Santellena, human resources assistant, Bracewell and Giuliani, Dec. 11, 2013
Telephone interview with Regina Thompson, office administrator, Shepherd, Scott, Clawater and Houston, Dec. 11, 2013
Houston Chronicle news story, "Dems seek return to state high court; 5 candidates are party's hope to break GOP hold," Feb. 25, 2008
Texas Code of Judicial Conduct, Canon 4G, accessed online Dec. 13, 2013
Texas Government Code, Title 2, Subtitle G, 81.101, accessed online Dec. 13, 2013
Telephone and email interview with Ruth Harrison, reference librarian, Texas State Law Library, Dec. 13, 2013
Black's Law Dictionary, ninth edition, 2009
Browse the Truth-O-Meter
More by Sue Owen
Support independent fact-checking.
Become a member!
In a world of wild talk and fake news, help us stand up for the facts.