Stand up for the facts!
Our only agenda is to publish the truth so you can be an informed participant in democracy.
We need your help.
I would like to contribute
Says Austin trains are "full" at rush hour and "packed" for special events.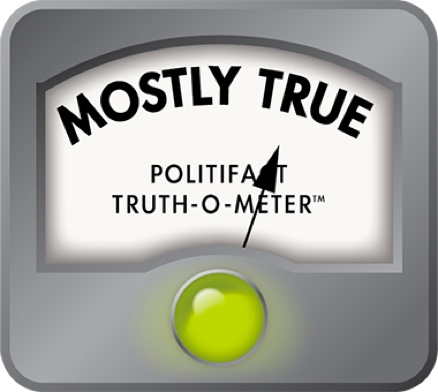 Lee Leffingwell says Austin trains are "full" at rush hour and "packed" for special events
Mayor Lee Leffingwell said he's newly determined to place urban rail before Austin voters by the time his term ends in fall 2014.

"We all know that people will ride rail," Leffingwell said in his State of the City speech Feb. 5, 2013. "Capital Metro's Red Line trains are full not only during morning and evening rush hours but packed for big events like F1 and South By" (Southwest).

The mayor and other Austin leaders support a transportation plan that includes an electric-powered urban rail project with an estimated price tag of $1.3 billion for the first 16 miles or so. Leffingwell campaigned in 2009 calling for a rail election in 2010 but pushed the vote to 2011, then 2012, before pulling his support for a November 2012 vote.

Diesel-powered commuter trains operated by Capital Metro, the city's transit agency, have run since 2010 on the Red Line that Leffingwell cited, which covers a 32-mile route between Leander and downtown Austin, with several stops along the way.

And how full or packed are the trains these days?

Overall, ridership has tripled since 2010, according to Austin American-Statesman coverage, particularly after the March 2012 addition of Friday night and Saturday trains. A Feb. 3, 2013, Statesman transportation column said that in its early months, the service had 800 to 900 boardings per day, which rose to 2,500 per day in October and November 2012.

Usage spiked, the story said, during the music portion of the South by Southwest music, film and interactive conferences in March 2011 and 2012 and Austin's first Formula 1 auto race, Nov. 17, 2012.

Capital Metro spokeswoman Erica Macioge told us the mayor's statement was correct and emailed us ridership data and charts for weekdays, SXSW and F1, plus a month-by-month overview illustrating ridership growth that showed sharp spikes for SXSW 2011 and 2012:


Each train, Macioge said, has 108 seats; standing room brings capacity to 200. Capital Metro considers a train full if all seats are taken, she said.

On March 17, 2012 -- the Saturday that fell during the music portion of SXSW -- Capital Metro provided 48 train runs, for a total seated capacity of 5,184. There were 7,316 boardings that day, Macioge said, giving an average of 152 people on each train trip.

For Nov. 17, 2012 -- the day of the F1 race -- Capital Metro made 47 train runs, providing a total 5,076 seats. Boardings that day added up to 6,210, meaning each train carried on average 132 passengers.

How about rush hour? And what is rush hour, anyway? The Texas Department of Transportation doesn't have an official definition, spokeswoman Kelli Reyna told us by phone, but when planning and timing roadwork, it uses 7-9 a.m. and 4-6 p.m. as average guidelines for Austin.

Monday through Friday, Macioge said, Capital Metro runs six trips south to downtown Austin in the morning and six trips north to Leander in the evening. The agency's statistician, she said, suggested looking at October 2012 for a "typical" month, and supplied that data.

Five of the six morning trips averaged more than 108 passengers; the last run averaged only 91. All but the first trip also either arrived or departed during rush hour; the earliest began and ended before 7 a.m.

The five morning rush-hour trips averaged 155 passengers in October 2012 -- above the seating capacity of 108, edging toward the standing-room capacity of 200.

Weekday evenings, five of Capital Metro's six northbound train trips depart or arrive between 4 p.m. and 6 p.m. The first averaged 88 riders in October 2012, but the rest were all above the seating capacity. Average number of passengers: 155, just like the morning rush. (In a world filled with mismatched statistics, we were relieved to see Capital Metro evidently takes the same number of commuters home as the number that shipped out in the morning.)

Our ruling

Leffingwell said Capital Metro's trains are "full" during rush hour and "packed" for events such as SXSW and the F1 race.

Capital Metro considers a train full if all 108 seats are occupied, but would a typical commuter agree? After the seats are full, 92 additional passengers can ride standing up (and pay the same fares to do so). If you're a rider who needs to get to work, there's a big difference between a train you can board and a train that's so packed you have to wait for the next one.

At the peak of the special events Leffingwell named in 2012, about 48 more people could have ridden the average SXSW Saturday train and another 68 could have boarded an average F1 train. It's a tighter squeeze at rush hour: With average ridership at 155, the trains tend to have all seats full and so many standing riders that only about 45 more can squish aboard.

Seats might all be occupied, but there's almost always still room on the trains for more passengers. We rate the mayor's claim as Mostly True.
Austin Mayor Lee Leffingwell, State of the City speech, Feb. 5, 2013

Austin American-Statesman news story, "Mayor defends big projects, touts change in State of the City speech," Feb. 5, 2013

Austin American-Statesman transportation column, "Weekend MetroRail a now-and-then hit," Feb. 3, 2013

Telephone and email interviews with Erica Macioge, spokeswoman, Capital Metro, Feb. 6-8, 2013

Telephone interview with Kelli Reyna, Austin public information officer, Texas Department of Transportation, Feb. 7, 2013
Browse the Truth-O-Meter
More by Sue Owen
Support independent fact-checking.
Become a member!
In a world of wild talk and fake news, help us stand up for the facts.