Stand up for the facts!
Our only agenda is to publish the truth so you can be an informed participant in democracy.
We need your help.
I would like to contribute
Says president is 'spending $2.2 billion to give away "ObamaPhones." '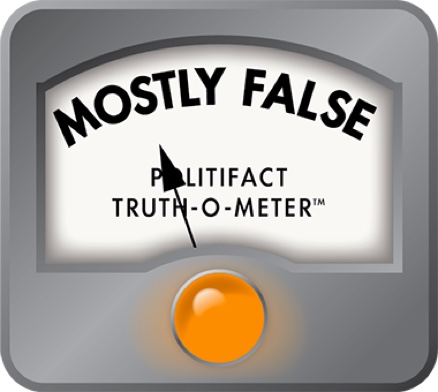 Steve Stockman says president is spending $2.2 billion to give away 'ObamaPhones'
Before the so-called sequestration budget cuts began taking effect March 1, 2013, U.S. Rep. Steve Stockman had some alternative suggestions for the president.

On Feb. 22, he tweeted about one program he has suggested trimming: "Obama claims a small cut to federal means losing local police and firefighters, but he's spending $2.2 billion to give away 'ObamaPhones.' "

As far back as 2009, PolitiFact has checked claims about President Barack Obama handing out free cell phones. We decided to see how this statement compared.

The government initiative that helps low-income citizens pay for telephone service is the Federal Communications Commission's Lifeline program. FCC spokesman Mark Wigfield told us by email that Lifeline began in 1985 because of concerns that local rates would rise after a government lawsuit broke up AT&T's monopoly of the U.S. phone market.

Lifeline was enshrined in law in the 1996 Telecommunications Act, Wigfield said, then in 2005 and 2008 began to allow "resellers" of cell service -- companies that did not own their own networks -- to participate. Today, he said, "about 75 percent of Lifeline support goes for wireless service."

The program does not provide phones or phone service and is not paid for by taxes, Wigfield said. Rather, it pays $9.25 a month to a user's phone company. Some companies give out free phones and price their plans at $9.25 a month, making the plans essentially "free," he said.

Money for Lifeline comes out of the Universal Service Fund; phone companies pay into the fund and then pass the cost on to customers via a fee on their phone bills. (Click here to read more detailed explanations in this story's excerpted emails.)

Eligible Lifeline participants must have an income that is at or below 135 percent of the federal poverty level or use Medicaid, food stamps, federal public housing assistance or supplemental security income, among other things. In some cases, states administer their own programs.

In early 2012, the FCC implemented changes to Lifeline aimed at modernizing the program and eliminating fraud and waste. One goal: ensuring availability of broadband for all low-income Americans.

The term "Obama phones" has been attached to Lifeline since at least late 2009, when PolitiFact rated as Mostly False a chain email claim that Obama was giving away free phones. More famously, a viral video during the 2012 presidential campaign showed an Obama supporter saying "Everybody in Cleveland -- low (income), minority -- got Obama phones." Soon after, PolitiFact gave a Florida state official a Pants on Fire rating for saying the Obama campaign was giving out phones.

Both of those PolitiFact ratings cited the fact that the program existed years before Obama took office, so implying he created the program was incorrect. Stockman's tweet similarly linked the program to Obama but added a financial factor: "He's spending $2.2 billion to give away 'ObamaPhones.' "

Stockman spokesman Donny Ferguson emailed us a Feb. 12, 2013, Wall Street Journal news story that said, "The U.S. government spent about $2.2 billion last year to provide phones to low-income Americans ... Payouts under the program have shot up from $819 million in 2008, as more wireless carriers have persuaded regulators to let them offer the service."

Wigfield sent us the FCC's total spending figures for Lifeline in recent years:
2007: $823 million
2008: $821 million
2009: $1 billion
2010: $1.13 billion
2011: $1.78 billion
2012: $2.1 billion

The post-2008 boom, he said, came after the FCC decided to open Lifeline to phone companies offering low-cost cell plans on networks they did not own. Tracfone was the first such provider to become an eligible carrier for Lifeline, he said. The Journal article said Tracfone has since become the country's fifth-largest wireless carrier and that other companies have expanded as "Lifeline users have been a source of subscriber growth in the otherwise saturated U.S. market."


Our ruling


Stockman said Obama's "spending $2.2 billion to give away 'ObamaPhones.' " That figure's about right for 2012 federal spending on the Lifeline program, but as PolitiFact has noted before, attributing it to Obama is incorrect.

It's important to note, too, that the money comes from phone fees, so it wouldn't be possible to prevent public safety cuts by halting the phone program. The tradeoff Stockman asserts isn't valid.

We rate his statement as Mostly False.
U.S. Rep. Steve Stockman tweet, Feb. 22, 2013

Email interview with Donny Ferguson, senior communications adviser for U.S. Rep. Steve Stockman, March 14, 2013

Wall Street Journal news story, "Millions Improperly Claimed U.S. Phone Subsidies," Feb. 12, 2013

Email interviews, excerpted, with Mark Wigfield, acting deputy director of FCC Office of Media Relations, March 14-15, 2013
Browse the Truth-O-Meter
More by Sue Owen
Support independent fact-checking.
Become a member!
In a world of wild talk and fake news, help us stand up for the facts.